Survey: Mother's Day Gifts
If You Had All the Money in the World, What Would You Buy Your Mom?
---
If money were no object, over half of respondents to a recent CreditDonkey.com survey would send their mom on a vacation for Mother's Day. Second on this wish list was a house (27.4% of respondents said so). Alas, for all the mothers out there, the average amount of money our more than 800 respondents plan to spend this Mother's Day is just $61.56 – not enough for a dream vacation or a new home.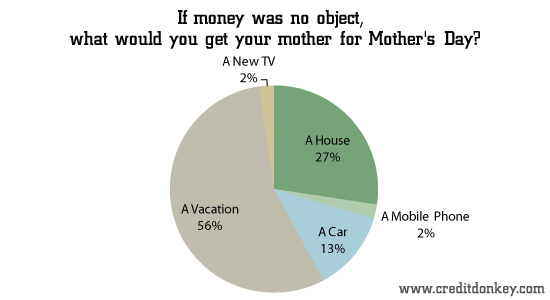 If money was no object, what would you get your mother for Mother's Day?

© CreditDonkey
Flowers and dinner are the winners
Because money is the object, instead of giving mom a cruise or even a Groupon Getaways deal, most grown children are sticking with the old Mother's Day gift standbys – flowers and dinner. Just over 40% of respondents will treat mom to flowers, 30.5% will provide mom with a nice dinner, and 30.1% will give a greeting card.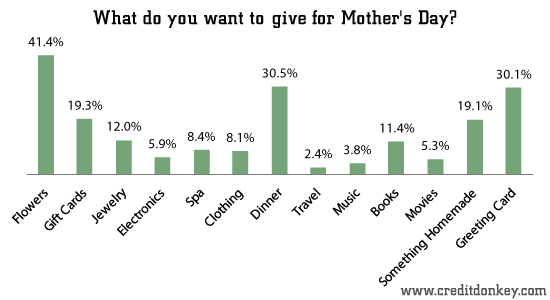 What do you want to give for Mother's Day?

© CreditDonkey
And we'll be more frugal, too
The recently released NCH 2013 coupon report found that 79.8% of consumers regularly plan shopping lists and base brand decisions on coupons. According to the report, coupon users saved $11.20 on average per shopping trip.
After all, why pay $11.20 more if you don't have to? Consumers are carrying over their frugality to their Mother's Day spending as well: More than half of our respondents said they will be actively searching for Mother's Day deals and specials, with 74.6% planning to search online deal sites for the perfect gift. And 51.2% expect to complete their Mother's Day shopping online.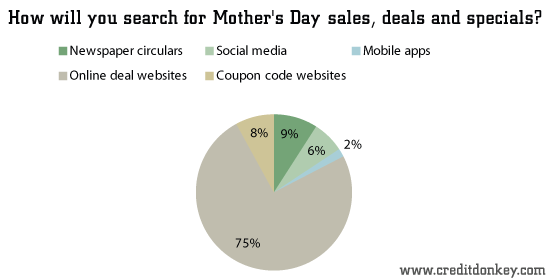 How will you search for Mother's Day sales, deals and specials?

© CreditDonkey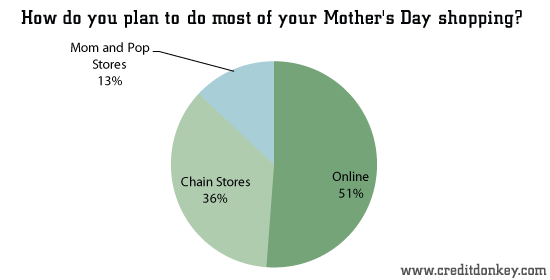 How do you plan to do most of your Mother's Day shopping?

© CreditDonkey
Fortunately, when asked if they have enough money to spend on Mother's Day, 77.5% of respondents said yes. In fact, most are not planning on using a credit card for Mother's Day purchases, which in our opinion may be too bad since they could earn cash back if they use the right one.
49.6% plan to use a debit card

24.7% plan to use cash

24.7% plan to use a credit card
(CreditDonkey.com surveyed 1,062 Americans, age 18 and over between April 1 and April 10, 2013. 81% plan to celebrate Mother's Day. Results and analysis are based on the 890 respondents who plan to celebrate Mother's Day.)
Naomi Mannino is a contributing writer at CreditDonkey, a credit card comparison and reviews website. Write to Naomi Mannino at naomi@creditdonkey.com. Follow us on Twitter and Facebook for our latest posts.
Note: This website is made possible through financial relationships with some of the products and services mentioned on this site. We may receive compensation if you shop through links in our content. You do not have to use our links, but you help support CreditDonkey if you do.