Survey: Financial Services Industry Statistics
Consumers Mistrust Banks, Credit Cards Over Mortgages
---
Many consumers think banks are saving us from actually saving because of their numerous fees, some of which we may barely know about or understand. When asked which types of financial institutions they do not trust, consumers to a recent CreditDonkey survey put banks at the top of their list. More than half of respondents (57.2%) answered that they do not trust banks, and 50.3% said they do not trust credit card issuers either.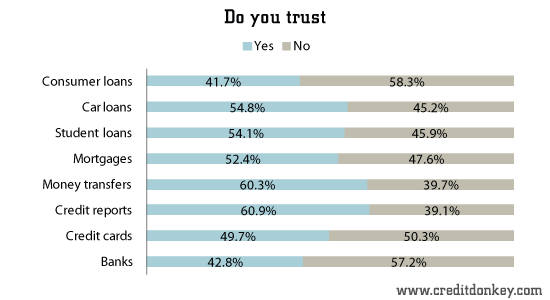 Do you trust... © CreditDonkey
Part of the reason for consumer dissatisfaction of banks is likely because of the higher cost of using banking services in recent years. "The new paradigm in banking is that they are going to charge you and if you don't understand or notice it, too bad," says Kathleen Day, spokesperson for the Council for Responsible Lending, a Washington, D.C.-based watchdog group.
However, some consumers told CreditDonkey they would actually be willing to pay higher fees if their financial services firms were more forthcoming about the fees they charge.
Consumers overwhelmingly favor more regulation for financial services
Nearly three years since the passing of a major reform law for financial services firms, a whopping 83.6% of the survey respondents believe that banks should be subject to even more regulation, and 79.6% said credit cards should also be subject to more regulation. In fact, more than half of all respondents answered that all financial services firms should have more regulation, including credit bureaus and those that issue mortgages, student loans, car loans, and consumer loans.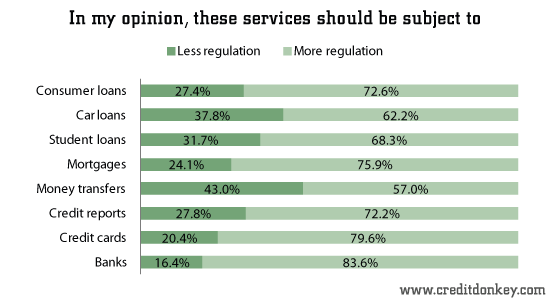 In my opinion, these services should be subject to © CreditDonkey
Consumers really don't trust prepaid debit cards
When asked if they favored new rules that would force prepaid debit card issuers to make their fees and terms disclosure easier to understand, the overwhelming majority (93.9%) answered "Yes." And 50.5% would be willing to pay even higher fees in return for more transparency.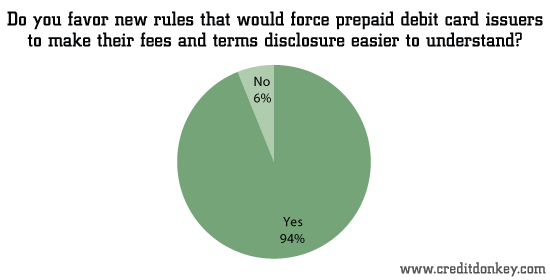 Do you favor new rules that would force prepaid debit card issuers to make their fees and terms disc © CreditDonkey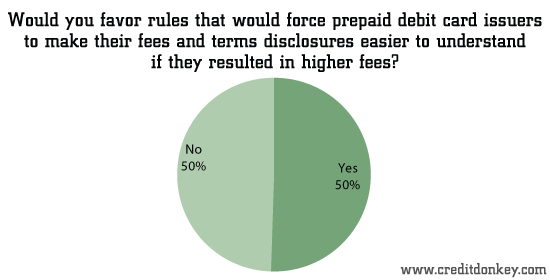 Would you favor rules that would force prepaid debit card issuers to make their fees and terms discl © CreditDonkey
Many unaware of the Consumer Financial Protection Bureau (CFPB)
According to our survey, 63% have not heard of the CFPB, which is a government agency tasked with overseeing and enforcing federal consumer financial laws at banks, credit unions, and other financial companies. Consumers can file complaints online about any of the following:
Mortgages

Credit cards

Bank accounts

Vehicle loans and other consumer loans

Student loans

Credit reporting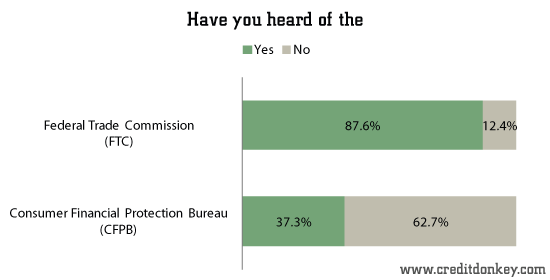 Have you heard of the FTC/CFPB? © CreditDonkey
The CFPB was just one of many reforms put into place when President Obama signed the Dodd-Frank Wall Street Reform and Consumer Protection Act (this link provides an government summary that consumers can actually understand) on July 21, 2012. Responding to the 2008 financial crisis, the law provides more regulation and consumer protections.
But has it done enough? Let us know in the comment section below.
(From January 15 to January 22, 2013, CreditDonkey conducted the online survey of 729 credit card holders about their experiences with credit card issuers and consumer lenders in general, as well as their opinions on various regulations proposed)
Naomi Mannino is a contributing writer at CreditDonkey, a credit card comparison and reviews website. Write to Naomi Mannino at naomi@creditdonkey.com
Note: This website is made possible through financial relationships with some of the products and services mentioned on this site. We may receive compensation if you shop through links in our content. You do not have to use our links, but you help support CreditDonkey if you do.