I Missed a Student Loan Payment
---
Failure to pay back your student loans can have serious consequences. But missing one payment can be fixed if you act fast. Learn what to do in this guide.

© CreditDonkey
You don't need to panic if you miss a student loan payment.
But you should contact your lender ASAP to avoid late fees as well as damage to your credit report.
The consequences of missing a student loan payment depends on how late your payment is as well as your specific lender or loan servicer. Here are the steps you should take next. Plus tips on how to avoid missing payments in the future.
WHAT HAPPENS IF I MISS A STUDENT LOAN PAYMENT?
A student loan account is considered delinquent the first day after a payment due date is missed. But most federal lenders and loan servicers do not report a late payment to the credit bureaus until the payment is late by more than 90 days. Private lenders, on the other hand, may report delinquencies once your student loan payment is at least 30 days late.
That means you have some time before a missed student loan payment will negatively affect your credit. But you may face late fees or penalties.
Most federal student loan lenders allow a grace period of 15 days before a late fee is assessed. Late fees are generally set at a percentage of the minimum payment due. However, if this is your first late payment, you may be able to get your lender to waive the fees.
What happens if I miss a student loan payment by one day?
Federal private lenders won't report your payment late until at least 30 days after the due date, which means a one-day late payment won't affect your credit. Nor will you face late fees, since most lenders offer a 15-day grace period. The best thing you can do is contact your lender as soon as you realized you missed a payment. And consider setting up auto-payment in the future to avoid this sort of mistake.

How Many Days Before a Student Loan Goes Into Default?
Federal student loans that have gone unpaid for 270 days fall into default status. But private lenders may consider student loans to be in default even sooner—it all depends on your loan status.
Once a student loan falls into default, it is subject to acceleration, which means the entire balance of the loan immediately becomes due. The loan will continue to accrue interest.
Several other things will also happen when you default on a loan:

The default will be reported to the three credit bureaus, which will hurt your credit.
The loan may be transferred to a collection agency. You will have to deal with that agency instead of your lender.
You may also be subject to wage garnishment.
How Much Do Late Student Loan Fees Cost?
Late fees are commonly assessed at 6% for a standard loan repayment plan. If your student loan payment is $250.00 per month, a late fee of 6% is assessed after 15 days of delinquency, which amounts to $15.00.
When your student loan payment is applied, it applies toward the late fee first, followed by outstanding interest, and then the remainder toward the principal balance.
Some non-standard repayment plans, such as income-driven plans, apply late payments toward interest first, followed by late fees, and then the remainder toward the principal balance.
If you do not include outstanding late fees with your payment, your payment may still be considered late by the lender based on your loan contract.
Unlike standard student loan interest, late fees are not allowable tax deductions on a federal tax return.

CAN I SKIP A STUDENT LOAN PAYMENT?
Most federal student loan lenders and servicers do not allow borrowers to delay payments by adding them to the end of the loan.
Private student loan lenders may include special clauses in their contracts that allow borrowers to delay one payment, though. This typically involves a one-time agreement to add the amount of the payment plus a transaction fee to the balance of the loan.
Lenders that allow payments to be skipped typically set up agreements in which the borrower makes a balloon payment at the time of their final payment on the loan, meaning the final payment includes unpaid principal, interest, and transaction fees.
What happens if I don't pay for my student loans?
Outstanding student loan debt typically remains on your credit report for life until it is paid in full or forgiven. Unlike other types of debt, even declaring bankruptcy won't remove outstanding student loan debt. While refusing to pay your student loans isn't a good option, there are ways to get
rid of student loan debt
. Read on to learn more.
How to Postpone Student Loan Payments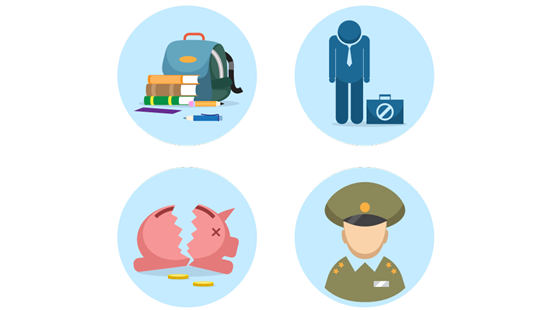 © CreditDonkey
You may not be able to skip payments on federal student loans, but there are options available that might enable you to delay repayment.
You can postpone federal student loan payments if you are eligible for a deferment or forbearance. This is the closest option you will find to skipping a payment, as deferments and forbearances remove borrowers from repayment altogether. Repayment resumes after a deferment or forbearance period ends.
Student Loan Deferments
If eligible, you may postpone repayment of your federal student loans through a deferment for 6 to 12 months at a time, up to a total of 36 months through the life of the loan.
If the interest on your loans is subsidized by the federal government, you do not accrue interest on your loans during a deferment. If your loans are unsubsidized, interest will accrue during the deferment and will be added to the principal balance when the deferment period ends.

Are you enrolled at least half-time?

Are you unemployed?

Are you experiencing economic hardship?

Are you in the Peace Corps or serving on active duty in the military?
If the answer to any of these questions is YES, you may be eligible for a deferment.
If you are struggling and need to postpone payments, contact your lender to talk about your options as soon as possible to avoid late fees, adverse credit reporting, and default status.

Student Loan Forbearance
Forbearance is a great way to temporarily stop repayment of your student loan. You may be eligible for one of the two types of forbearances: general or mandatory.

Are you experiencing financial difficulties?

Are you struggling with finances due to medical expenses?

Have you experienced a change in employment?
You can request a general forbearance for these reasons. Your lender is required to grant mandatory forbearance when you meet the eligibility requirements.
You may be granted mandatory forbearance for up to 12 months, and when your forbearance period ends, you may be granted an additional mandatory forbearance. Talk with your lender to determine forbearance eligibility for these and other reasons.
If you are serving in a medical or dental internship or residency program, you may meet some forbearance requirements, and if the total amount you owe each month for all of your student loans is 20% or greater than your total monthly gross income, you may be eligible for mandatory forbearance.

Ways to Get Rid of Student Loan Debt
Student loans don't go away if you don't pay them, but that doesn't mean you will be saddled with debt forever. You may be eligible for federal loan forgiveness programs.

Do you work in public service?

Are you a teacher?

Are you a nurse?

Are you a doctor?

Are you in the military?
If so, you may be eligible for full loan forgiveness.
You may also be eligible for a revised repayment plan that lowers your monthly payment based on your income. If you earn a very small income, your payments can be as low as zero dollars. The remainder of your federal student loans can be forgiven after 20-25 years of repayment.
You may also be eligible for loan discharge in certain situations, including closed school, disability, death of the student, or bankruptcy (in rare cases).
Your employer may also offer a Student Loan Repayment Plan (SLRP). These programs are gaining popularity, and company benefits typically include the employer paying the student loan off in full, or the employer paying a portion of the loan. It might pay to check with your employer.
How to Auto-Pay Your Student Loans
One way to ensure you never miss a student loan payment is to set up auto-pay. Most loan servicers will offer an interest rate break for signing up—on average, a 0.25% deduction.
Over the life of a loan, even that small rate cut can add up to real savings. Consider:

A student loan with a $25,000 balance, 4.8% interest rate, and a 10-year repayment period costs $6,527.19 in interest over the life of the loan.
If you sign up for auto-payment and receive an interest rate reduction of 0.25%, you'll save $6,163.88 in interest over the life of the loan.
Auto-payments are automatically deducted from your bank account on the same day each month. This means your payment will never post late.
Bottom Line
Failing to pay your student loans can have serious consequences, not the least of which is hurting your credit. But that doesn't mean you need to panic if you miss a payment.
Call your loan servicer as soon as you realize your mistake. And if you find yourself struggling to make your loan payments, look into options like deferment, forbearance, and even student loan forgiveness.
Write to Mary Humphrey at feedback@creditdonkey.com. Follow us on Twitter and Facebook for our latest posts.
Read Next: