Poll: Millennials Are Less Likely to Read Contracts, More Likely to Have Buyer's Remorse
---
A new survey by CreditDonkey reveals that people aged 18-24 are more likely to sign contracts without reading them and to experience buyer's remorse after making purchases.
Even before Faust sold his soul to the devil, people have been signing their names to contracts without reading the fine print. However, a new poll by the credit card comparison and financial education site CreditDonkey.com reveals that almost 15 percent of millennials sign contracts without even reading a word. This may explain why nearly 11 percent of them frequently experience buyer's remorse.
As part of its August 2014 Consumer Survey, CreditDonkey asked more than 1,200 participants how thoroughly they read contracts before signing. In response, 14.8 percent of consumers between the ages of 18 and 24 said they usually sign without reading them, as do 12.6 percent of people ages 25-34. By contrast, only 6.2 percent of respondents in the 45-54 age bracket said they usually sign contracts without looking them over.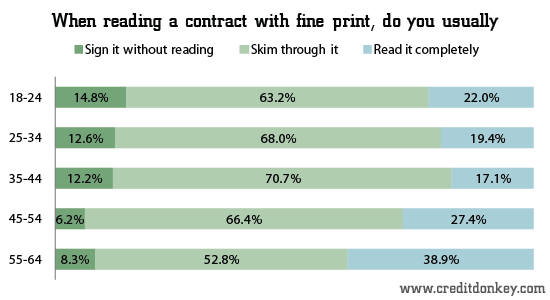 When reading a contract with fine print, do you usually

© CreditDonkey
"The lack of attention to contracts may be a side effect of growing up during the digital era," said CreditDonkey founder Charles Tran. "Many millennials have been bombarded by requests to sign disclaimers, waivers and other agreements their entire lives. Some may view these contracts as such a routine and insignificant part of daily life that they don't grasp the dangers of failing to read 'the fine print' — or any print. Signing contracts without giving them much thought has become a reflex."
The impulsiveness of youth, a lack of experience with legal contracts, and a habit of agreeing to terms and conditions without reading them can combine into a dangerous cocktail that is triggering millennials to spend money on things they regret later —and causing them greater financial stress as a result.
When asked how often they experience buyer's remorse, 10.5 percent of 18- to 24-year-olds replied "often," as did 6.8 percent of people 25-34 and 4.9 percent of those 35-44. Consumers in the 45-54 bracket experience buyer's remorse least often, with just 1.8 percent saying they often regret their purchases.
In fact, when millennials do buy something, they are nearly five times more likely to regret it than people over 55, who are much less likely to experience buyer's remorse.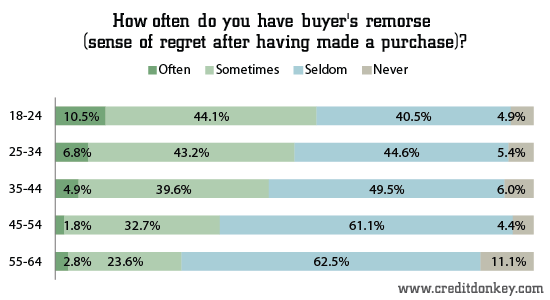 How often do you have buyer's remorse

© CreditDonkey
Could you feel so stressed out about buying something you regret that it actually makes you shop more? That may be the case with many millennials. This age group is more likely than their older counterparts to say they stress about their finances and they're also more likely to relieve their stress by heading to the malls or clicking shopping carts online. Adding to any stress they feel may be the fact they're weighed down by their purchases – millennials revealed they are more likely to lie about how much they spend on something than the older generations.
When asked "How stressed do you feel compared to others?" 37.6 percent of 18- to 24-year-olds said they are more stressed, as did 37.8 percent of people 25-34. Stress levels dropped as respondents grew older, with 31.3 percent of people aged 35-44 saying they are more stressed, along with 24.8 percent of respondents 45-54 and 29.2 percent of those in the 55-64 bracket.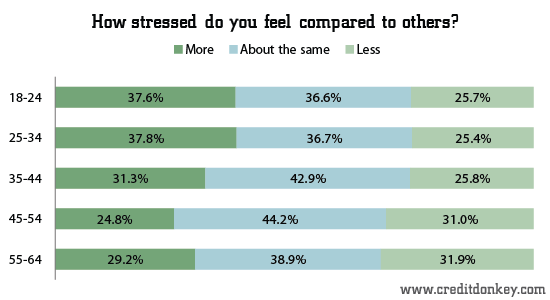 How stressed do you feel compared to others

© CreditDonkey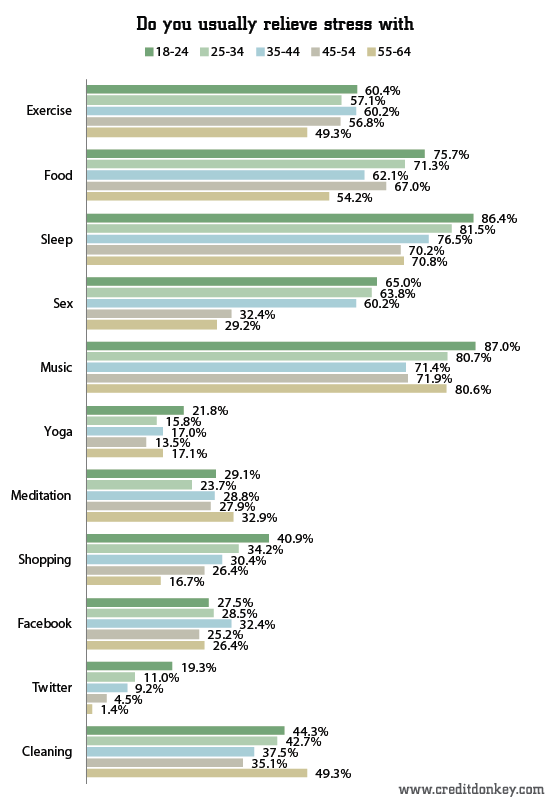 Do you usually relieve stress with

© CreditDonkey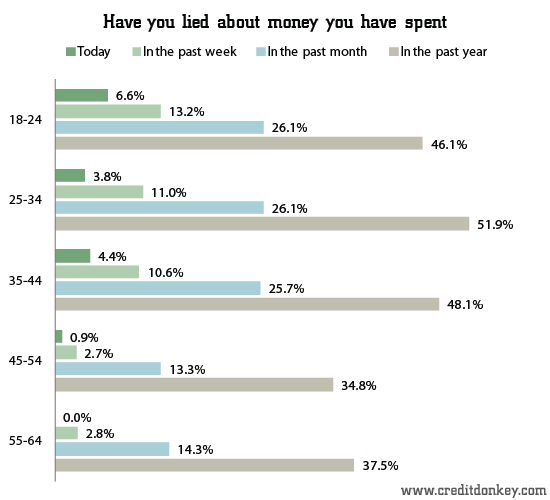 Have you lied about money you have spent

© CreditDonkey
CreditDonkey surveyed 1,254 Americans online, age 18 and over between August 8 and August 12, 2014.
More from CreditDonkey: