What to Buy (and Not to Buy) in March
---
March is not a deal-hunter's best friend. Sure, we have spring to look forward to, but sales for the new season's clothes will still be a ways off. Nevertheless, CreditDonkey knows of a few items that that you can get for a decent break this month. Brave the last few weeks of winter's cold if any of this month's deals suit your needs. Otherwise, wait out another month before splurging.
What to Buy in March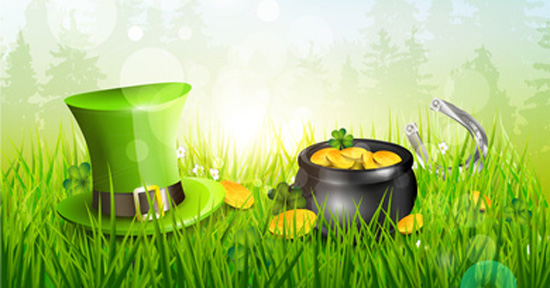 Jewelry
The New Year's engagement rush and Valentine's Day onslaught are over, meaning jewelers are looking for customers. Since March isn't a primary month for major jewelry purchases, you'll likely be able to find some deals on jewelry. Even if you can't find something on sale, try negotiating with sales associates; you're more likely to make progress this time of year than during other months.
Perfume
Like jewelry, perfume prices will also drop in March, before picking up again for Mother's Day. Stores will be getting in new inventory, resulting in clearance prices for products they are cycling out.
Luggage
Get ready for spring break by taking advantage of this month's luggage deals. Whether you're looking for a set or an individual piece, you'll find markdowns throughout March. (Need more guidance on picking the right luggage? Check out our article on Best Luggage for the Money.)
Holiday treats and décor
There may still be time to stock up on clearance Valentine's Day items. Although the pickings may be slim by early March, check out your local retailers and drug stores for discounted cards and decorations to use next year, and get a few chocolates to treat yourself for getting through another winter. You should be able to find discounts of between 75% and 90%.

Then, later in the month, try your luck at scoring some St. Patrick's Day gear. Retailers will put out their discount stickers on March 18, right after the revelers of the Irish holiday have had their fun. You could get a cheap green T-shirt, some new beer glasses, or rainbow candies for your next party. Your local supermarket is sure to have an overstock of corned beef as well.

Bonus tip: Start planning for a whole other kind of holiday – vacation time. Take the first step toward making your summer trips affordable by applying for an airline credit card. Points you rack up now can be used toward knocking off the price of your summer trip. If you're a new card owner, you can usually find one that will give you bonus miles when you spend a certain amount in the first few months of ownership.

Seeds and plants
Spring is just around the corner (thank goodness). Give yourself a pick-me-up by planning for your garden. By ordering your seeds now, you can catch online promotional deals like free shipping and discounts of up to 50% off your order.

Bonus tip: Many perennials and hardy vegetables can be planted outside before the season's last frost. So get an early start in the garden and check your seed catalog for plants that can go in the ground as soon as they arrive.

Frozen foods
We're months away from National Ice Cream Month (in July), so we'll have to make due by celebrating National Frozen Food Month. Look for both in-store sales and additional coupons in newspapers for extra savings as food distributors and retailers partner up to entice you to stock up your freezer. As long as you have some room to spare, you might as well take advantage of the discounts.
Silverware and china
The Christmas season is over and wedding season has yet to ramp up, and stores are eager to get some eyeballs on their place settings and silverware during this slow time. Plan ahead for your next event or give yourself a reason to entertain by getting a new set or supplementing the one you have.

Bonus tip: Take this time to plan in advance for any wedding ceremonies you'll be attending later this year. As we mentioned in our Monthly Savings Plan: Your Savings Calendar, March is a great month to calculate all the costs you have ahead of you, like the shower gifts, outfits, hotel stays and the like, and to start saving up now so you're not in wedding debt by the time the season – generally between June and September – is over.
What Not to Buy in March
Spring clothes
We have a hard time with this one and we're sure you do too. Unless you really need new clothes, hold off on making any purchases. Spring apparel has been in stock for a month or two, but retailers will still be stingy with their price breaks. You're more likely to see significant savings after this month.

Bonus tip: March is a big month for consignment sales for kids' clothes. You just have to do a little searching to find where a sale will pop up near you. These temporary sales last for just a day or a weekend and often appear in empty stores that are between leases, local churches or other community venues. Check out Consignment Mommies for an upcoming sale near you.

Gym memberships
New Year's promotions are over, and the gyms are fully stocked with new members. So if you're looking to join a new gym, you're better off waiting until spring hits full force, when the gyms will start to see a dip in members.

Bonus tip: No matter what time of year you're joining a gym, you'll get the best deal at the end of the month, when sales staff are trying to boost their numbers.

Lingerie
Valentine's Day may be over, but Victoria's Secret and other retailers don't hold their semi-annual sales until June, so hold out a little while longer to replenish your intimates.
Vacuums
Hold off until next month to get the best deals on a new vacuum cleaner. If you can afford to wait, you may find savings of up to 25% off.
Outdoor furniture
Big-box retailers are gearing up for the spring gardening season, and that means all brand-new models for outdoor furniture. If you need something new, consider looking on Craigslist for a good deal, or wait until the end of summer to find deep discounts.
---
From out in the garden to inside your china hutch, March manages to give some opportunities for savings. If you can be patient, for just another month or two, you'll find even more savings on spring clothing, lingerie, gym memberships and more.
Lauren Ward is a research analyst at CreditDonkey, a credit card comparison and reviews website. Write to Lauren Ward at lauren@creditdonkey.com
Note: This website is made possible through financial relationships with some of the products and services mentioned on this site. We may receive compensation if you shop through links in our content. You do not have to use our links, but you help support CreditDonkey if you do.
More from CreditDonkey: