How to Make an Extra $1000 a Month
This article contains references to products from our partners. We may receive compensation if you apply or shop through links in our content. You help support CreditDonkey by reading our website and using our links.
(read more)
There are plenty of creative ways to make an extra $1,000/month from home. Read this guide to find which side hustles pay the most and how to get started.

© CreditDonkey
Most day jobs barely pay the bills, especially if you're early in your career.
Let alone reach long-term goals like planning a wedding, being debt-free, or saving for a down payment.
But a side hustle from home can make a huge difference. You set your own hours and the extra $1,000/month in your bank account will give you the freedom you've always dreamed of. Plus, working online is something pretty much anyone can do.
Here are 18 clever ideas to make more money while working from home.
1. Teach Online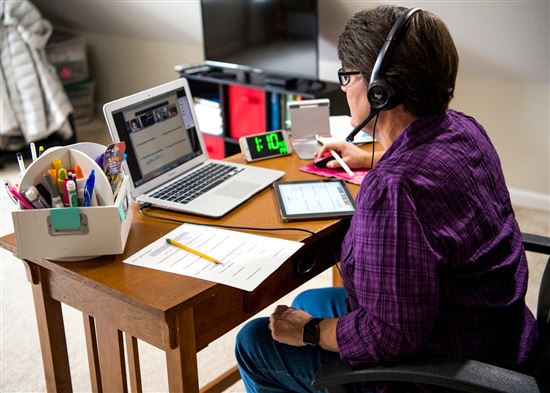 Credit: Outschool
Do you want an impact on young lives? Consider teaching online.
VIPKid matches students and teachers with one-on-one personalized English lessons.
You can also create educational courses for K-12 kids on Outschool. You choose which subjects to teach and work with motivated learners who want to be in your class.
You don't need teaching credentials for VIPKid or Outschool either.
Potential Earnings:

VIPKid: Between $15 and $22/hour

Outschool teachers: $50/hour on average
Requirements:

College degree

Teaching license might be required for certain jobs or employers

Background check is usually required
2. Write for Freelance

© CreditDonkey
Got a flair for words? Freelance writing might be up your alley. You can write for several websites, newspapers, magazines, blogs, and businesses at a time. And you don't need any prior experience or degree to get started. It's great for personal bloggers, stay-at-home-moms, and those looking to ditch their traditional 9-5.
Popular types of writing jobs:

Grants

Speeches

Tech and medical content

Articles for websites

Copy for sales pages or landing pages
Potential Earnings:

Average hourly rate is $30/hour for experienced writers

Rates depend on subject, word count, difficulty, and experience level
Requirements:

College degree in English or the humanities preferred

Strong portfolio of writing samples
3. Become a Virtual Assistant
Virtual assistants help support and grow businesses. Common administrative tasks include scheduling appointments, answering emails/phone calls, and making travel arrangements.
Depending on the industry, you might also take on business development, social media, marketing, and graphic design. This role is broad so you're sure to learn a lot of different skills if you roll with the punches.
Ready to jump in? Offer your services on Upwork and Freelancer.
Potential Earnings:

Ranges from $12 to $18/hour
Requirements:

Most clients require intermediate experience with Microsoft Office suite

Strong communication skills and attention to detail
4. Start a Blog
Got a passion for writing and want to express your personality? Blogging can be a great way to share your experiences with others and make serious money doing it. Generally, blogs start out as a hobby but once you build a following, it can be a good source of passive income.
You can write about:

Travel

Beauty/fashion

Parenting

Fitness

Food and more!
Bloggers make money with affiliate marketing, paid advertisements, sponsored posts, and selling their own products or services. Consider expanding your reach to YouTube, Instagram, and TikTok.
To host your website, check out GoDaddy, HostGator, WordPress, and Squarespace.
Potential Earnings:

Requirements:

None—anyone can get started
5. Earn Money Proofreading
Got a shrewd sense of grammar? You can parlay your talents into a career. As a proofreader, you'll examine manuscripts for typos, spelling, and grammatical errors. You're your own boss and work on your schedule and rates. Instead of working for a single company or publisher, you have several clients on a temporary basis.
To learn more, check out online proofreading gigs and join the Editorial Freelancers Association. To find clients, advertise your services on Freelancer, Upwork, and Fiverr.
Potential Earnings:

Requirements:

College degree in English or the humanities is helpful
6. Sell Stuff Online

© CreditDonkey
Most of us don't use half the things lying around our homes. And there are plenty of people who will pay good money for your old stuff. Plus, it's pretty easy to sell as long as you know where to go.
Here are the best apps to sell stuff
:
Poshmark for cashing in clothes and accessories

eBay or Craigslist to sell just about anything

Decluttr for old tech, DVDs, and video games

Etsy for selling crafts and collectibles

Chairish for selling vintage furniture
Cars depreciate as soon as you drive them off the lot. But some items can be resold for close to what you originally paid for it. To maximize profits, try selling:
Bicycles

Furniture

Legos

Video games

Designer clothing

Apple products
Potential Earnings:

Depends on what you sell and quantity
Requirements:

Download the app(s) and start listing your items
7. Open an Etsy Shop
This option is for crafty entrepreneurs with one-of-a-kind pieces. Think custom print T-shirts, homemade jewelry, or embroidery. On Etsy, you can turn your artistic side into $1,000/month by finding a good audience or niche. Listings are active for four months, or until they sell.
Sellers' fees:

$0.20 listing fee, 5% transaction fee

Added 3% + $0.25 payment processing fee if you use Etsy Payments
How to Maximize Sales on Etsy
Upload high-quality product photos

Write accurate product descriptions

Make sure your items have keywords that sellers will search for

Link your shop to social media accounts for marketing

Answer questions from buyers right away

Potential Earnings:

Depends on what you sell and quantity
Requirements:

Open an Etsy Shop and start listing your items
8. Get Feedback on Search Engines
How many calories are in an apple?
Google's search engine algorithm will tell you 95 calories. But how did they get that answer? Real humans make sure Google's result pages are relevant for each question.
It's a flexible role and you don't need to deal with other people (introverts, rejoice!). Typical tasks include examining and reporting on advertising content, images, and text. The best raters possess excellent research and analytical skills.
If this appeals to you, check out Appen and Lionbridge.
Potential Earnings:

Requirements:

High school diploma is required but a college degree is preferred

Pass qualifications exam

Cultural awareness of the country you're working out of
9. Fill Out Surveys

© CreditDonkey
Taking surveys is a great way to pass time and get paid. You won't make a living off it, but you'll get some extra spending money for things like clothes, gas, and restaurants. Surveys apps will also offer money for other tasks like watching videos, playing games, reading emails, and more.
Potential Earnings:
These are the dollar-per-hour averages for popular survey sites.

Requirements:

Download the app(s) and start answering questionnaires
Ways to Make Money as a Teen (From Home)
:
Answer questions on TutorCare: 16 years old & over

Freelance on Fiverr or Upwork: 13 years old & over

Take surveys on Survey Junkie: 13 years old & over

Share opinions on Harris Poll: 14 years old & over

Become an influencer on Toluna: 15 years old & over

Complete tasks on InstaGC: 13 years old & over

Earn cash back on Swagbucks: 13 years old & over

Sell on eBay: 18 years old & over

Sell on Etsy: 18 years old & over

Sell textbooks on Bookscouter: 13 years old & over

Work from home with U-Haul: 16 years old & over

Complete tasks on TeenEyes: 13 to 18 years old

Rate music on Slice the Pie: 13 years old & over

Review calls on Humanatic: 13 years old & over

Flip garage sale finds: 16 years old & over
10. Test Out Websites
Not a computer whiz? No worries—you can still get paid to test websites and apps. QA testing websites is just as easy as filling out surveys for cash. But you'll provide feedback on the functionality and design of a website or app, instead of a product. You're helping businesses improve their website's overall user experience.
Potential Earnings:

Requirements:

Requirements differ between companies and projects/tasks
11. Get Paid to Type
There's no shortage of companies that need fast typers. Transcriptionists convert videos, podcasts, and audio recordings into written text. They may use special equipment like a foot pedal to stop audio/video recordings.
If you want to get paid for typing, go to Rev and Scribie, and also general freelance sites like Upwork and Fiverr.
Potential Earnings:

Beginning transcriptionists start at $15/hour

Advanced transcriptionists make around $25 to $30/hour
Requirements:

Ability to type efficiently and accurately
If "fast" is your most important factor when it comes to making money, you'll be pleased (and even surprised) to hear how many options you have. Check out our
guide on making cash fast
to pick the best option for you.
12. Walk Dogs

© CreditDonkey
Most people would love to play with cats and dogs for free. But it can also be a lucrative side hustle. You can either start your own dog walking business or sign up with a website. On apps, you can pick up easy gigs to watch pets while the owners are away, walk dogs, host daycares, and more.
Animal lovers can make good money with these sites:

Potential Earnings:

$20 to $30 per walk

Up to $41 per night for dog boarding/pet sitting

Keep 60% to 80% of earnings, plus 100% of tips
Requirements:

13. Invest in Dividend Stocks
Investing in stocks can provide the highest potential returns. Imagine if you bought a share of Tesla when it first went public. There will be ups and downs in the stock market, but starting early gives you time to ride it out and grow your money.
If you're ready to start investing for your future, download Robinhood. There are no commission fees or account minimums, so you can start with as little or much as you want. And the app's intuitive design makes trading stocks feel simple as you learn about the market.
Potential Earnings:

Depends on your investments

Stocks are riskier than savings accounts, but they can also be a better long-term investment
Requirements:

Discount brokers offer between $0 and $500 account minimums
Smart Passive Income Ideas
Invest in Dividend Stocks

Automatically Invest with Robo Advisor

Invest in Real Estate

Peer-to-Peer Lender
14. Earn Passive Income with Real Estate
Owning real estate is a good source of reliable passive income. Over the last 30 years, real estate performed better, on average, than stocks. But rental properties can cost hundreds of thousands of dollars, and you'd have to play landlord too.
With crowdfunding real estate platforms like Fundrise, you can actually get started with just $500. They manage the property for you. So you don't need to deal with tenants, maintenance repairs, and other headaches. And they pay out dividends every quarter.
Potential Earnings:

Depends on your investments and the market

You'll need to invest for at least 5 years before seeing substantial returns
Requirements:

Real estate investing platforms will have different requirements
15. Sell Printables
Selling printables is an easy and flexible way to earn more money. There are a lot of programs for designing printables. But most people use Adobe Spark, Illustrator, Photoshop, Microsoft Word, and Canva.
If you have a blog, you can offer this as a digital product/download for readers.
Popular printable ideas:

Checklists

Organizational planning

Educational content

Journals

Fitness/workouts/diets

Calendars

Kids coloring pages
Many parents need educational content and coloring pages when school's out. You can try selling printables geared toward kids on Teachers Pay Teachers.
Potential Earnings:

Ranges from $0 to $2,000-$3,000/month in passive income
Requirements:

18+ years old to sell on Teachers Pay Teachers
16. Deliver Groceries

© CreditDonkey
You can totally get paid just for delivering milk to a neighbor. If you've got a car, consider making an extra $1,000+/month as an Instacart shopper. You'll be helping out people who either can't or don't have the time to visit the grocery store.
Here's how it works: Customers order from shops in their local neighborhood. They place an order online and you'll shop for these items and deliver it to customers on the same day.
Potential Earnings:

$7 to $20/hour, including:

Per-delivery rate (if task involves only delivery)

Per-delivery rate based on the number, weight, and type of items (if the task involves personal shopping)

100% of tips
Requirements:

18+ years old

Eligible to work in United States

Access to vehicle and smartphone (iPhone 5 / Android 4.4 or newer)

Ability to lift 50 lbs with or without accommodation
17. Deliver Food

© CreditDonkey
Another quick side hustle is food delivery. You manage your own hours, and deliver when and where you want.
If you're only interested in food deliveries, check out DoorDash. The app connects you with customers to local restaurants. Postmates covers food and alcohol, office supplies, groceries, dry cleaning, and other types of deliveries. You'll get a greater pool of customers and may make money faster.
Top 7 delivery driver apps to get you started
:
DoorDash for most customers

Postmates for highest pay

Uber Eats for easiest sign-up

GrubHub for big cities

Caviar for best tips

Deliv for most variety

Instacart for shopping fans
Potential Earnings:

Depends on the app, but for DoorDash and Postmates:

Up to $25/hour for DoorDash

Up to $22/hour for Postmates

100% of tips
Requirements:

Depends on the app but for DoorDash and Postmates:

18+ years old

Valid driver's license number (if delivering by car)

Consent to background check

DoorDash requires a Social Security number (only in the U.S.)

DoorDash delivers via car, scooter, or bicycle (in select cities)

Postmates delivers via car, scooter, bicycle, motorcycle, or even on foot
18. Create Online Courses for Adults
You have a lot of practical skills to offer, whether it be writing, coding, calligraphy, design, or anything in between. And many professionals and curious folks would love to learn from you.
Teaching an online course is a great way to make the most out of your talents. Because you don't need to do live classes, pre-recorded online courses can be a good source of supplemental income.
With Teachable and Thinkific, you can pick your own topic, develop courses, and sell them online.
Potential Earnings:

Teachable: Average instructor earns $5,426 per online course
Requirements:

No educational requirement
Bottom Line
With a bit of creativity and flexibility, you can earn an extra $1,000/month from home.
Most of these ideas you can start right away and without quitting your day job. Your 9-5 pays for the essentials but side hustles can real game-changers. You'll develop new skills, build a personal brand, and define success on your own terms.
All of this will get you closer and closer to crushing your short- and long-term money goals.

Write to Amber K at amber.kong@creditdonkey.com. Follow us on Twitter and Facebook for our latest posts.
Note: This website is made possible through financial relationships with some of the products and services mentioned on this site. We may receive compensation if you shop through links in our content. You do not have to use our links, but you help support CreditDonkey if you do.
Read Next: