M1 vs Robinhood: Which is Better?
This article contains references to products from our partners. We may receive compensation if you apply or shop through links in our content. You help support CreditDonkey by reading our website and using our links.
(read more)
---
M1 Finance and Robinhood both let you trade for free. But they work completely differently. Which one is right for you? Learn how they compare.

© CreditDonkey
M1 Finance and Robinhood are two popular free investing apps. The main difference is M1 Finance is a hybrid robo-advisor, while Robinhood is completely DIY. Both let you choose your own investments, but M1 handles the portfolio management for you.
Robinhood is better for active traders, while M1 works better for long-term investors. Both can work well for beginners, though neither offer any investment guidance.
Read on for the detailed comparison review.
About Robinhood and M1 Finance
Robinhood
Robinhood shook up the investing world in 2013 when it introduced a completely commission-free trading app.
Previously, brokers charged $5-$7 per trade. This could be hard for beginners without a lot of money to start. Now, most major brokerages have followed suit and got rid of standard trade fees.
You can trade stocks, ETFs, options, and even cryptocurrency on Robinhood for no trade fees.
M1 Finance
Founded in 2015, M1 Finance was designed as a hybrid online brokerage and robo-advisor. You can create your own portfolio, then the automated service will manage your account. There are no trade fees or management fees.
M1 can be an ideal solution for those who want to choose their own investments, but don't want to manage their portfolio.
M1 Finance allows investors the choice of ETFs and stocks. M1 charges no management fees or commission.
Who Each App Is Best For
Robinhood is better for:

Active traders and day traders

If you want to trade options and cryptocurrencies

If you're comfortable managing your own portfolio
M1 is better for:

Long-term investors (M1 offers retirement accounts)

If you don't want to actively manage your portfolio

If you want the option of premade portfolios
Key Similarities
Here's a quick look at features Robinhood and M1 share:

No account fees or trading fees

Low minimums ($0 for Robinhood and $100 for M1)

Trade stocks and ETFs

Both support fractional shares

Both support dividend reinvestment
Key Differences
Now let's break down where Robinhood and M1 Finance differ.
Robinhood:

Also offers options and cryptocurrency

Only individual taxable accounts available

Extended trading hours

Slightly more research tools

Premium margin account
M1 Finance:

Offers IRA retirement accounts

Automatically rebalances your portfolio

Automatically places trades for you according to your portfolio

Prebuilt portfolio options

Cash management account (this feature is coming to Robinhood soon)

Loan service to borrow against your portfolio
How Robinhood Works
Robinhood is a basic online brokerage platform. It lacks the research and advanced tools of more robust platforms. But this makes it good for beginners so you're not overwhelmed with a ton of features.
Some features include:

Free extended trading hours from 9:00 a.m. to 6:00 p.m.

Perform up to 3 day trades in a five-trading-day period

Execute limit, stop limit, and stop orders

Candlestick charts and indicators

Sort and compare stocks side by side

Real-time updates on stocks in your watch list
Robinhood does not offer any investment guidance or portfolio recommendations. You have to have an idea of what you want to invest in.
How M1 Finance Works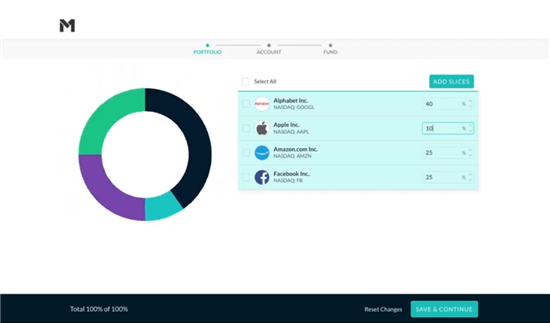 screenshot from m1finance.com
M1 Finance works a little differently. It's an online brokerage and robo-advisor combined. You build your portfolio and M1 handles the managing.
Here's how it works:

Create your own custom portfolios, called "Pies." Each Pie consists of up to 100 "slices." Each slice can be a stock, ETF, or even another Pie.
When you fund your account, M1 Finance will buy investments for you according to your Pie.
It'll also automatically rebalance your portfolio whenever your Pie drifts from the original allocation.
For example, if you want 10% of your investment to be in Apple, set that as 10% of your Pie. If you fund $1,000, M1 will use $100 of that to purchase Apple stocks.

M1 Finance also offers a number of prebuilt Pies created by their experts. You can invest in their Expert Pies or add them as slices into your custom portfolio.
M1 Finance allows investors the choice of ETFs and stocks. M1 charges no management fees or commission.

Initiate your transfer of another brokerage account within 60 days of signing up for M1 to receive a bonus.

| Transfer | Bonus |
| --- | --- |
| $100,000 – $250,000 | $250 |
| $250,001 – $500,000 | $500 |
| $500,001 – $1,000,000 | $1,000 |
| $1,000,001+ | $2,500 |

Payments for eligible transfers will be paid 90 days after the account transfer is received. Offer is valid for direct broker transfers received through the Automated Customer Account Transfer Service (ACATS) only. Offer is not valid with ACH deposits, wire transfers or direct 401k rollovers.
Detailed Comparisons
SPECIAL OFFER
Commission Free Stock Trading - Learn More

OFFER
Get a Free Stock (worth between $2.50 and $200) - Learn More

Benefits and Features

Stock Trading

$0

$0

Annual Fee

None

All trades are commission-free. No platform fees.

Minimum Deposit

$100

$0

Phone Support

Monday - Friday 9:30 am to 4 pm EST

No

Good For

DIY investing with passive portfolio management

Beginners; Active traders

Banking

All users can open a M1 Spend account with free debit card. No monthly service fees and no balance requirements.

Coming soon

Mobile App

Yes

Yes

Fractional Shares

Yes

Yes

Taxable Accounts

Yes

Yes

IRA Accounts

Yes

No

M1 Finance: Pricing information from published website as of 02/28/2020

Robinhood: Pricing information from published websites as of 04/18/2020.
Now that you understand the basic differences of how Robinhood and M1 work, let's look at the detailed comparisons.
Opening minimums:
Robinhood has no minimum investment. M1's minimum is $100 for taxable accounts and $500 for retirement accounts.
Account Types:
Robinhood only offers individual taxable accounts. M1 Finances offers individual taxable, joint, IRAs (Traditional, Roth, and SEP), and Trusts, as well as 401(k) rollovers.
Investment Types:
M1 only offers stocks and ETFs. Robinhood has stocks, ETFs, options, and cryptocurrencies.
Neither platform offers mutual funds or bonds.
M1 offers over 6,000 stocks, while Robinhood has over 5,000 stocks.
Robinhood has these cryptocurrencies available: Bitcoin, Dogecoin, Ethereum, and Litecoin.

Fractional Shares:
Both M1 and Robinhood support fractional shares. This allows you to just buy a tiny piece of a share if you don't have enough money for a full share.
Dividend Reinvestment:
M1 automatically reinvests your cash dividends once it reaches $10. Dividends are reinvested into the entire portfolio. Robinhood offers a Dividend Reinvestment program. Any cash dividends are reinvested back into the specific stock.
Research and Tools:
Though limited, Robinhood has slightly more research than M1. It has watchlists, market updates, and candlestick charts. But more experienced investors may want to do their own research elsewhere.
M1 Finance is designed as more of a robo-advisor, so it doesn't have any charts or other research tools. It only offers information on stocks and their performance history.
Trading Limits:
On Robinhood, you can perform up to 3 day trades in a 5-trading-day period. Accounts over $25,000 or Cash account users have no limitations (these users can trade as often as they want for free).
M1 offers only one trading window per day at 9 a.m. Central Time. Premium M1 Plus accounts over $25,000 have a second afternoon trading window.
Which Is Better for Beginners
Both Robinhood and M1 can work well for beginners, but in different ways.
Robinhood has a very simple platform. It's very user-friendly and easy to navigate. It's a good way for beginners to try investing without losing money to fees.
On the other hand, beginners may like the robo aspect of M1 Finance. All you have to do is select your investments and leave the actual trading and managing to M1. If you're not sure what to invest in, you can even select their expert portfolios. However, creating the Pies may take some time to learn.
For beginners who aren't comfortable selecting their own investments, you may want to go for a true robo-advisor, such as
Betterment
. For a small annual fee, the platform will invest and manage your portfolio for you, so you can be completely hands-off.
Which Is Better for Advanced Traders
For more experienced users, Robinhood has more functions. You can execute limit, stop limit, and stop orders. M1 does not support these market orders. For options traders, you can trade advanced multi-leg options strategies.
Robinhood also has a premium account where you can trade on margin. In addition, it allows for unlimited day trading for certain accounts, which is better for experienced active traders.
However, M1 Finance is better for long-term investors. Experienced investors will appreciate being able to custom build your portfolio with the exact allocations you want.
Other Features
Both platforms also have some premium features.
Robinhood Gold:
Robinhood offers a premium Robinhood Gold account. This account allows for margin trading, which means trading with borrowed money.
You get up to 2x the buying power. For example, if you have $10,000 in cash, you can get up to $10,000 margin for a total of $20,000 buying power.
This premium account also gives you access to Morningstar research and Level II market data.
To sign up for the Robinhood Gold account, you need $2,000 minimum and it costs $5/month.

M1 Finance Spend, Borrow, Plus:
M1 Finance also offers these financial services:
M1 Spend: a cash management account with a free debit card.

M1 Borrow: a loan service that lets you borrow up to 35% of your portfolio's value at a low interest rate.
It also offers a premium M1 Plus membership for $125/year. Extra benefits include interest for your M1 Spend balance, cash back on debit purchases, lower M1 borrow loan rate, and an extra afternoon trading window.
Bottom Line
Robinhood and M1 Finance are both excellent free investing apps. The better one for you depends on what kind of investor you are.
Robinhood's simple platform is great for beginners to start investing. It's also better for active investors, while M1 is better for long-term and more hands-off investors. But note that both have their downsides, so neither may be the perfect platform for all your investing needs.

Note: This website is made possible through financial relationships with some of the products and services mentioned on this site. We may receive compensation if you shop through links in our content. You do not have to use our links, but you help support CreditDonkey if you do.
More from CreditDonkey: