Lowe's Credit Card Review: Is It Worth It?
Editorial Note: This content is not provided by the card issuer. Opinions expressed here are author's alone, not those of the issuer, and have not been reviewed, approved or otherwise endorsed by the issuer.
This article contains references to products from our partners. We receive compensation if you apply or shop through links in our content. You help support CreditDonkey by reading our website and using our links.
(read more)
---
Lowe's credit card offers more than just a store discount. But is the card right for you? Read this review to learn the pros and cons before you apply.
If you're a regular shopper at Lowe's Home Improvement, you've probably been asked once (or 100 times) about applying for an in-store credit card. So…should you?
We'll tell you whether the Lowe's Credit Card is a good piece of plastic to have in your wallet.
The Available Perks

© CreditDonkey
Lowe's sometimes offers limited-time perks for those who apply for the in-store credit card. As of now, three options were available to use.
But you'll have to choose one of the three. You cannot use more than one of these benefits per purchase.
NOTE: The Lowe's card isn't accepted anywhere but in its store or on the store's website.

5% discount. For each purchase made in-store or on the website, you can take an immediate 5% off the total bill. (There are some restrictions, which we'll discuss later.)
Deferred interest. If your total bill is $299 or higher, you have the option of taking a 0% APR financing on the entire purchase for six months or the 5% discount.

There are some disadvantages to using deferred interest. But this can be a nice option for a big bill IF you're sure you can pay off the entire amount before the six-month deadline.

Low interest period. For large ticket items of $2,000 or more, Lowe's offers customers a reduced interest rate for three-, five-, or seven-year periods.

This means you'll pay:


3.99% APR over 3 years.

5.99% APR over 5 years.

7.99% APR over 7 years.

You may have to ask about this perk at the time of purchase, as it's not always automatically offered.

And you will have to make minimum monthly payments that are dependent on the total amount of purchase and the length of the financing period. Miss a payment, and the interest charge goes to the standard 26.99% APR.
Doing The Math:
Say you normally spend $250 per month at Lowe's.
By selecting the 5% immediate discount on each purchase, you could receive a total discount of $150 by the end of the year ... as long as you pay the entire balance every month.
But if you miss even one month, the interest you have to pay on the balance will quickly eat into those discount savings.
Let's say you spend $1,000 on a single purchase that you need six months to pay off. If you select the 5% discount instead of the 0% APR option, you'll receive a $50 discount.
But the amount you'll pay in interest over those six months with a $950 balance and a 26.99% APR will be roughly $75-$100 (depending on the amount of the monthly payments you make over that six-month period).
So, in that case, you'd be better served with the 0% APR option.

Each time you use the card, you can pick the type of benefit you'd like to use. Obviously, two of these three options are only available with a minimum purchase amount.
If your purchase is below $299, you'll automatically receive the 5% discount on the total amount.
We'll explain more below. But first, here are some current credit card promotions you should not ignore.
Who the Lowe's Credit Card Is Good For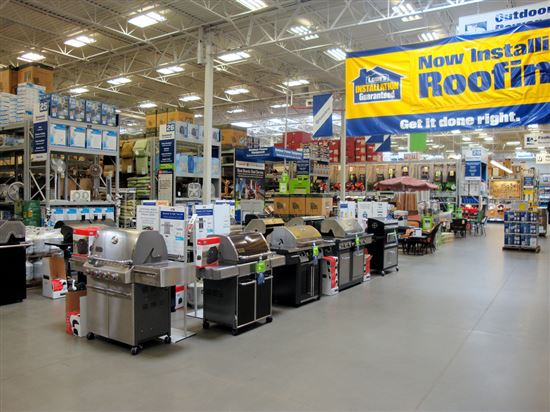 DSC28584, Lowe's, Sunnyvale, CA © Jim G (CC BY 2.0) via Flickr
Lowe's shoppers. This one is a no-brainer. If you are someone who shops at Lowe's a couple of times a month, you're a candidate for this card.

If you usually shop at other home improvement or hardware stores, there's little reason to have it.

Is it hard to get a Lowes credit card?

The Lowes credit card is not as hard to get as other reward cards, but for a store card, it does have higher approval requirements. People have reported being approved with a "Fair" score around 650.

But your credit limit may be low. Generally, you'd need a higher score of 700+ if you want a higher credit limit.


Those with a big home improvement project on tap. If you're considering a big project, you can save a bit on something you were going to purchase anyway.

Say you're going to spend $600 on a home improvement project at Lowe's. As long as you'll pay off the entire balance at the end of one month, take the 5% discount, and you'll save $30 on your purchase.

Those who need extra time to pay off a large ticket purchase. With the option of 0% APR for six months on a $299-plus purchase, or with a low interest rate option on a purchase of $2,000-plus, you can pay off an expensive item over time. This can be a big help to your family's monthly budget.
Click Here to Compare Low Interest Credit Cards
Why We Like the Lowe's Card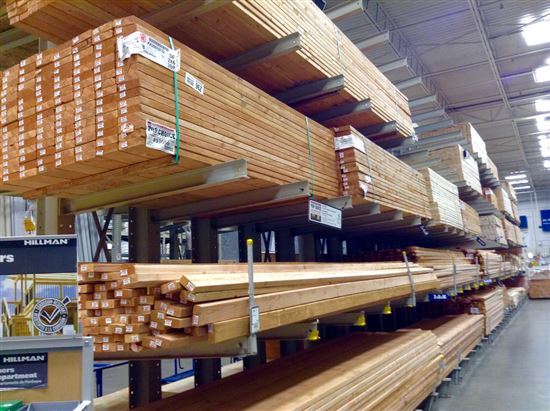 Lumber, Lowe's © Mike Mozart (CC BY 2.0) via Flickr
Everyday discount rate. You'll receive 5% off every purchase you make with your Lowe's credit card. This is easily the best reason to make use of this card.

Just pay off the card every month, and you'll have a 5% savings versus using cash or a debit card. That's a very enticing benefit.

No wait for the benefits. Using a standard bank credit card can help you collect reward points or cash back bonuses down the road.

But using the Lowe's credit card with its 5% discount means you receive the benefits immediately. It's like having the cashier hand you your cash back bonus as he hands you the receipt.

Flexibility. It's a really nice option to be able to choose which benefit you want at the time of purchase. You won't find this flexibility with many cards.

And having these choices is especially nice at a big box hardware store like Lowe's, because you could end up with some big ticket item purchases here, and it may be advantageous to use one option over the other.

No annual fee. You don't have to pay anything to have a Lowe's credit card. There's no annual fee, regardless of whether you use the card a couple of times per week or only a couple of times per year.
Can I use a Lowe's credit card at other stores?
No. The Lowe's Advantage consumer card can only be used at Lowe's stores.
There is a Lowe's Business Rewards Card from American Express that can be used anywhere AMEX is accepted.

Reasons We'd Skip the Card
Exceptions on discounts. The 5% discount offer on purchases does have some restrictions associated with it. You won't be able to use it with certain products, for example.

You don't want to make a decision on purchasing a particular brand of product, only to discover in the checkout lane that it isn't eligible for the 5% discount. It's not applicable to delivery or assembly charges either.

And it can't be used with other discount offers. If you dislike confusing restrictions, you may encounter some frustrations with this card and may prefer a cash back credit card instead.

High interest rate. At the time of this writing, the standard APR for the Lowe's credit card was 26.99%. That's a steep rate, especially versus some standard bank credit card options.

So if you plan to carry a balance on this card for a while, you might be better off using a credit card with a low APR.

If you're afraid of getting behind on payments. If you take advantage of the 0% APR offer for a $299-plus purchase offer for a particular purchase, or the reduced interest rate for a $2,000-plus purchase, this is not a good deal unless you can pay off the initial balance within the agreed upon time period.

If you don't pay off the full balance as agreed by making the required minimum monthly payments, you'll have to pay interest on the entire amount you initially charged. This can be a significant amount.

Lowe's will calculate back and charge the interest on the amount as if you did not have the 0% APR or reduced interest benefit. So make absolutely sure you can pay the balance in the agreed upon time period - and preferably a month or two early - before taking this deal.
Phone number: For any questions about your Lowe's credit card, you can call Lowe's Credit Center at 1-800-444-1408 and receive 24/7 support.

Click Here to Compare Credit Card Promotions
Cash Back Credit Card Promotions You Should Not Ignore
Home Depot Credit Card vs Lowes Credit Card
The biggest competitor for the Lowe's credit card is the Home Depot credit card. To choose between the two, it's best to start with the store format that you prefer.
Certainly, Lowe's and Home Depot have a lot of similarities. But it's common for shoppers to favor one over the other. If this describes you, you'll probably be happier with the credit card for that particular store.
But if you like both stores equally, consider these differences in their in-store credit card offerings.
Immediate discount. Home Depot's card does not offer any discount at the time of purchase, so Lowe's 5% immediate discount gives it a nice advantage.
Advantage: Lowe's
0% APR offerings. If you're looking for interest deferred financing for a large purchase, Home Depot may have an advantage.

Depending on the time of the year you're making the purchase, you may be able to use a deferred interest period of between six and 24 months at Home Depot. Lowe's is locked in to a six-month deferred interest period for 0% APR.
Advantage: Home Depot

Big ticket purchases. If you need a long time period to pay off a big ticket item, and you don't mind having a low interest rate, Lowe's has the advantage with its three-, five-, or seven-year special financing deal.
Advantage: Lowe's
Standard APR. Lowe's has a locked in 26.99% APR for all customers according to its website. Home Depot's APR ranges from 17.99% to 26.99%, depending on the creditworthiness of the applicant.
Advantage: Home Depot
Remember: The benefits offered with an in-store credit card can change. The benefits discussed here are as of February 26, 2017. And there may be special offers at various points of the year from Home Depot and Lowes.

How to Sign Up for the Lowe's Card
You can sign up for the Lowe's credit card in-store on the store's website. Using the web can be the fastest way to take care of the paperwork digitally, rather than trying to fill out the application out at the store.
You also can manage your credit card account through the Lowe's website. Understand that you will have to undergo a credit check before you'll be approved for the Lowe's credit card.
How to check approval status: After you have applied online, you can check your approval status by calling 1-800-444-0430.

Bottom Line
In-store credit cards can be a little frustrating for some people, as you're locked into using them at one merchant.
If you don't want that limitation on your shopping, you're better off with a standard bank card that provides a cash back bonus or points toward rewards.
But if you commonly shop at Lowe's, this is one of the best in-store credit card offers you'll find. Receiving an immediate 5% discount on purchases is a great feature. And it's a feature that one of Lowe's biggest competitors, Home Depot, doesn't match with its in-store credit card.
As long as you're going to pay off the balance on your Lowe's credit card every month, Lowe's essentially is giving you money to shop at its store. It's hard to beat that.
And for those large purchases where you may need to spread payments over six months or longer, you can switch over to the 0% APR or reduced APR benefit. That kind of flexibility, which allows Lowe's to set its credit card offer apart from the pack, isn't found in many credit card offers.
Disclaimer: Opinions expressed here are author's alone. Please support CreditDonkey on our mission to help you make savvy decisions. Our free online service is made possible through financial relationships with some of the products and services mentioned on this site. We may receive compensation if you shop through links in our content.
Editorial Note: Any opinions, analyses, reviews or recommendations expressed in this article are those of the author's alone, and have not been reviewed, approved or otherwise endorsed by any card issuer. This site may be compensated through the Advertiser's affiliate programs.
Disclaimer: The information for the Discover it® Cash Back and Capital One® Quicksilver® Cash Rewards Credit Card has been collected independently by CreditDonkey. The card details on this page have not been reviewed or provided by the card issuer.
More from CreditDonkey:
Compare:
---