A Long-Term View of Financial Planning Basics
---
Financial planning isn't the best way to spend a Saturday afternoon, but spending some time planning your financial future can mean many things for you. For one, it can help you worry less about your finances, and it can help you use the money you do have more responsibly. Financial planning can send your kids to college debt-free or help you retire in style. Whether you're a single working woman or a wife and mother of five, a career man or a husband and father of two, the basics of financial planning are pretty much the same. Here are the essential steps to take.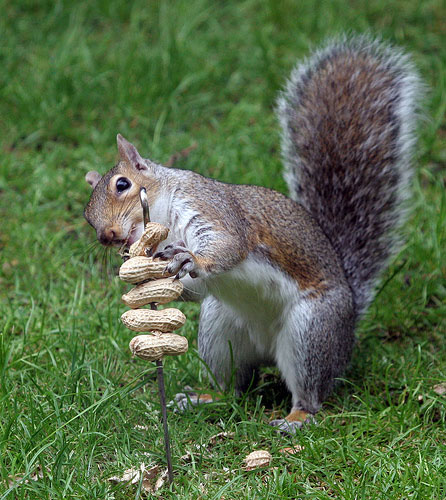 Squirrel with Nuts in Action © Brian Snelson
Set your financial goals for the next five years. Goal setting is a huge part of financial planning. If you aren't setting on goals, then what are you planning towards, anyway? While you'll want to set long-term goals, too, start by asking what you want to accomplish financially in the next five years. Do you want to buy a home, become debt free, start saving for retirement, or start a college account for the baby? Maybe you want to buy a new car with cash or simply pay your credit cards off? Write down what you want for yourself or your family financially in the next five years.
Set your long-term financial goals, as well. Next, set longer term financial goals. For now, these may be a bit sketchy. Try to put tentative dates on them, though. For instance, you may want to have X number of dollars saved for your child's education by the time she's eighteen. You may want to put X dollars into retirement savings in the next twenty years. Remember, these are just goals, and they'll probably change over time. Once you have all these on paper, you can start figuring out how to actually reach them.
Start with a budget. It seems almost insanely basic, but the only way you reach your long-term financial goals is by managing your money well today. Base your budget not on your dream income but on your actual income. Make sure you're living beneath your means by at least a few dollars a month. Over time, you will change your budget to match your fluctuating income and changing needs, but you should always, always have a budget. People with six figure incomes end up with hundreds of thousands of dollars' worth of debt because they fail to budget!
Handle your credit wisely. Part of having a healthy financial life in the long term is handling credit wisely. For some people, this may mean debt free living. For others, it will mean occasional affordable loans and some expenditures on lower-interest credit cards. Either way, your goal should be to have your debt payments make up well below 30% of your income. This should include your mortgage! If you've got more debt than this, it's time to tighten your belt and pay down some debt.
Have an emergency fund. Even if you're debt free and make six hundred grand a year, you should still have an emergency fund. Ideally, this fund should cover three to six months of your essential expenses. This isn't the equivalent of your income for six months, but the equivalent of your essential bills and basic needs. That way, if disaster strikes, you don't get into a ton of debt that you just have to dig back out of. It's okay to build this fund slowly over time, but you need to be working on it, for sure!
Reevaluate your goals every year. The first of the year is a great time to sit down and reevaluate your short term and long term goals each year. See if you're on track or what you need to do to get on track. See if you need to update goals. As you get within five or ten years of your goals, you'll need to make them more specific and tangible. Working toward something specific will make you more likely to succeed in the long run!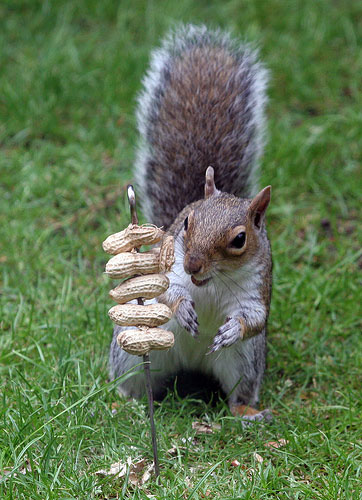 Squirrel with Nuts © Brian Snelson