4 Ways to Live Within Your Means
---
Most people have not saved enough to maintain their current lifestyle for even one month.
While many Americans have been living paycheck-to-paycheck for some time, a recent CreditDonkey survey shows that majority have not learned to cope with stagnant wages and raising prices.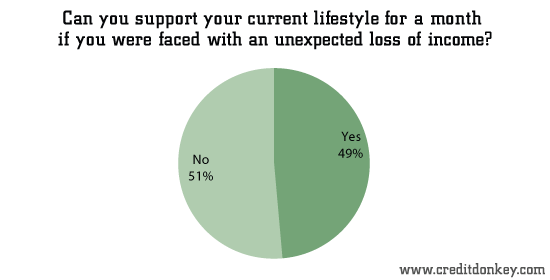 Can you support your current lifestyle for a month if you were faced with an unexpected loss of inco

© CreditDonkey
"The sad truth is many people are living a lifestyle that's beyond their means," says Charles Tran of CreditDonkey. "There are only two sustainable solutions to this: make more money or spend less. It's almost always easier to spend less."
But how? CreditDonkey put together four easy ways to save more and secure your lifestyle against a job loss or major accident that could put you in deep financial danger.
1. Consider the "latte factor."
It's a dogma of personal finance journalism: the small expenses add up. A $4 cappuccino on the way to work costs $88 per month. A $7 lunch every workday adds on another $154 per month.
What are you spending a little bit on here and there, and is it really bringing you joy? Or is it just the easy choice? Consider tackling these habit-forming small expenses with practical alternatives. A thermos filled with coffee will save you over $900 per year. Making your own lunch will save money, and will probably make you healthier, too.
2. Your home is too expensive.
For decades, Americans have taken the suburban home life for granted, but the reality such a scenario has become out of reach for millions of Americans as banks have become stricter about granting mortgages to those who lack credit history or clearly cannot afford the house they have in mind. At the same time, growing interest in urban apartments is transforming downtown cores nationwide into pricey premium neighborhoods.
However, outside of cramped cities such as New York and San Francisco, few Americans consider taking on a roommate or downsizing to a smaller place. According to apartment rental site Hotpads, the median one-bedroom rental is $1,580, but the median two-bedroom rental is $1,875. If you are currently living alone, you could cut your monthly accommodation costs by nearly half if you add a roommate. In some locations, more roommates can translate into bigger savings, with no real loss of personal space. Four bedrooms in Chicago are on average $1,950, meaning a four-person share could save each person over $1,000 per month when compared to renting a one-bedroom on your own.
Finally, consider how the location of your home translates into other expenses. Could you find somewhere close enough that you could walk or bike to walk, to cut down on gas costs and mileage increases? Or could you move near a supermarket, and take your weekly trip to the store by foot? When added up, transportation costs can be huge and take a big chunk out of your ability to put aside emergency savings.
3. Loss leaders and meal planning can save hundreds
Another big expenditure, especially for young workers just out of college, is food. Young professionals tend to underestimate the savings that cooking and eating at home can yield. According to the U.S. Department of Agriculture, a couple under 50 could spend about $485 per month on food eaten at home. That translates to about $8 per day per person. That is less than a meal at most restaurants, even without an appetizer!
There are ways to cut that cost of food down even further. Savvy shoppers take advantage of loss leaders, which are routinely advertised by grocery stores. These items are sold below cost to attract shoppers under the assumption they will also buy more expensive things as they walk through the store. Don't give in to temptation by buying things you don't need but that catch your eye. But do stock up on loss leaders to save yourself money in the long run.
The trick is to plan your meals ahead of time so that you visit the store only once a week – limiting the likelihood you'll overspend – and stay on track, by avoiding dining out and buying extra items when you could be eating food that's already in your pantry.
4. Use empowering financial tools
Finally, see how you can take advantage of the many financial tools on the market. Cash back and rewards credit cards can help you stretch your dollar further, and online budgeting tools and retirement calculators like this one can help you plan your finances. Such tools can provide a base for more careful spending and management of your finances.
When you stick to a plan, you will likely save up much more than a month's expenses very quickly. And with such savings, you'll be less dependent on your job, less at the mercy of your boss, and overall a much happier person.
(CreditDonkey.com surveyed 1,062 Americans, age 18 and over between April 1 and April 10, 2013. )
More from CreditDonkey: