Survey: Income Statistics
How Long Would Your Lifestyle Last If Your Income Was Cut?
---
Just over half of over 1,000 respondents to a recent CreditDonkey.com survey said that if they ever have to face an unexpected loss of income, they would not be able to support their current lifestyle for even a month.
Your lifestyle is your way of living that reflects your attitudes and values – and your finances. This includes how you shop, how you save or spend your money (or credit), what type of car you drive and house you live in, as well as what and how you eat, your family activities, how you work, your job, and what you wear. Think about your own finances: If you or your partner lost a job, how long could you continue your current lifestyle, with whatever savings you have now? How dependent is your lifestyle on the amount of cash you bring in every month?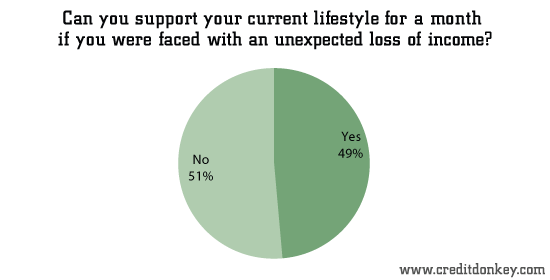 Can you support your current lifestyle for a month if you were faced with an unexpected loss of inco

© CreditDonkey
Some savings but not enough…
According to our survey, 70.6% of respondents said they have cash left over after paying the monthly bills. But if more than half don't have enough to continue their current lifestyle for even a month, then those who do have cash left over when they pay their bills don't have very much. According to a February 2013 CreditDonkey.com survey, 55.2% of over 1,100 respondents saved less than $100 each month, and an additional 30.2% saved at least $100 but no more than $500 per month during the previous year. And that's definitely not enough to support any kind of lifestyle for a month (unless you've been saving at that level for many years).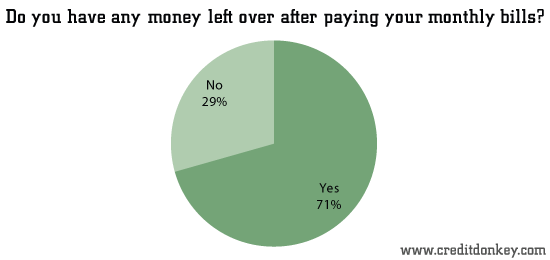 Do you have any money left over after paying your monthly bills?

© CreditDonkey
While this data should serve as a wakeup call for consumers to rethink their savings plans – or their lifestyles – it's an unfortunate reality that saving has been a challenge for many in recent years. The Federal Reserve Bank of St. Louis has been tracking savings rates, and contrary to many reports, since the beginning of the financial crisis, the rate of personal savings has been declining. In November 2008, the savings rate for Americans was 6.5% of disposable income. Since that peak, savings as a percentage of real disposable income has fallen more than 49%.
(CreditDonkey.com surveyed 1,062 Americans, age 18 and over between April 1 and April 10, 2013. )
Naomi Mannino is a contributing writer at CreditDonkey, a credit card comparison and reviews website. Write to Naomi Mannino at naomi@creditdonkey.com