Justice Credit Card Review: Read Before You Apply
---
Research before you apply. Is the Justice credit card worth it? Read this review.
If you have a daughter or niece in the 7-14 age range, you likely have more than a passing familiarity with the retail store Justice. The tween clothing retailer is known for the frilly, the colorful, and the overall fun fashion.
Given its popularity among girls — which means it's a also a popular stop for the grownups in those children's lives — you may be wondering whether applying for a Justice credit card is worthwhile. The answer depends on how you tend to use your credit cards. If it's solely for convenience sake, then you may find one useful.
We'll explain more below. But first, here are some current credit card promotions you should not ignore.
Benefits
Discounts: The card offers a 15% discounts off your first in-store or online purchase with coupon. You also save an extra 5% off every day when you use the Justice Credit Card.
Convenience: Using this card is one way to isolate the charges you make at this store. It would give you a running tab of how much you spend on your tween. There are also cardholder only sales and events.
Drawbacks
High interest: With an APR of 27.99%, the Justice card is toward the high end of the credit card interest rate range. Even if you decide to get the card just to get the initial 15% discount (which is really not a good reason to sign up for a card, in our opinion), you may forgo what little you saved if you ever carry a balance on this card.
Limited use: The Justice card can only be used at Justice stores or through its website.
Who It's Best For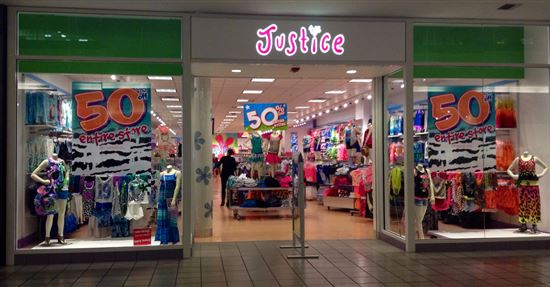 Justice Store © Mike Mozart (CC BY 2.0) via Flickr
The time you would want to use this card is very limited as girls quickly outgrow the brand. If you have a large brood of tweens who all have this type of fashion taste, maybe it is worth considering, but still, you may be missing out on other rewarding opportunities.
Consider applying instead for any unsecured credit card with a solid rewards or cash back program. That way, your shopping sprees at Justice will at least put a little cash back into your pocket.
Alternatives
Not sure whether you'd use this retailer card enough to do it justice? You can still use a credit card at Justice and get rewards for your purchases of cute clothes for the tweens in your life. Consider these alternatives to the Justice credit card, depending on which consumer label fits you best:
You always pay off your bill each month: For responsible spenders who want some payback for their shopping sprees, look for a rewards credit card.
You tend to carry a balance: When you're the type of shopper who can't pass up a good sale but also isn't always able to pay off all that you owe on your credit cards, you should look for a card that offers low interest rates above all else.
You are in college: Consider a student credit card. These cards don't have the same level of perks as the more "grown-up" ones, but some student credit cards will give you cash back for your purchases, and all of them will help you build up credit for when you're ready for a more generous card or, perhaps, a card to your favorite retailer.
More from CreditDonkey:
---