What to Buy (and Not Buy) in June
---
June is a hot month for deals with Father's Day and summer around the corner. Read on to score amazing discounts, but only if you know what to avoid.
What to Buy in June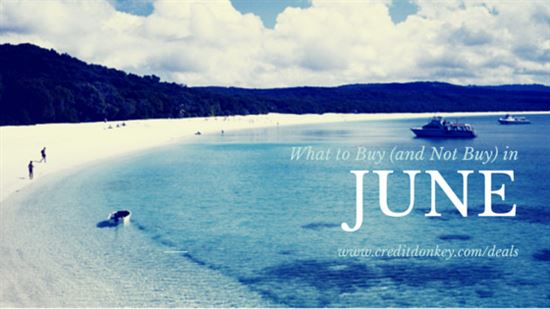 What to Buy (and Not Buy) in June
Gym memberships/equipment: If you're thinking of making a last minute push to get in shape for summer, you have nearly the whole month of June before beach season kicks off. With New Year's resolutions forgotten and more people getting outdoors to take advantage of the nice weather, there's less of a demand for indoor gym equipment and gym memberships. As a result, prices are slashed.
Travel: June is a useful transitional month not only for getting your body in shape, but it's also a great time to rack up some points for your summer travels. Consider signing up for an airline rewards credit card so that you can take advantage of promotional signup bonuses.

Tip: Book your trip to the Caribbean for June when hurricane season is starting but isn't as risky for travel as September. You'll find cheaper rates without as much chance of having a storm ruin your stay.

Another reason to sign up: If you will be traveling overseas this summer, make sure you have at least one credit card that does not charge a foreign transaction fee – otherwise you'll end up paying an extra 3% you have to pay on every purchase you make outside the United States.

Lingerie: Victoria's Secret holds its famous semi-annual sale in June each year, presenting a great opportunity to stock up on lingerie. Discounts can be as great as 70% off regular retail prices.

Did you know: If you're someone who marks the Victoria's Secret biggest sale date on your calendar so you won't forget, you might want to consider applying for the Victoria's Secret Angel credit card. You'll earn reward points on all your Victoria's Secret purchases plus a free gift card on your birthday. Best of all, you'll get early access to the semiannual sale event.

Dishware: Due in large part to June being such a popular month for weddings, dishware companies offer discounts on their products to try to win spots on registries. That's good news for everyone in need of new place settings, soon-to-be-married or not. Discounts are usually in the 25-50% range.
Tools: This category of items rarely goes on sale, except for this time of year when tools are easy gifts for Father's Day. Take advantage of the opportunity to purchase whatever tools you'll need to make home repairs and improvements during the summer and fall months.
Jeans: Stay ahead of the back-to-school mark-ups by stocking up on denim early in the summer. You'll find savings up to 60% off and occasional BOGO offers.
Carpet: If your home flooring needs some freshening up, consider updating your carpet while the season is slow for most retailers. Look for sales and don't be afraid to negotiate on both price and installation fees for some substantial savings.
Washers and dryers: Whether your washer has been making a funny noise or your dryer is simply out of date, late June is one of the best times of the year for purchasing new laundry appliances. The first half of the year is ending and retailers are scrounging to meet their sales goals, so take advantage of the both sales prices and your haggling skills to make the upgrade.
Video games: Summer often holds big sales on video games, and online retailers like Steam usually offer discounts up to 50% off. While this year's sale hasn't been announced yet, it usually takes place in mid to late June.
What Not to Buy in June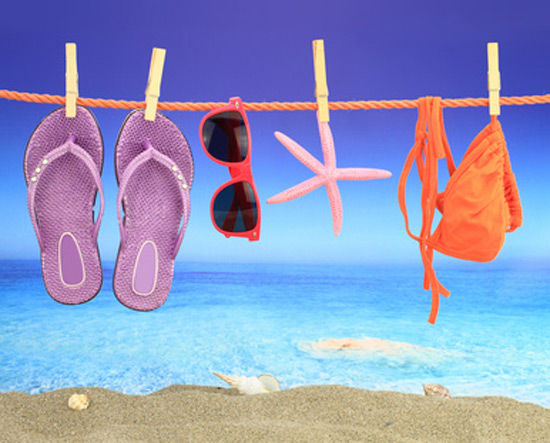 Summer clothes: June presents the unfortunate combination of high demand for summer clothes and therefore low incentive for stores to cut prices to reduce their inventory. Look for discounts to increase as the summer goes on and the impending arrival of fall inventory gives stores a reason to deepen discounts. You'll find savings of 50% and more on shorts, bathing suits, sandals, and more by the time August arrives.
Air conditioning units: As the temps start to rise so do the prices of AC units. Unless you're having a full-on meltdown, wait until after Labor Day for savings of 20% or more.
Bikes: People are heading outdoors now that warm weather has arrived, meaning that bicycles will be at full price now through the end of the summer season. Most bike retailers wait until the end of the year for major sales when they are making room for new models.
Patio sets and Barbecues: If you need to purchase either of these items, your best bet is to wait until the very end of the month. July 4th usually brings great sales on outdoor living items like furniture and grills, but earlier in the month, bargains will be scarce.

Did you know: Not only are prices on barbecues no bargain in June, prices on traditional barbecue meats are on the rise as well. Economic trends have resulted in higher beef prices anyway, but the increased demand that the arrival of grilling season brings means grocers will be unlikely to offer any great deals on popular cuts of beef.

Laptops: June doesn't bring much in the way of laptop sales as colleges classes wrap up and students head home. Better prices can be had toward the end of the summer as back-to-school sales commence, or even later in the year around Black Friday.

Did you know: The Japanese fiscal year begins in April, which has led to some theories that Japanese electronics are discounted in the spring months as these companies try to clear out the previous year's stock to make way for new items. You may find some sporadic bargains, but as a general rule, you'll find more widespread sales during other times of the year.

Apple products: Tech industry insiders point to the Apple developers' conference held every year in June as the reason to hold off on Apple purchases this month. This meeting usually brings announcements of new product lines to debut in the fall, and announcements of new product lineups mean deep discounts on the current ones. Buy an Apple product in June and you risk being among the last to pay the higher regular retail prices.
July 4th is a major sales event at many retail stores, but there are definitely some discounts to be found in the weeks leading up to this retail holiday. Especially for items like lingerie and tools, which are tied to events (the Victoria's Secret sale and Father's Day) that occur within the month of June, the bargains will disappear well before the calendar flips to July.
(Additional Writing by Lauren)
Leah Norris is a research analyst at CreditDonkey, a credit card comparison and reviews website. Write to Leah Norris at leah@creditdonkey.com
More from CreditDonkey: