23
Common Interview Mistakes

for

College Students
---
There's no way to get a job without an interview. So be prepared and don't make any of these 23 mistakes.
Pre-Interview Prep
1. Being clueless about the company
If you walk into a job interview knowing absolutely nothing about the company, you might as well turn around and walk right back out. At some point, your lack of knowledge is going to show, and you'll probably come across as a dope. No employer wants to hear "So what is it you do again?" Hiring managers want to know you did your research before you walked in and that you have some interest in the company. You don't have to be in-depth with your research, but you should familiarize yourself with what the company does, its mission, and the highlights of its history.
2. Not understanding what the job involves
When you're desperate to get a job so you can start paying off those hefty student loans, you may be tempted to stretch yourself in terms of where you apply. But you don't want to waste your time or that of the person in front of you by trying to claim you can handle working in the IT department when you can barely manage keeping your apps organized on your phone. Stick as close as possible to what you know and what you like to do. If you come across as a fool, you won't be the first person the interviewer considers when the right position does come along.
A lack of adequate research about an interviewing company is one of the top ten mistakes job seekers make. Find out the rest of the most common mistakes, and how you can avoid making them, in this infographic from
Career Geek
.
3. Showing up late
Punctuality is par for the course when you're trying to make a good impression on a hiring manager. Ideally, you should try to get there at least 15 minutes early so you have enough time to familiarize yourself with the building and do some last minute mental prepping. Waltzing in 5 or 10 minutes late is the fastest way to set a negative tone for the rest of the time you're there.
4. Or showing up too early
This is less than a faux pas than making someone wait for you, but the point is, you want to leave a good impression and not put a sour taste in someone's mouth for any reason. If you get to the interview really early, don't check in just yet. Hang out at a nearby coffee shop or even in the bathroom if you have to. You won't impress anyone if you show up too early - the interviewer will just be annoyed to get the call that you have arrived. Stick to the time and the plan you agreed upon beforehand.
5. Failing to dress the part
Casual Friday is becoming the norm for more companies, but meeting with a human resources representative in sweatpants and sneakers won't send the right message, even if you go work for a tech startup. If you get the job, then you can wear sneakers. If you're not sure what to wear, a quick phone call to the person who scheduled the interview should clear up whether you need to pick out something super formal or if you're okay with simpler business attire. In general, you can't go wrong by trying to look your best.
6. Not having a story to tell
We're not talking about a fairytale here. We're talking about your career story, however short it may be. What do you want to be when you grow up and what have you done so far to get there? Have an answer to that, to give the employer an idea of your goals. You're providing a pitch on who you are — it should be succinct and get right to the point, outlining what your strengths are and what sets you apart from all the other candidates for the position.
7. Going along with everything HR has told you
Oftentimes, the HR person or recruiter is not the one who is going to actually hire you. The first person you come into contact with may have a vague idea of what the job entails and what the department you'll be working in is even like. Just because you're new and want to impress doesn't mean you can't ask questions of the person who has screened you. Be sure to ask what you should expect. How long will the interview take? How many people will you be meeting with? Should you bring anything with you? You may be surprised to learn that what you thought was going to be a half-hour chat will actually be two hours and may encroach on your class schedule. Get the information ahead of time so you're prepared.
Staying Focused
8. Not asking the interviewer questions
Most employers will give you several chances to ask questions. And they're not doing it just to give you a chance to get more information. They want to see how you converse and what your thought process is. And most of all, they want to know how enthusiastic you are about the job. When you ask a lot of thoughtful questions, you'll come across as someone who is very interested in the job and the company, and, ideally, as someone who has been listening carefully.
9. Asking too many questions
Still, there's a fine line between being inquisitive and nosy. You have to know the difference when you're in a professional setting. Don't ask questions just to ask questions, and don't come on too strong. You don't want the person who's interviewing you to feel attacked or annoyed. You also don't want to be Chatty Cathy and take over the whole conversation.
10. Not saying enough
While talking too much is problematic, so is being too tight-lipped. Offering one or two word answers or injecting lots of awkward pauses throughout your exchange can cause things to fall flat. It may also give the impression that you're not really excited about the job.
11. Leaving your phone on
Seems obvious but it's so easy to forget when you're full of nerves. Turn your ringer off before you leave the house if you have to — you don't want to act like anything is more important than the conversation you're having.
12. Only thinking about yourself
Look beyond your own needs while you're being interviewed. You likely have a lot more than can ever be met by this one employer. Your first job out of college is highly unlikely to meet all of your criteria. However, the employer is not going to stop looking for employees until they have, in fact, met most if not all of their criteria. So it's in your best interest to try to understand what the employer wants for the position. Ask questions if the answer is not clear and then explain how you can meet their needs.
13. Being vague about what makes you the best candidate
Unless you're pursuing a job in a highly specialized or truly obscure field, you're going to face some competition from other recent grads. Finding a way to set yourself apart from the pack can work to your advantage as the hiring pool is narrowed down. If you're not sure why you're the right person for the job, there's a good chance the person conducting the interview won't be convinced either.
Personality Counts
14. Being boring
Your resume summarizes all of your accomplishments, but it doesn't convey what makes you an extraordinary person. Employers want to know your skills, yes, but they also want know what it will be like to work with you. If you leave your personality at home on the day of the interview, you're going to come off as boring and uninteresting. Employers want to see what it is that makes you unique, and you shouldn't be afraid to let at least a little of that come through.
15. Letting your energy fizzle out
When you're stuck in a marathon interview situation, it's easy to let yourself feel rundown as the day wears on. By the time you make it to the final stage, you may not be as motivated to give it your all as you were when you started. Maintaining the same energy level throughout may be challenging, but pushing past your weariness can be rewarding if you end up getting the job.
16. Getting overly personal
The person who's interviewing you may come off as friendly and personable, but that doesn't mean they want to hear your entire life story. For the most part, stick to the type of work you do and are interested in and avoid getting too personal. Only share your hobbies and interests outside of work if you are asked. That's when you and the interviewer may find you have something in common and you become a memorable candidate.
17. Badmouthing the company
Sometimes things seem to slip out of your mouth before you're able to catch yourself — and suddenly you've created an elephant in the room. When this happens during an interview, it can be devastating. If you know that the company has been on the receiving end of negative press recently or it's guilty of committing some major gaffes in the past, you're better off keeping your thoughts on those issues to yourself. Only talk about ideas on how the business can improve if you are specifically asked.
18. Acting standoffish
Interviewers don't want to be your best friend, but they do want you to be approachable and forthcoming. Acting aloof or distant can shape their perception of who you are and cause them to make inaccurate assumptions about whether you will or won't be able to fit in with the company culture.
19. Being overconfident
One of the worst things recent grads can do is assume that the job's in the bag. Unless your Dad owns the company and your Mom's the vice president, you shouldn't call it a sure thing. If you come across as being overly confident, it could sour the interviewer's opinion of you, no matter how qualified you are.
Mind Your P's and Q's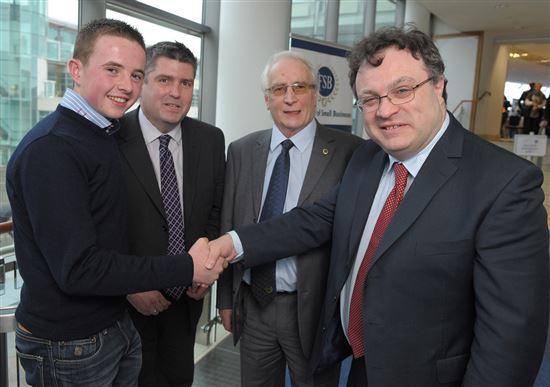 © Northern Ireland Executive (CC BY-SA 2.0) via Flickr
20. Saying "I don't know"
Saying "I don't know" just isn't said in a corporate setting. You'll just end up sounding unprepared. If you really have no inkling about what kind of answer you're expected to provide, you can simply say that you'll have to do a little more research and get back to the interview. And be sure to make good on your word.
21. Mumbling or rambling
If you're trying to get into a field that requires a significant amount of personal interaction, perfecting your communication skills is key. That means looking the person you're talking to in the eye and speaking in complete, coherent sentences. It's a respectful, professional way to act. If you look away, you'll miss out on visual cues and you may come across as shy or evasive.
22. Bringing up the money topic
Speaking of money, that's usually a touchy subject when you're still in the interview phase. Generally, you should limit talk about salary and benefits unless it's clear that the hiring manager wants to get a feel for your expectations. Even then, you should avoid giving them a hard number and offer a ballpark range instead, so you have some room to negotiate later on.
23. Not saying thank you
Be sure to show gratitude for the interviewer's time. Shake hands and say "thank you" on the way out, and follow up with your thanks by email a day or two later. Even if time passes without hearing a word, be sure to follow up. The hiring process can be lengthy. Touching base with your interviewer every so often lets them know that you're still interested in the position, and it keeps you at the forefront of their minds if something else opens up.
Rebecca Lake is a journalist at CreditDonkey, a credit card comparison and reviews website. Write to Rebecca Lake at rebecca@creditdonkey.com. Follow us on Twitter and Facebook for our latest posts.
Note: This website is made possible through financial relationships with some of the products and services mentioned on this site. We may receive compensation if you shop through links in our content. You do not have to use our links, but you help support CreditDonkey if you do.
Read Next: