Is Credit Card Interest Tax Deductible?
---
In one word: yes. In more than one word: yes, but only for business expenses.
The U.S. tax code is probably the most complex and maligned system in the world. Thanks to thousands of pages of tax legislation, several expenses are tax deductible for certain people in certain situations, but many people don't know when tax breaks apply to them.
The fact is, if you can fight your way through the complexity, you can see a benefit at tax time. And you're not doing anything wrong: many tax deductions exist to encourage businesses to spend and invest in the economy throughout the year. Then, when taxes are due, companies can subtract some of that spending from their overall income, reducing the amount they owe to Uncle Sam. These deductions exist for businesses of all sizes, including small businesses, even sole proprietorships.
If you are a freelancer responsible for paying taxes on your income or if you own a small business, then you can probably deduct some of your credit card interest as a business expense.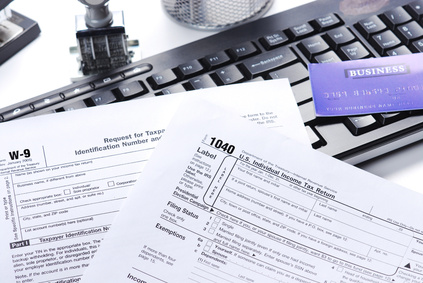 © Thanh Lam
However, if you are an employee and you used your credit card solely for personal expenses only, then, sorry, you cannot deduct those charges. The U.S. tax code is just another great reason why you should consider starting your own business.
How to Deduct Credit Card Interest from Your Taxes
If you already own your own business or work as a sole proprietor*, here's how you can deduct credit card interest from your taxes:
Itemize all interest expenses paid on your business and personal credit cards (ideally, you have kept your personal and business expenses separate). For business cards, this task should be straightforward: find out how much in interest charges you paid throughout 2012 – that is the amount you can deduct. For business expenses that you made on personal cards, this calculation is a lot more complicated: you'll need to single out the business expenses, find out how much of your total interest paid was for those expenses, and itemize just that amount. A tax professional can help you make this calculation. (For more details on making this calculation, the IRS has published detailed specifics on personal versus business expenses.)
Once you have determined the amount of interest you paid during the tax year, you can deduct that from your gross operating income as part of your Form 1040 or 1120 filing. (While it's technically possible for self-employed individuals to use a 1040-EZ form, the full 1040 gives you more ways to account for your deductions.)
After you've subtracted your total operating expenses from your gross income, you can determine whether you have a net operating gain or loss, which is the amount that you will be taxed on. If you're able to deduct a significant amount of credit card interest, you could see your company's tax burden shrink substantially.
While it's never a good idea to pay interest on debt just to get a tax benefit – since you can never receive a discount that will match the total cost of holding the debt itself – the truth is many small businesses need to carry over balances on their credit cards to keep running and, ideally, to grow. Fortunately, when they need the liquidity of a business credit card, they can find real savings in the credit card interest tax deduction. Since these calculations can be complicated and everyone's circumstances are different, however, we do recommend you consult a tax attorney to make any deductions correctly and make sure they apply to your situation.
For those who are eligible, credit card holders will be able take advantage of yet another hidden benefit in their company card.
*Depending on your small business is set up, different tax rules apply. This article is not meant to replace the advice of a tax professional.