Survey: Payment Method Statistics
Consumers Want More Payment Options at Independent Stores
---
Independent small and medium-sized businesses need to offer more electronic payment options, if they want to compete with online and big box retailers.
That is one of the conclusions of a recent CreditDonkey.com survey, which shows that most shoppers prefer electronic payment options over cash. Over 1,200 shoppers were asked how they usually pay for in-store purchases, and over 76 percent said they prefer to pay with debit cards or credit cards. Only 21.9% chose cash as their most frequent method of payment for in-store purchases.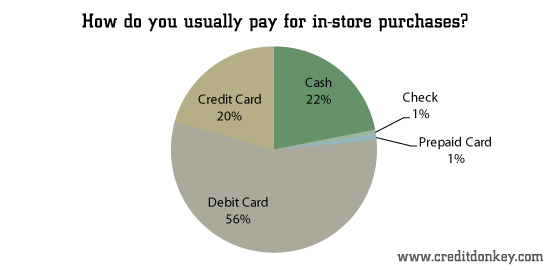 How do you usually pay for in-store purchases?

© CreditDonkey
The potential to increase sales by offering the option to pay with plastic should not go ignored, notes Charles Tran, founder of CreditDonkey.com. "A lot of those shoppers are paying with cash in shops because they have little choice," notes Tran. "Shoppers are interested in paying with plastic because it's convenient, easier to track spending, and several cards are offering rewards for purchases such as cashback or points."
While small businesses carry some of the cost of these cashbacks in the form of intercharge fees, Tran believes that the potential for higher revenue by allowing credit card and debit card purchases offsets the costs of accepting cards. "The fact is people enjoy shopping in person and they want to go to independent stores, but they also want to use their credit cards. Storeowners need to adjust to this consumer behavior," he notes.
According to Tran, one of the benefits of accepting plastic is that small shops may increase revenue from impulse purchases. In its survey of shoppers, CreditDonkey.com asked where they make their impulse buys: 72.1% said in a physical store, and 26.1% said with a computer. Only 1% said they make impulse buys on a mobile device.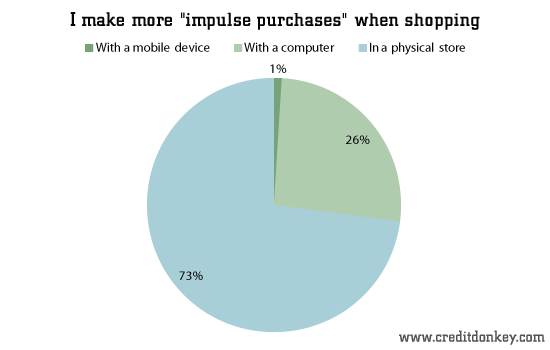 I make more impulse purchases when shopping

© CreditDonkey
"Tablets and smartphones are the hot topic, but the fact is that no technology can replace the personal touch of a real store," notes Tran. "It's an experience for shoppers, and accepting cards augments that experience."
Upcoming developments with mobile wallets might mean shoppers will be spending with mobile devices, but at local, independent stores. "The ideal situation for consumers would be the option to use credit cards, mobile wallets, or cash at local, independent stores as they see fit."
CreditDonkey.com conducted the online survey between August 20, 2012 and September 2, 2012. In total, 1,254 consumers in the U.S. aged 18 and older answered the question, "How do you usually pay for in-store purchases?"
Mike Foster is a contributing writer at CreditDonkey, a credit card comparison and reviews website. Write to Mike Foster at mike@creditdonkey.com