How to Haggle: Get Better Deals by Haggling
---
Although everyone is looking for the best deal, few shoppers are willing to haggle to get a better price. According to a new survey by CreditDonkey.com, most shoppers rarely haggle prices, particularly younger people.
Over 1,000 shoppers were asked how often they negotiate for better deals, and more one-third said that they rarely haggle, with 26.7% of respondents saying that they never haggled over prices. Still, more than 39% of respondents over 35 said that they save at least 10% when haggling. For respondents between 18 and 24, that number drops to 28.5%.
The next time you're up against a price you don't want to pay, keep in mind these three tips:
1. Start low – but not too low.
Effective hagglers need to strike a balance between starting low enough that they'll end up with a good price and not starting so low that they'll insult the merchant. It's a good idea not to take haggling too far when you make your starting offer. But you also need to make sure it isn't too high, either, in which case you could lose out on a lower price.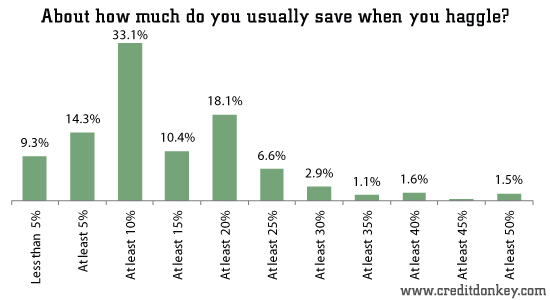 About how much do you usually save when you haggle? © CreditDonkey
2. Know the products.
To know what price you should pay for a product, do your research. If you know the cost of building, distributing, and marketing the product as well as what the merchant probably paid for it, you're in a good position to make the right offer on the product. Since this will take some work, it makes sense only for higher price items, such as car purchases.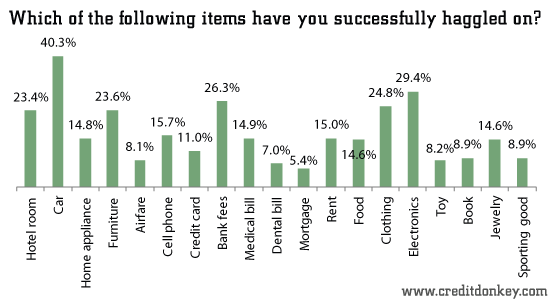 Which of the following items have you successfully haggled on?
3. Know the market.
Hagglers need to know who they are negotiating with and how low that person can and will go for a product. In competitive markets, merchants naturally are willing to offer products lower than in less competitive markets. It's good to know what the merchant's competition is before trying to haggle and whether the market has been performing well or poorly in the near term. All of this will give you a clearer sense of how low the merchant is willing to go.
Pro Tip: Most people are afraid of silence. When negotiating with a merchant, don't be afraid of being silent. Anytime you feel the urge to say something, start counting sheep in your head.