140-Year-Old Alarm Company May Be Best in Smart Home Security
---
For more than 140 years, ADT has been keeping customers safe with its home security systems. Today, they remain the top home security system while using modern technology.
With more than 18,000 professionals countrywide, ADT offers more than home security—they offer peace of mind for its clients. Things you probably don't think about, they cover for you. For example, a fire starts in your home—what do you do? Even with the best laid-out fire escape plans, many people panic and forget everything they planned.
The ADT smart system has you covered. With its automation technology, it turns lights on, unlocks doors, and lowers the thermostat to slow down the speed at which the smoke spreads. These are all important things that you probably wouldn't think about in the moment, but that ADT has covered for you.
ADT's Services
Above is just one example of how ADT makes home security so much more. A few of their other services include:
Automated Door Locks
Get notified when someone unlocks your doors. You can also unlock your own doors virtually, even while hundreds of miles away, right from your smartphone. Locked out? Get rid of that panicked feeling. ADT's keyless entry and mobile app access put the days of panicked phone calls to spouses and locksmiths behind you.
Automated Home Lighting
Connect your smart bulbs to the ADT mobile app and have complete control over your home lighting when you aren't home. Set up a schedule for lights to automatically turn on/off, making your home look occupied even when it's empty. This is a proven way to deter burglars.
Smart Thermostat
Lower your energy costs by reducing the use of the utilities when you aren't home. Whether you automate your thermostat's temperatures to change during certain times of the day or you monitor them from your smartphone, ADT makes it easy to stay on top of your home's energy costs.
Garage Door Controls
Never worry about leaving your garage door open again with ADT's smartphone controls. Receive alerts if you left your garage door open, manually open and close the door from your phone, or set up alerts to remind you to close the door when you leave. As a bonus, never give out your garage door code again—simply open and close the garage door from your phone when you need to give someone access to your home.
ADT Video Doorbell
Know who's at your door at any time with the ADT Video Doorbell. Whether you are home or away, you can see who rang your doorbell and even talk to them via the two-way audio in the ADT mobile app. Are you receiving a package? Confirm its delivery with the video doorbell and ensure its safety with alerts if anyone comes near your front door.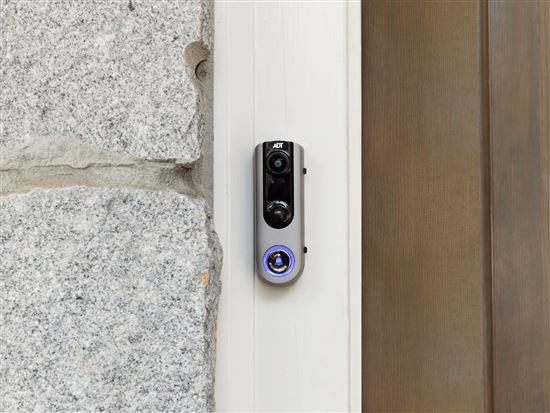 Systems Customized for You
With ADT, you can customize your alarm package so that you get exactly what you want. They offer three packages to choose from, but if you need additional services or want to remove the services you won't use, ADT also offers customized packages like:
Traditional
This includes 24/7 monitoring of your state-of-the-art ADT security equipment along with detection for fires, floods, and carbon monoxide. It's the most basic package, but it still provides ample security.
Control
This includes everything in the Traditional Package, plus remote capabilities from your smartphone, including email and text alerts upon request. You can also set up automation and schedules for lights and the thermometer.
Video
This includes everything in the Control Package, plus video surveillance including live stream video on your mobile device and the ability to record video clips.
Connect Your ADT App With Your Electronics
Using Z-Wave wireless technology, ADT makes it possible to connect many home electronics with your ADT mobile app, giving you remote access to many aspects of your home. Integrate automation of your lighting, home temperature, garage door, and more with the Z-Wave wireless technology.
You don't need to hire an electrician or figure out complicated wires yourself. Everything is run wirelessly and seamlessly, and integrates with the ADT app. Once connected, you can manage your electronics from your desktop or mobile phone, even while away from home.
Other ADT Products
More than just a home security company, ADT offers a variety of other products too:
Identity Theft Protection
For a small monthly fee, ADT offers identity theft protection, monitoring the dark web for your information. With 24/7 monitoring, instant alerts, credit reports, and fraud resolution assistance, ADT helps keep your information away from criminals and helps you fix a situation should criminals get a hold of your information.
Safety Products
You have to worry about more than burglars getting into your home. ADT recognizes this by offering monitored smoke, carbon monoxide, and flood sensors. They also offer an emergency button that gets emergency personnel to your location quickly.
ADT Go
ADT Go protects your family while away from home. With an emergency SOS button, crash detection system, and location sharing, you can keep track of your family members, call for help with ease, and check on the status of drivers (especially new drivers).
Bottom Line
ADT offers top-of-the-line home security systems and so much more. With more than 100 years of experience in the industry, you can trust the technology, expertise, and personnel behind the systems, helping to ensure the safety of you, your family, your home, and even your identity.

More from CreditDonkey: