Household Budgeting Tips: Beyond the Obvious
---
Whether it's a loss of income or increased expenditures for necessities, sooner or later, many of us need to tighten our belts. Growing accustomed to a smaller budget is a gradual process that may involve more than just the obvious tips about cutting out luxury items.
For those who are serious about cutting costs and want to go beyond the obvious, here is some simple money saving advice that can save you time, money, or both.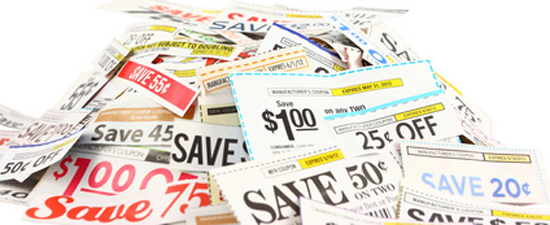 Swap coupons. Have you ever felt frustrated that circulars contain so many coupons you don't use? Well, here's a way to use them after all: set up a coupon swap group with your friends. No two households shop the same, and this way, you can swap coupons you don't need for some you use every week.
Money-saving apps. For an innovative take on budgeting basics, try apps like Dollarbird or Budget Calendar. These apps allow you to track your expenses and forecast your spending on a calendar view instead of spreadsheets. Each costs $1.99 - a small price to pay for the ability to keep your budget on track whenever and wherever you like! Also, if you're tired of ink-stained fingers from thumbing through the circulars, it's good to know you can get free apps to do it for you. Grocery Smarts and Coupon Sherpa are just two of the free apps that provide you with a tailor-made selection of coupons for your favorite stores.
Evaluate at least one bill each month. Instead of simply paying your bills, choose one and evaluate it. Ask yourself if you can curb spending anywhere by choosing a different provider or plan. Don't be afraid to pick up the phone and talk to your providers or request quotes from the competition.
Simple DIY. There are a few easy ways you can reduce normal household expenses by employing some simple do-it-yourself tips. One idea often overlooked is to shorten your dryer-vent hose. It's not something you'd think of every day, but according to This Old House, you can save up to $25 per year on electricity by cleaning and shortening your dryer vent hose.
Inquire about time-of-use plans. Some energy companies offer significant rebates to encourage the reduction of electricity consumption during peak times. For example, the energy cost during peak hours may be significantly higher than non-peak hours. Simply waiting to run your dishwasher at night could yield significant savings. Contact your local utility provider for more information on this topic.
Look for off-season bargains. Most of us know to shop during sales, but did you know you can also save money by using services during the low season? For example, having your chimney swept in July or August instead of September or later could save you some money. Construction, landscaping and even heating, ventilation and air conditioning contractors have their busy seasons, so if you're looking for routine inspections or maintenance, try to plan around those busy time to save cash.
Household budgeting isn't always fun, but it can be easy and effective if you make a habit out of being critical of your spending habits and searching for innovative solutions.
This post comes from the editors of The Allstate Blog, which helps people prepare for the unpredictability of life.
Note: This website is made possible through financial relationships with some of the products and services mentioned on this site. We may receive compensation if you shop through links in our content. You do not have to use our links, but you help support CreditDonkey if you do.