5 Ways to Improve Your Productivity in Your Home Office
---
Many business owners have made the switch from a traditional office to a home office. With the ease of modern telecommuting, it is now easier than ever to operate your business or perform your job from the comfort of your home.
However, one of the downsides of working from home is that you may be less productive, given all the distractions around you. However, there are a number of strategies you can employ to improve your productivity, ensuring your home office brings you the most professional success: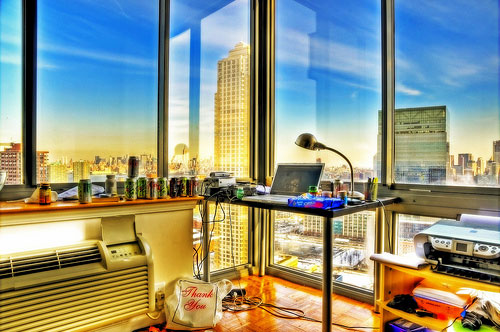 Home Office NJ/NY © Steve Kelley
Make a work schedule and stick to it - One of the easiest ways to lose productivity when working at home is to abandon a work schedule. Treat your home office like a real office and create a set work schedule. If you stick to a regular work schedule, you are much more likely to get your work accomplished than if you are working irregular intervals throughout the week.
Let your family know that work time is serious - Your family may think they can interrupt your work at any given time, just because your office is next to the kitchen. It is important to have a serious discussion with your family about your work schedule and the need for you to focus. While one of the benefits of being at home is the ability to be near your family, it is important that they treat your home office with respect and not disrupt you during the course of your day, unless absolutely necessary. You may also want to provide them with open times throughout the day when they can come and visit you or talk to you.

When you're trying to be as productive as possible, making every second count is extremely important. This article from

Home and Horizon

will teach you how to create tasks and a daily schedule that will organize your time down to the minute.

Set up your home office workspace like you would a traditional office - Find a comfortable chair and a nice desk and organize your work space so you won't become distracted while you work. Don't drag household tasks, such as paying your credit card bills, into your office. In other words, devote your office to only office-related supplies and items so you won't become distracted and disrupted throughout your day.
Make your home office space separate from the rest of the home - Working out of the living room or kitchen, for most professionals, simply does not result in a productive work environment. If you can't devote an entire room to your home office, at least section off an area where you can be sure you will receive the most privacy and solitude.
Dress for success - Many professionals who enjoy working from home brag about working in their pajamas. Although this may work for some individuals, for many people, it pays to shower and get dressed before starting work as to create a routine that bodes well for productivity.
Working from home is a blessing, although there are many productivity barriers in disguise. By employing some of the same principles as a traditional office space, you can ensure you are just as productive at home - if not more!

Grace C is a contributing writer at CreditDonkey, a credit card comparison and reviews website. Write to Grace C at grace@creditdonkey.com
Note: This website is made possible through financial relationships with some of the products and services mentioned on this site. We may receive compensation if you shop through links in our content. You do not have to use our links, but you help support CreditDonkey if you do.