Survey: Haggling Statistics
Hate to Haggle? You're Missing Out on Deals, According to a New Survey
---
Most consumers rarely haggle, according to a recent CreditDonkey.com survey. When asked how often they try to get retailers to lower their prices, 38.8% of respondents answered that they rarely do it, and 24.2% said they sometimes try to bargain.
Although the practice of challenging a salesperson over the price of an item often elicits groans from both parties, it can save the haggler money. Our survey found that 57.5% were successful at getting a better price when they had haggled.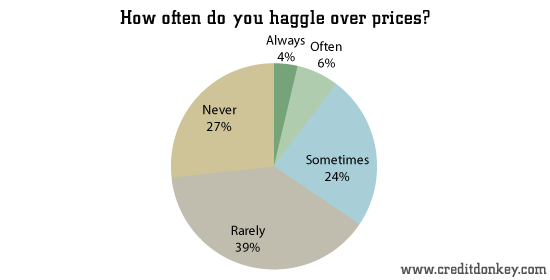 How often do you haggle over prices?

© CreditDonkey
So who's a better haggler: men or women?
Men were overwhelmingly pleased with their haggling. 61.4% of men say they have been successful at getting a better price by haggling versus 53.1% of females.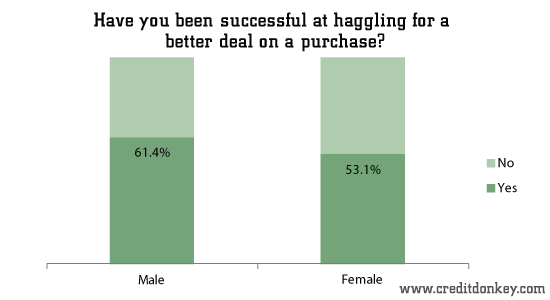 Have you been successful at haggling for a better deal on a purchase?

© CreditDonkey
Our survey found that women, however, are slightly more successful when it comes to haggling about bank fees. 31.3% of women say haggling works well on bank fees versus only 22.6% of men who agreed. Could it be that all a woman has to do is ask – with a good reason – to have her bank fee reversed or minimized? There's no reason men shouldn't try it too, especially with the increasing state of bank fees today.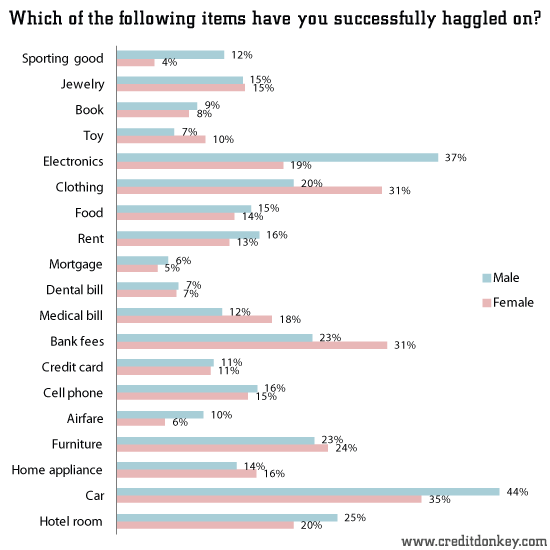 Which of the following items have you successfully haggled on?

© CreditDonkey
Even though 33.1% of respondents said they were able to shave an average of 10% off the purchase price by haggling, they would still rather pay more than go through the trouble, according to our survey.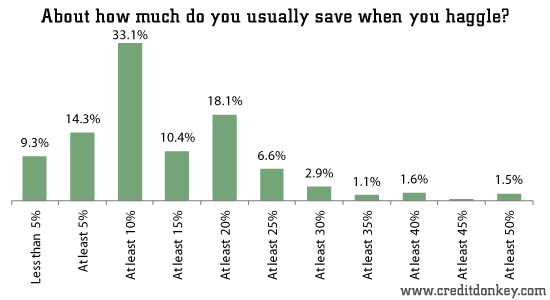 About how much do you usually save when you haggle?

© CreditDonkey
Haggling about price is most often associated with buying a car. Even so, car dealerships have successfully publicized no-haggle pricing to appeal to those consumers who don't want to haggle. And some have had success outside of dealerships. While 40.3% of respondents say that haggling works best when buying a car, 29.4% said it also works for electronics, followed by the 26.3% of total respondents who said it can be used to argue down bank fees.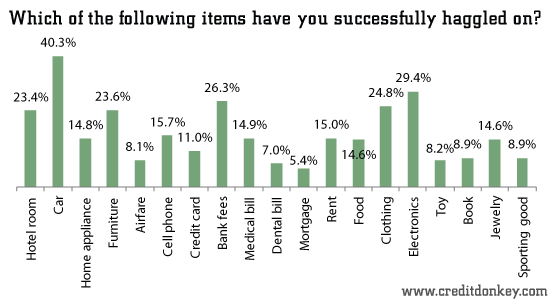 Which of the following items have you successfully haggled on?
From October 9 to October 23, 2012, CreditDonkey.com polled 1,125 Americans, age 18 and over, about their holiday shopping plans using multiple choice questions and short-answer questionnaires.

Naomi Mannino is a contributing writer at CreditDonkey, a credit card comparison and reviews website. Write to Naomi Mannino at naomi@creditdonkey.com. Follow us on Twitter and Facebook for our latest posts.