Survey: Financial Literacy for Kids
Good Parental Money Values? Priceless
---
Parents' attitudes toward money will deeply affect their children's financial well-being later in life, according to findings from a recent CreditDonkey.com survey.
The majority of over 1,000 Americans who answered the online survey have less than $500 in credit card debt, and the value of their retirement savings outweigh their credit card balance. These positive figures are likely due to the fact that the majority were instilled with healthy money attitudes when they were younger. Most encouraging is the fact that 45.8% of the respondents have $0 in credit card debt. That's right, they have nothing due to credit card issuers, beyond their most recent purchases.
And 72.8% consider themselves frugal…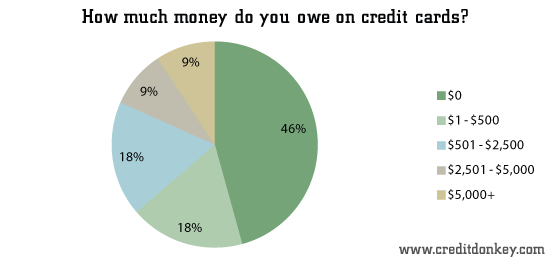 How much money do you owe on credit cards? © CreditDonkey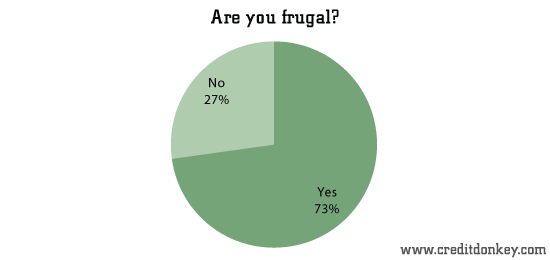 Are you frugal? © CreditDonkey
Here's what gave these respondents a healthy financial background (hint: Parents, follow this advice!)
84.8% said their parents encouraged them to save money.
More than half said their parents praised them for saving money often or sometimes.
73.6% said their parents discussed the price of purchases with them.
79.9% said their parents gave them a piggy bank or someplace special to save their money.
82.8% said their parents also encouraged them to carry their money in a wallet or purse.
70.3% said their parents took them to the bank to open an account.
And 53.2% said their parents provided an allowance that was not centered around behavior or special occasions.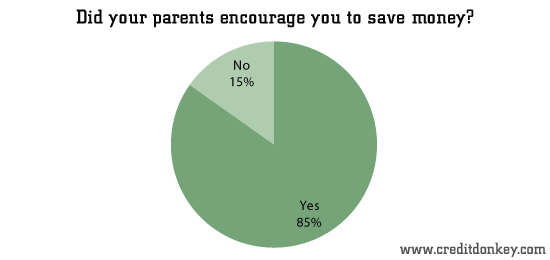 Did your parents encourage you to save money? © CreditDonkey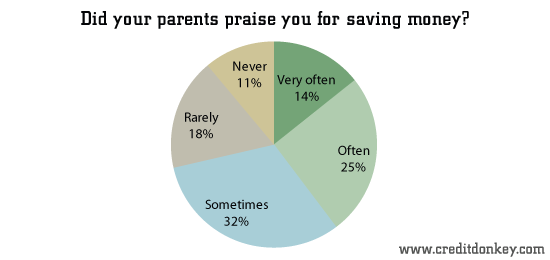 Did your parents praise you for saving money? © CreditDonkey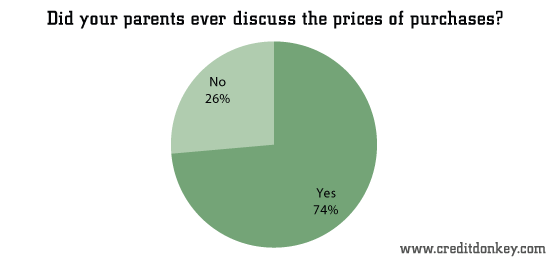 Did your parents ever discuss the prices of purchases? © CreditDonkey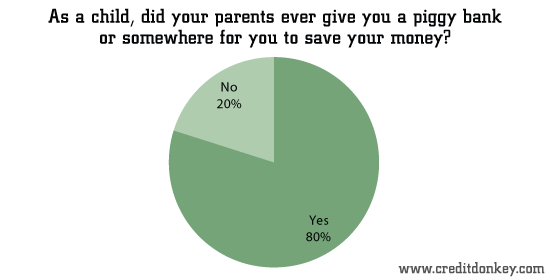 As a child, did your parents ever give you a piggy bank or somewhere for you to save your money? © CreditDonkey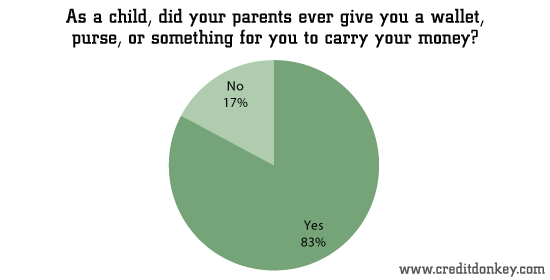 As a child, did your parents ever give you a wallet, purse, or something for you to carry your money © CreditDonkey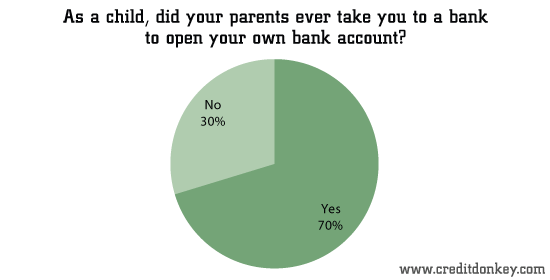 As a child, did your parents ever take you to a bank to open your own bank account? © CreditDonkey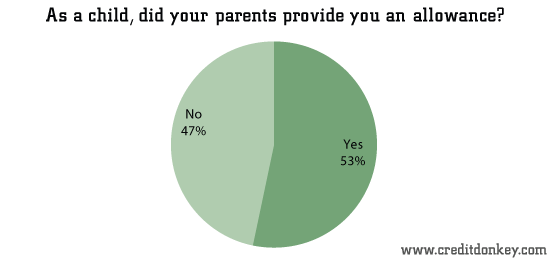 As a child, did your parents provide you an allowance? © CreditDonkey
Learning About Earning Is Key
Early discussions about money issues, including how much items cost and the value of saving, has a long-lasting affect on people. But as with most things, actions speak louder than words. Over 60% of respondents reported that they were sometimes or often given cash from their parents without any expectation that they would have to repay it. If some of these handouts had been treated like loans, some important lessons about finances would have been learned.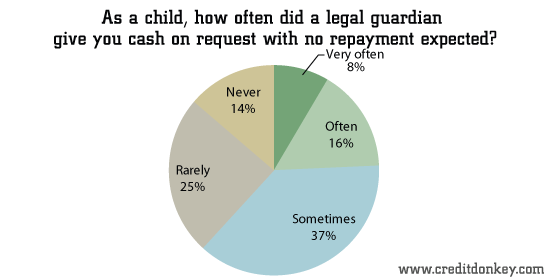 © CreditDonkey
Another missed opportunity has been learning the value of hard work. Nearly 35% of survey respondents were rarely or never encouraged by their parents to seek "jobs" from other people, such as yard work, snow shoveling or babysitting, to earn money.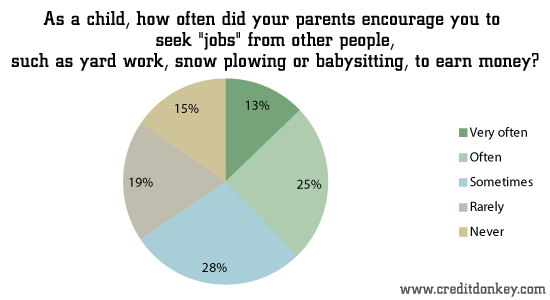 As a child, how often did your parents encourage you to seek jobs from other people © CreditDonkey
Family finance expert and author, Ellie Kay, who is a parent of 7 adult and nearly adult children, says the key to raising children with responsible attitudes toward money is to start young. Always encourage them to earn money (from chores or outside sources) and save up holiday cash gifts toward extras such as expensive toys, fancy smartphones with data plans, designer clothes and accessories, and pricey gaming systems. Driving teenagers should be expected to be save up for a car of their own and to chip in toward the expenses of car insurance and gas with a part-time job. These steps are the only way the younger generation can realize how much things truly cost – and the work that goes into paying for them.
(From November 19 to November 27, 2012, CreditDonkey.com surveyed 1,045 Americans, age 18 and over using multiple choice questions and short-answer questionnaires.)
Naomi Mannino is a contributing writer at CreditDonkey, a credit card comparison and reviews website. Write to Naomi Mannino at naomi@creditdonkey.com