How to Buy a Gift for a Guy
---
This holiday season, many women are facing the dilemma of the year: what should they buy for the man in their life?
The easiest option would probably be a gift card. According to a recent CreditDonkey.com survey, nearly 76% of men said that they want a gift card. But there's not much fun in that.
Instead, you may want to go the electronics route. After all, in general, electronics have been popular gifts for men since electronics were invented. No surprise: 82.9% of our survey respondents said they want to receive some kind of gizmo or gadget. (Jewelry was the least popular.)
But before you run out and buy the first shiny toy you can find at the mall or give up and buy a gift card, considering the following points when getting a gift for your husband, boyfriend, father, son, or other man in your life.
Rules for Buying Gifts for a Guy
1. Understand his preferences and passions. Buying something a man will love can be difficult, especially if it relates to a hobby or interest you do not share. For instance, if the guy in your life is an avid photographer, you might be convinced that a new compact digital camera would be perfect, but is it? Let's face it, techies and enthusiasts tend to passionately devote themselves to a particular brand or niche within their particular interest and vehemently deny the value of anything outside of it. When it comes to digital cameras, for instance, a vintage SLR enthusiast may recoil at a DSLR - and don't get me started on the Nikon versus Canon debate. Sometimes it's better to steer clear of an enthusiast's main obsession and go for something most guys would like (a shiny new grill, an autographed football by his favorite player, or getting his car detailed when he's not looking).
It may be tempting to buy the newest piece of technology as a gift, but when it comes specifically to drones, one of the most popular modern gifts, make sure you know everything that goes into maintaining them. This article from
The Drone Girl
explains what you need to be aware of when using LiPo drone batteries, in order to properly take care of that fancy piece of tech.
2. Always ask: Does he have it, need it, or want it? It might sound like a silly question, but a lot of the time men find themselves with gifts they don't really need or want. Even if you buy him something he doesn't have, are you sure he'll have a use for it? Will it duplicate something else he already owns, or complement it? Take stock well ahead of your shopping trip with some subtle questions and perhaps a peak into his closet. If you're still unsure, then brainstorm about for consumable and entertaining gifts, such as tickets to an upcoming baseball game, membership to a beer-of-the-month club, or, in the case of your significant other, an overnight excursion to an area city or casino if it's been awhile since you've had alone time together.
3. A good gift Is meaningful, but a gift card is always a safe option. While you shouldn't be scared of buying a gift for a guy, it's best to know if he'll really appreciate it or not. According to the CreditDonkey.com survey, guys seem to prefer things they can use: electronics, gift cards, clothing, and books were the top four options. But "homemade gifts" made it to #5 with 42.4% of men surveyed choosing that as their ideal gift. (Women, on the other hand, chose homemade gifts more often, with 63.9% making it their preference.) So if you can't think of something store-bought that he's guaranteed to use, maybe something that has your personal touch will work instead. When in doubt, go for a gift card at a place he likes to shop. He can get whatever he wants and, honestly, he'll probably be happier in the long run.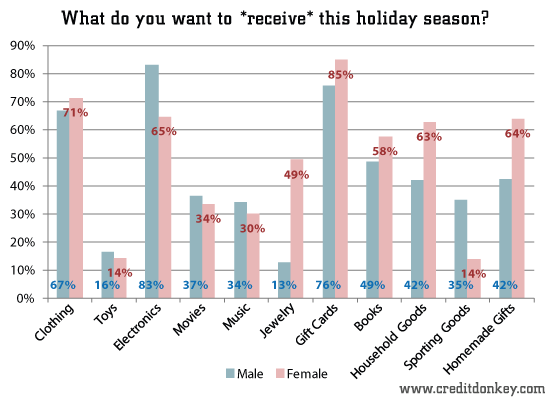 What do you want to receive this holiday season?

© CreditDonkey
The Bottom Line
If you're planning on buying a gift for that special guy in your life, electronics is, statistically speaking, a likely hit. However, it's important that you buy the right electronic device, and if you don't know your guy's hobbies as well as he does, it's easy to make a mistake. Gift cards might be a safer option, but they can also be impersonal, so a homemade gift could work instead. On the other hand, since men seem to prefer gifts that they can use, a gift card will almost always be gratefully received--and quickly cashed in.
Mike Foster is a contributing writer at CreditDonkey, a credit card comparison and reviews website. Write to Mike Foster at mike@creditdonkey.com
Note: This website is made possible through financial relationships with some of the products and services mentioned on this site. We may receive compensation if you shop through links in our content. You do not have to use our links, but you help support CreditDonkey if you do.