How to Buy a Gift for a Girl
---
We're going to take on a fool's errand and try to tell you how to buy a gift for a woman. While it's tough to generalize what women want, we already have some ideas, based on a timely, recent CreditDonkey.com survey. The following tips should provide you with a starting point for figuring out what the women in your life – your mother, sister, friend, or significant other – will most appreciate this holiday season.
Let her splurge at her favorite store: According to our survey of over 1,000 holiday shoppers, an incredible majority – 84.8% of women surveyed - said that they wanted to get gift cards this holiday season. Perhaps the versatility of the gift cards, combined with the thrill of being able to shop without actually spending money, has made them a desirable item for female respondents. Gift cards were far above the second place item, which received 71.3% of the vote. (Survey respondents were allowed to choose more than one gift.) In general, women love to shop, so why not give her a simple tool for enjoying herself and getting at least one item that she gets to pick out herself?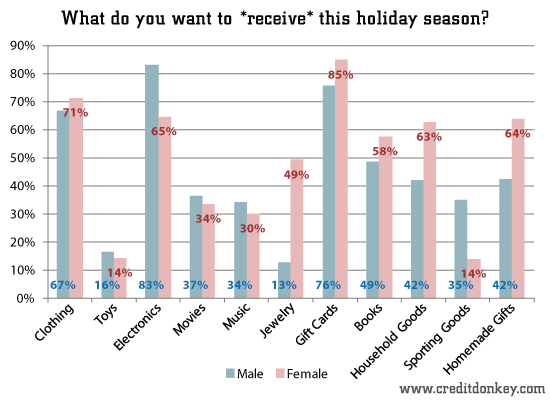 What do you want to receive this holiday season?

© CreditDonkey
Make her feel pretty: The women in our survey rated clothing as the second highest desired item on their list. Just over 70% said they wanted to receive clothes this holiday season. For most guys, clothes shopping for a girl can be a daunting task. Not only are there mysterious sizes that remain indecipherable to most men (and even women), but there are issues of patterns, colors, styles, and fashions to add to the confusion. Buying clothes for the woman in your life can be challenging, but it's not an impossible task. A few gentle questions, a careful ear for clues, and a good sense of her fashion sense and taste can help you find the right fit for her. Just make sure to get a gift receipt!
Appeal to your gadget sense: Chances are, you love electronics as much as the next guy. And so do women – the third most popular item on our survey was electronics, with 64.6% of the vote. This should come as no surprise to anyone. The days of gadgets being for guys are long, long gone, and everyone is plugged in to at least something these days, whether it's a smartphone, tablet, e-reader, or laptop. Fortunately, all of these items are falling in price, even laptops, with the Microsoft Surface and Google's Chromebook offering simplified laptop (or sorta laptops, in Microsoft's case) at a fraction of the cost of previous seasons. Unless she already has one, it's pretty hard to go wrong with the latest electronic device.
Get creative: Of course, not everyone wants a new electronic toy, and the third and fourth most popular items were homemade gifts (63.9%) and household goods (62.7%), so if you have an artistic knack or you know there's some appliance or household item she really wants, you could have a sure hit. But tread carefully; few people would be thrilled to receive a vacuum cleaner and the message it sends (that's the recipient is dirty and should clean up more).
Forget everything we just said: The tips above are for guidance only. Only you know what the women in your life would like. Think about her interests and her personality. Only 13.9% of our survey respondents said they would like sporting goods, but if your lady friend loves to go to the gym, she may fall into that minority. If you strive for gift-buying that reflects you know her, you've listened to her, and you care about her, and you won't go wrong.
Mike Foster is a contributing writer at CreditDonkey, a credit card comparison and reviews website. Write to Mike Foster at mike@creditdonkey.com. Follow us on Twitter and Facebook for our latest posts.