How to Buy an Inexpensive Gift for a Friend Without Looking Cheap
---
Three-fourths of shoppers plan to spend less than $25 on gifts for friends, according to a recent CreditDonkey.com survey, and only 19% of respondents planning to spend between $25 and $49 per friend this holiday season.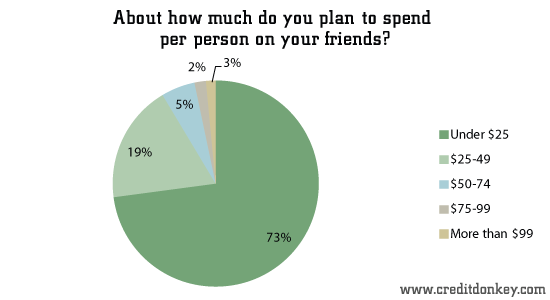 About how much do you plan to spend per person on your friends?

© CreditDonkey
Shrinking holiday budgets always bring the risk that people will just resort to cheaper and -- let's be honest – useless gifts for their friends that are politely accepted and then swiftly thrown away (or regifted). In the worst-case scenario, a cheap gift might cause offense and tension between friends. So what's a savvy but budget-cautious shopper to do?
Take time to shop around this season, and think about the following points:
1. Uniqueness has value – Most people appreciate an unusual gift more than anything else, and these days it's easier than ever to buy one-of-a-kind items. Whether it's locally crafted soap, a gem of a book that has eluded bestseller lists, or independently crafted artwork from Etsy.com or Artfire.com, a special gift speaks volumes about thoughtfulness, and it doesn't have to cost much. Thanks to SquareUp and Paypal mobile payments, you can even use your credit card at many flea markets.
2. Experiences have a lasting impact – Don't give your friends a burden in the shape of a gift. They may find your gift ugly, tacky, or a space hog. Why not give them something they can enjoy instead? A day of laser tag is much more fun than a ceramic frog -- and the fact that it doesn't last forever can actually be a good thing, especially for friends who have a lot of stuff. Alternatively, a trial month at a beer-of-the-month or coffee-of-the-month club might be the ideal gift for that conspicuous imbiber in your life. There are plenty of event tickets, experiences, foodstuffs, and drinks that can be bought for less than $25, and these will probably be much more appreciated than yet another piece of kitsch.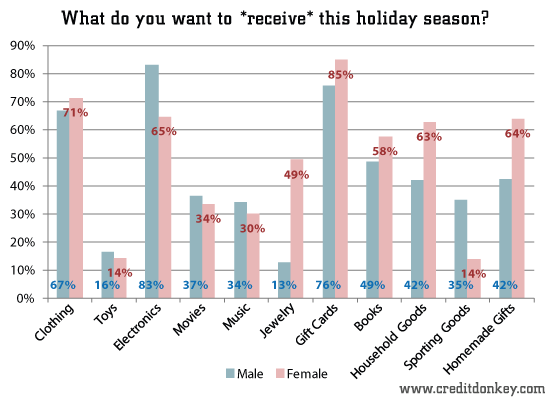 What do you want to receive this holiday season?

© CreditDonkey
3. You can create value by yourself – CreditDonkey holiday survey found that 64% of women want to receive a homemade gift. Of course, not everyone has the time or artistic skill to make something from scratch. Consider repurposing or redesigning something store-bought to make something that appears fancier than it is. Turning a big scarf into a skirt (or a skirt into a scarf, for that matter), or even just printing a meaningful photo and putting it in a nice but inexpensive frame can mean much more to a friend than something you pulled off the discount rack at some suburban big box retailer.