How Will a Gas Reward Credit Card Save You Money
---
Gas rewards credit cards are really popular right now, as more and more families rely on multiple vehicles to get around and the price of gas gets ever higher. To save a bit of money on your gas budget, you might consider using a gas rewards credit card. Here's how a card like this one can save you cash.
How it Works
Most gas rewards cards work on a cash-back basis. Essentially, when you put money into your gas tank, your credit card company gives you a certain percentage of that money back. The cash you can get back ranges, normally, from 1% to 5%. With a 2% cash back rate, you'd get back $2 for every $100 you spend on gas.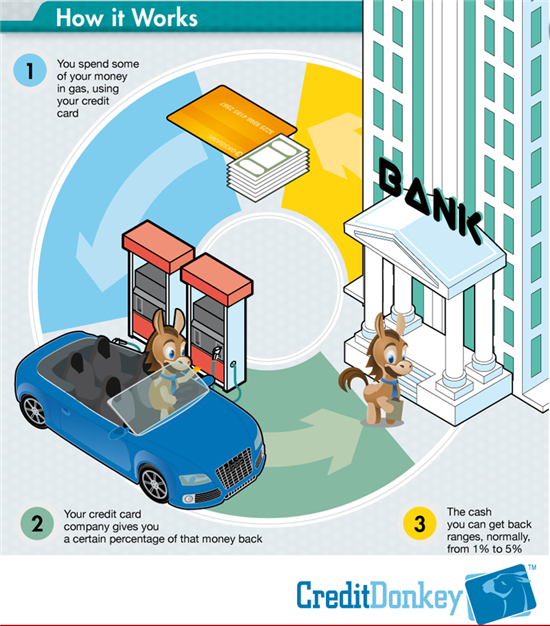 How Gas Rewards Work © CreditDonkey
It doesn't sound like a lot, but think of how much you spend on gas over a year! The average household spends about $2,000 on gas a year. What could your home do with an extra $100?
A Few Extra Pros
Of course, saving money on your gas is in itself a good thing. Another good part about gas rewards credit cards, though, is that many of these cards come with a relatively low APR and no annual fee, unlike many airline mileage cards, for instance.
Plus, setting aside one credit card just for gas purchases can be helpful to your budget and your credit. It's helpful for your budget because these cards often get better cash back percentages on gas than on anything else. Save cards with other rewards to pay for groceries and to finance items, so that you can cash in on different rewards with different cards.
A gas card can help you build your credit, too, though, but giving you one particular item that you always run on your credit card. This is, in fact, one of the best ways to start building credit. Swipe your card at the gas pump and only at the gas pump, and you'll know your credit card spending won't get totally out of hand. Pay off your card each month. You'll reap great cash back rewards for your everyday traveling, and you'll build up a better credit history.
Things to Check For
When you're picking out a gas rewards credit card, there are a few things you need to look at:
Annual fees. If you're paying $50 in annual fees, you're going to seriously eat into any savings you'll get from the cash back on gas purchases. There are plenty of cards out there with this reward and no annual fees.
Limits. Some cash back cars for gas purchases set limits. You might need to buy your gas from a certain station to get the highest rewards, or your rewards may be limited within the space of a year.
APR. If your credit restricts you to a card with a high APR, it may be better to go for a no-frills, no-rewards card with a lower APR than one with cash back on your gas.
Reward Schedule & Distribution. Somewhere buried in the fine print, the credit card company will tell you exactly how you'll get your cash back. Ideally, they'll just cut you a check or apply the money to your balance, dollar-for-dollar, every month. Try to avoid cards with rewards systems where you have to spend your cash back on cheesy items from the company catalogue.