---
With gas prices on the rise (and consumers' credit cards feeling the effects), many car owners are scratching their heads. It's unclear to most people exactly how their gas is priced and they're left wondering if they should start researching alternate modes of transportation.
Here is a breakdown of how gas prices work, as explained by the U.S. Energy Information Administration (EIA):
It's all about economics
As any vehicle owner has likely noticed, gasoline prices can vary quite a bit over time and by region. This is because the price is determined by factors of supply and demand, and is largely tied to the supply and demand of crude oil at any given time.
According to the EIA, world economic growth is the largest factor when considering demand. Regarding supply, the Organization of Petroleum Exporting Countries (OPEC) is able to create a production limit on its members. This limiting affects the price because OPEC members produce a significant portion of the world's crude oil supply. In 2010, they accounted for 43% of crude oil production. They also possess approximately two-thirds of worldwide oil reserves.
Cost structure
When you pay for a gallon of gasoline, four components go into the pricing mix: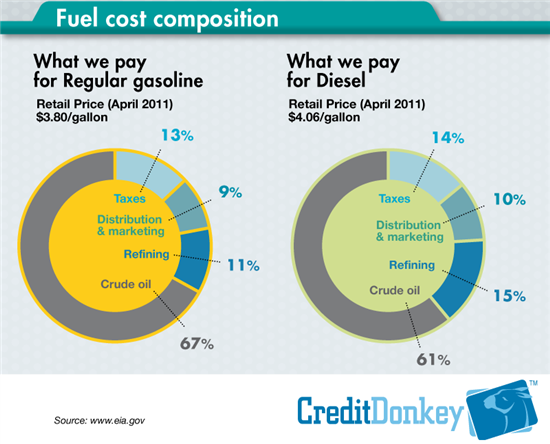 Fuel Cost Composition

© CreditDonkey
Crude oil: As estimated by the EIA, crude oil generally makes up 67% of the total cost; this varies over time and by region of the country. In March, 2011, refineries paid an average of $2.43 per gallon of crude oil.

Refining: Refining accounts for approximately 11% to 13% of the total cost of gasoline.

Distribution and retail: Including marketing costs, this component is responsible for only 7% to 9% of the total cost.

Taxes: Taxes vary by state, as there are both federal and state excise taxes, but the approximate share in the cost is 12% to 13%.
Source: EIA, January 2011; Editor's Note: The specific percentages varies quite a bit. Visit the U.S. Energy Information Administration for updated gasoline components history including a month by month breakdown of refining/distribution/taxes/crude oil cost structure.
Refining defined
As briefly explained in the previous section, crude oil prices are greatly affected by supply. But, many people don't know what goes into the refining process and how it affects the cost.
During the refining process, companies change crude oil into gasoline and other products. Doing this requires a lot of technology and ingredients, including ethanol. These technologies and ingredients cost quite a bit of money, especially when maintenance, research, and development expenses are taken into account.
As with just about any part of the process, these costs vary across the U.S. by region. Prices in oil refining vary because slightly different gas formulations are used in different regions.
Getting the gas to consumers
The distribution, marketing and retail process is another factor in gasoline pricing.
Retailers must transport the gasoline to gas stations to make it available for consumer use. The distribution process typically involves pipelines from the refinery to terminals where the last stages of blending take place. It is then brought to each gas station via truck.
The cost is then determined by retailers, taking into account whether the gas station is owned by the refinery or independently owned. When pricing the fuel, retailers include their marketing expenses and other overhead costs in addition to the price they paid for the gasoline. These costs can vary dramatically by region because of state and local fees, employee costs, insurance and rent.
Don't forget the tax
As with many of the goods we buy, taxes are placed on gasoline. These taxes help pay for various federal, state and local government expenses, including road and highway maintenance.
According to the EIA, federal excise taxes at the beginning of 2011 were 18.4 cents per gallon, and state taxes were averaging at 22.06 cents. Like with any tax, these costs increase as the government sees fit.
What about the gas stations?
With gas prices so high these days, many consumers assume that gas station owners must be making a killing. But, as discussed earlier, gas stations make a very small percentage of the total amount you pay at the pump. (Remember, that 7% is split among distribution, marketing and the gas station!)
In fact, the Stamford Advocate recently reported that gas station owners report making only $0.08 to $0.12 gross profit on each gallon of gas that is sold at their stations.
So, how are gas station owners covering their expenses and making a profit? Many make up the difference through auto repair services and convenience store products, turning their gasoline into a "loss leader" – something they use to get customers to come to them for their other products and services.