Why Are Gas Prices So High
---
According to U.S. Energy Information Administration (EIA) gas price forecasts as of May 10, 2011, the average retail price for gas in the United States is expected to be $3.66 per gallon in 2012. This high price has many consumers' (and their credit cards) cringing. As estimated by the U.S. Department of Transportation, U.S. consumers used an average of 554 gallons of gas in 2006; if gas consumption remains the same, people will be spending on average more than $2,000 on gas in 2012!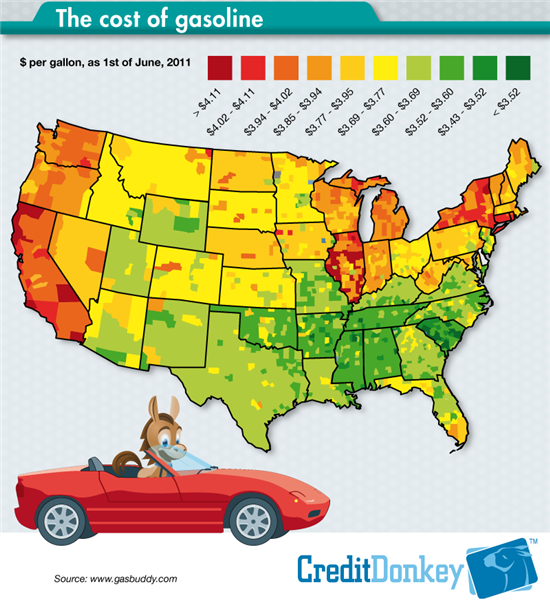 Cost of Gasoline © CreditDonkey
With such a big chunk of money going toward gas on an annual basis, many are asking why gas prices are so high. The U.S. House Committee on Energy and Commerce has supplied some information to help answer this question. Here are some of the factors that the Committee attribute to the high prices.
Gasoline blend change
According to the Committee on Energy and Commerce, there are two changes that are in process. The first is the seasonal switch from winter to summer gasoline blends. This seasonal switch is why prices tend to increase in the early summer each year.
A long-term switch is also in the works due to the Energy Policy Act of 2005. This act stopped the oxygenate requirement for blends on May 5. The end of this mandate is allowing companies to change their blends. Anytime a change takes place, research and development is required, which will increase prices.
An addition of ethanol
Because companies are able to abandon the oxygenate requirement, many are turning to ethanol blends. According to the Energy Information Agency, it is estimated that this switch has increased gas prices by about $0.05 per gallon.
There are also tariffs in place on ethanol imports. These tariffs add an additional $0.54 to each gallon of ethanol. And, of course, any time prices increase for manufacturers, those increases are going to be felt by consumers.
Decreased domestic oil production
There are times that unscheduled refinery shutdowns occur. These can be due to mechanical failures or natural disasters like flooding, hurricanes and tornadoes. As reported by the Committee on Energy and Commerce, 22.3 percent of Gulf Coast oil production remains shutdown. With our dependence on oil production from that region, this has created a shortage in supply. And, whenever supply is unable to meet demand, there will be a spike in price.
In addition to unplanned shutdowns, our usage of oil is higher than ever, making it so that we need even more oil. However, there are restrictions in place that limit oil production in some protected areas in the U.S. This restriction can make it difficult for domestic companies to help fill-in the needs gap.
Global influences
Gas prices are influenced by more than just domestic oil production. As we need more and more oil, other countries have started getting in on the industry. The competition from these countries, as well as conflicts in other oil producing countries, crude oil prices have increased.
How to survive the high prices
If you are looking for ways to save money, check out our article titled "How to Get Better Gas Mileage". It provides some useful tips that you can employ to get the most out of the gas in your tank so you can make your money stretch.