Gas Myths Survey: "Gassy" Advice to Save Money at the Pump
---
Most people know that they can save gasoline by shifting into neutral when going downhill, and that the act of turning off the A/C and opening the windows conserves fuel. Unfortunately, what most people "know" isn't always true, according to a recent survey we conducted.
When asked about eight gas-saving myths, a majority of respondents believed that six of the erroneous tips were true.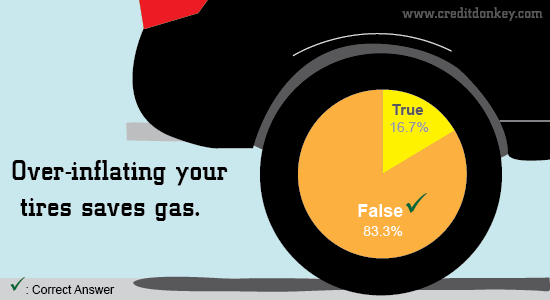 Infographic: Over-inflating your tires save gas?

© CreditDonkey
Eighty-three percent of people polled knew that over-inflating the tires does not save gas.
To be sure, you should keep your tires inflated to the proper pressure. According to the U.S. Department of Energy, under-inflated tires can lower gas mileage by 0.3 percent for every 1 psi drop in pressure of all four tires.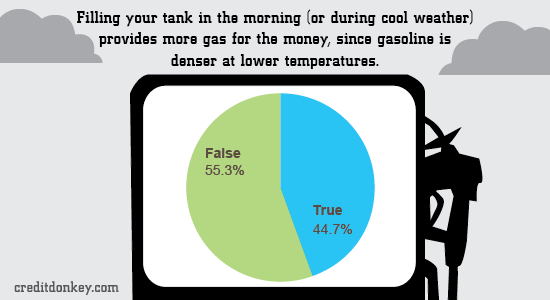 Infographic: Filling your tank in the morning?

© CreditDonkey
Another 55.3 percent believed that pumping gas during cool weather does not give you more fuel for your money.
A common myth says that since gasoline is denser at cooler temperatures, you receive significantly more during cooler weather. In reality, the difference is minor, about 1 percent for every 15 degree Fahrenheit increase according to a California Energy Commission Fuel Delivery Temperature Study.
However, most people fell for the following misinformation: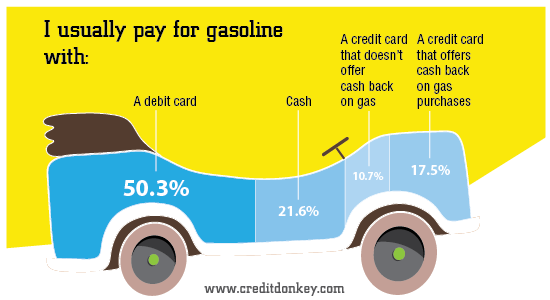 Infographic: I usually pay for gasoline with

© CreditDonkey
67.7 percent said the best way to save money is to buy from gas stations offering discounts for cash purchases, or that it makes no difference where and how gasoline is purchased.
In fact, consumers can usually save money by paying with credit cards that offer cash back on gas purchases. Only 17.5 percent of respondents said they usually pay for gas with cash-back rewards cards.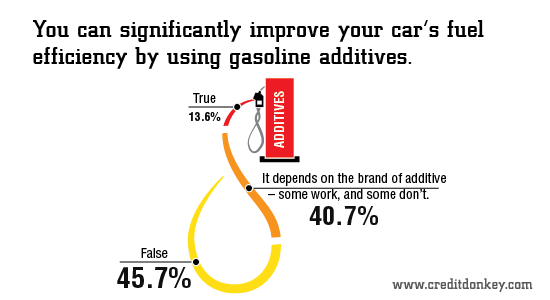 Infographic: Improve your car's fuel efficiency by using gasoline additives?

© CreditDonkey
54.3 percent believe that gas mileage can be improved by using fuel additives.
After testing 100 different products claiming to improve mileage, the Federal Trade Commission found that none of them significantly improved gas mileage. While some gas-saving products work, the savings have been small, according to the Federal Trade Commission.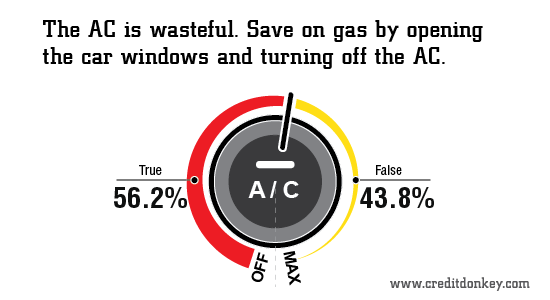 Infographic: The AC is wasteful?

© CreditDonkey
One of the most persistent myths is that turning off the air conditioning and opening the car windows can save gasoline. More than 56 percent believe the myth. This advice may have been true years ago, but doesn't apply to most modern cars. Tests conducted by Consumer Reports showed that while A/C uses slightly more fuel, the drag caused by the open windows negates any fuel savings.
51 percent believe you can save gasoline by shifting into neutral when driving downhill. Again, this advice may have been true when cars were equipped with carburetors, since shifting into neutral cuts off fuel to the engine. However, most modern fuel-injected cars keep burning gasoline even when you take your foot off the gas pedal.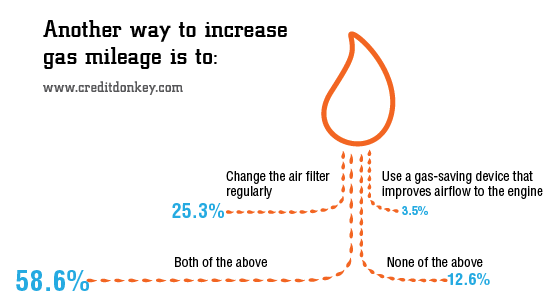 Infographic: Another way to increase gas mileage is to?

© CreditDonkey
A whopping 87.4 percent of respondents believe that changing the air filter regularly and/or installing gas-saving devices will increase gasoline mileage. Fact: The Department of Energy found that gas mileage was not reduced when today's air filters got dirty (on cars using modern fuel-injectors). Meanwhile, tests of gas-saving devices by Consumer Reports revealed that none of them saved appreciable amounts of gas, and some actually decreased gas mileage.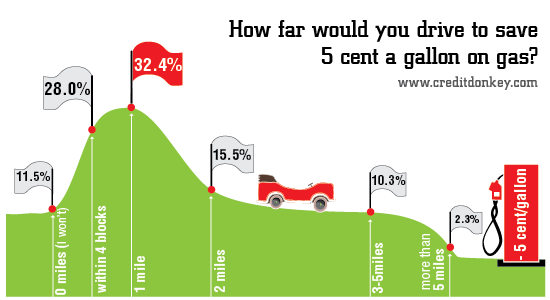 Infographic: How far would you drive to save 5 cent a gallon on gas?

© CreditDonkey
We were encouraged by the fact that only 2.3 percent of people would drive more than five miles to save five cents per gallon.
On the other hand, it's frustrating that more people aren't taking advantage of credit cards that pay cash back on gas. Of all the money-saving tactics available, gas credit cards are the easiest to use.
From May 30 to June 2, 2012 CreditDonkey polled 515 Americans with eight multiple choice and true/false questions based on popular and persistent gas-saving myths.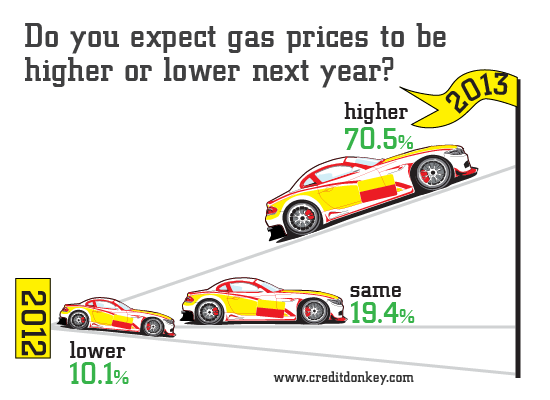 Infographic: Do you expect gas prices to be higher or lower next year

© CreditDonkey
70.5% of respondents expect gas prices to be higher next year. What do you think?
Charles Tran is the founder of CreditDonkey, a credit card comparison and reviews website. Write to Charles Tran at charles@creditdonkey.com