Survey: Credit Card Fraud Statistics
Credit Card Fraud on the Rise
---
Over one third of credit card holders have been the victim of credit card fraud, according to a new CreditDonkey.com study.
Over 1000 respondents were asked if they had been a victim of fraud, and nearly 34% said that they had, in a sign that extra security protection is still not protecting all cardholders. "Credit card fraud is a real threat to anyone," noted Charles Tran of CreditDonkey.com. "If credit card companies don't offer an easy way for consumers to protect themselves, the risk to the end consumer is even higher."
Even consumers who have never been a victim of fraud are worried. Over half of survey respondents worry about falling victim to credit card fraud at some point. As credit cards offer better and better benefits to cardmembers and it becomes easier to use credit cards when shopping, consumers will become more dependent on their cards, and feel more vulnerable to identity theft and fraud.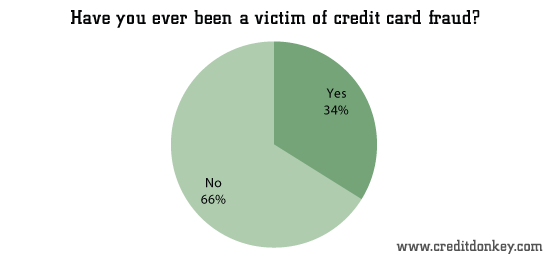 Have you ever been a victim of credit card fraud?

© CreditDonkey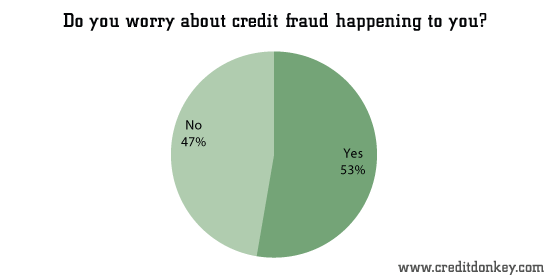 Do you worry about credit fraud happening to you?

© CreditDonkey
Several credit card issuers have addressed this concern with $0 liability credit cards. With these cards, consumers can report an unauthorized charge immediately and will not be required to pay the fraudulent charge.
"No liability cards offer great piece of mind, but card issuers are stepping up to do more to protect consumers," said Tran. Over 62% of survey respondents said that credit card companies have called them to confirm a suspicious charge to a credit card, and over 28% said that the charge was in fact fraudulent. "This proactive approach protects consumers and stops thieves dead in their tracks before making no charges, which also protects the card issuers," said Tran. "It's a win-win for all, so I expect card issuers to track fraudulent charges more aggressively in the future."
Over half of survey respondents said that card companies have protected them from fraud in the past, and over 75% said that credit card issuers have been able to resolve cases of fraud within a week.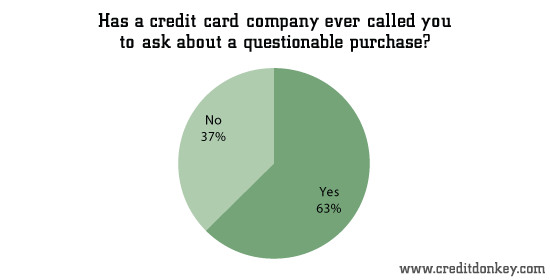 Has a credit card company ever called you to ask about a questionable purchase?

© CreditDonkey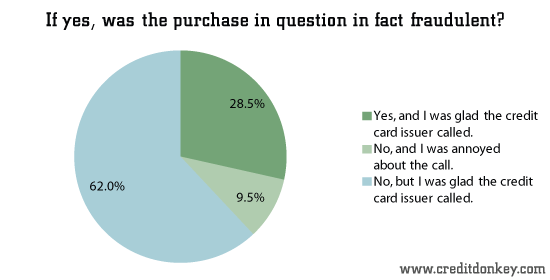 If yes, was the purchase in question in fact fraudulent?

© CreditDonkey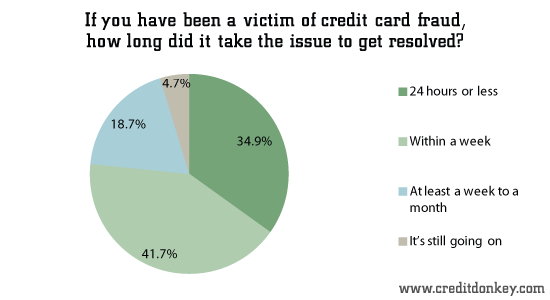 If you have been a victim of credit card fraud, how long did it take the issue to get resolved?

© CreditDonkey
CreditDonkey.com polled 1,105 Americans between September 17 and September 25, 2012.
Mike Foster is a contributing writer at CreditDonkey, a credit card comparison and reviews website. Write to Mike Foster at mike@creditdonkey.com. Follow us on Twitter and Facebook for our latest posts.