Ad Disclosure: This article contains references to products from our partners. We may receive compensation if you apply or shop through links in our content. You help support CreditDonkey by using our links.
(read more)
Is a soft or firm mattress better for your back? Learn why firmness level matters and how to choose the right one for you.
What's your idea of the perfect mattress?
Is it soft and pillow-y? Or firm and rigid? Maybe you're not sure yet (but you'll find out down below). What matters most is that your mattress gives you a great night's sleep every night.
To find your perfect fit, you might have to look beyond just soft and firm categories. Check out the pros and cons of each firmness below. Plus, learn how to pick a mattress that's just right for your body.
Differences Between Firm and Soft Mattresses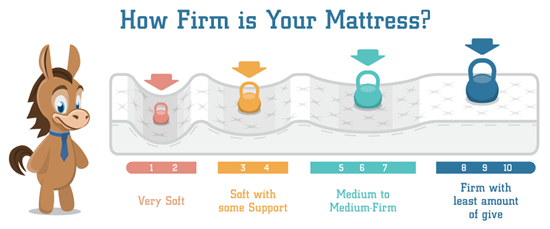 © CreditDonkey
Mattress firmness is rated on a scale of 1-10, from softest to firmest. Soft mattresses are fluffier and sink in when you lie on them. Firm mattresses are harder and have less give. Most people actually prefer something in the middle—about medium-firm.
The firmness scale is a great starting point to compare mattresses. But keep in mind that firmness is a very personal thing.
Different body types experience firmness differently. For example, a heavier person will find that many mattresses feel softer than their rating. That's because heavy people put more weight on the mattress, so it softens and sinks in.
In general, innerspring beds tend to be firmer, while foam beds are typically softer. But you can definitely find soft or firm mattresses of any type.
Some mattress brands actually have multiple firmness levels for you to choose from. The Saatva Classic, for example, comes in soft, medium-firm, and firm. If you're in the market for a comfortable innerspring mattress, be sure to check them out.
Is a firm or soft mattress better for back pain?
When it comes to back pain, the most important thing is that your body stays aligned as you sleep. Your mattress should be firm enough to keep your spine and body in a natural, straight position.
Most people find that a medium-firm mattress adequately supports them. But depending on your weight and sleep style, you might have different needs.
Why does firmness even matter when shopping for a new mattress? Find out below how your bed's firmness level affects your body.
Why Does Firmness Level Matter?
Mattress firmness is just about personal preference… right? Not always.
Firmness affects your spine alignment. And that's the number one factor for proper comfort and support.
When you lie on a mattress, your spine should rest in a neutral position. Otherwise, your body will curve unnaturally, which could cause aches and pains.
Here's how you can tell if your body's aligned when lying in bed:

Side sleepers: You can draw a straight line through your head, spine, and tailbone.

Back sleepers: You can draw a straight line through your head, shoulders, hips, and ankles.
Stomach sleepers: The front of your body lies flat with no dipping under the hips.
It can be tricky deciding between soft and firm mattresses. Keep reading to learn how to choose the right firmness level for your sleeping style and body type.
Firm Mattress Pros and Cons
A firm mattress can be a great choice, especially if you're on the heavier side. If you're looking for a bed that stays rigid, here's what you can expect:
Pros

Distributes your weight evenly

Great for back and stomach sleepers

Offers good support for heavy people

Prevents your lower back from sinking

Tends to sleep cooler
Cons

Can cut off circulation if too hard

Feels uncomfortable if you're not used to it

Often too rigid for petite sleepers

Can worsen back problems like arthritis, scoliosis, etc.

Not enough contouring for some sleepers
Who Should Try a Firm Mattress?

Heavy people over 200-250 lbs

Heavy couples

Stomach sleepers
Do firm mattresses get softer?
If your new mattress is too firm, sleep on it for a couple days. You might find that it breaks in just enough to feel comfortable. All mattresses soften over time. But you can also opt for a soft mattress topper if you don't want to wait.
Not everyone wants a super-firm mattress. Find out what a soft mattress can offer you below.
Soft Mattress Pros and Cons
Sinking into a soft bed feels extra comfortable for some. But mattresses aren't one-size-fits-all. Here's what to look out for when you get a soft mattress:
Pros

Relieves pressure points

Great for side sleepers

Offers good support for petite people

Cozy feel, especially with a pillow top

Contours the body
Cons

Can cause hips to sink too much

Makes back problems worse for heavy people

Some soft mattresses wear down faster

Tends to sleep warmer

Couples might experience dips in the mattress
Who Should Try a Soft Mattress?

Petite people under 135 lbs

Side sleepers

Pressure-relief seekers
Do I Need a Soft or Firm Mattress?
Everyone's body is different. But there's a chance you might like something other than a firm or soft mattress. Many people actually sleep best on a medium-firm mattress. It's the most versatile firmness level that can work with any sleep position.
Your body type and sleep preferences dictate what firmness you'll feel most comfortable in. If you don't know where to start, see where you fall on this table:
| Sleep Position | Body Type | Best Mattress Firmness |
| --- | --- | --- |
| Side | Petite (<135 lbs) | Medium-soft |
| | Average (135-200 lbs) | Medium |
| | Heavy (>200 lbs) | Medium-firm |
| Back | Petite (<135 lbs) | Medium |
| | Average (135-200 lbs) | Medium-firm |
| | Heavy (>200 lbs) | Firm |
| Stomach | Petite (<135 lbs) | Medium-firm |
| | Average (135-200 lbs) | Firm |
| | Heavy (>200 lbs) | Firm to extra firm |
This is a great starting point if you're new to mattress shopping. For the most customized sleep, look for companies like Saatva that offer multiple firmness levels. Having those options will help you pick a bed that's suited for your body.
But how can you be sure if your bed is actually giving you the best support? Find out how to check your comfort and support next.
Is My Mattress Right for Me?
A good mattress provides comfort and support. Comfort is the level of cushioning you feel around your pressure points. Support is how well your mattress keeps your spine aligned.
To figure out if your mattress has good support, lie on the mattress and ask yourself:

Side and back sleepers: Do my shoulders and hips gently sink into the mattress while my lower back stays supported?

Stomach sleepers: Does the front of my body lie flat without any sagging?
If the answer is yes, congratulations! Your mattress provides good support. If not, you might need a firmer mattress if your body sags into the mattress. If you feel a lot of pressure on your body, your mattress is probably too firm.
To see if there's enough comfort, ask yourself:

Are my limbs falling asleep?

Is there any discomfort in my shoulders or hips?
If yes, try a softer mattress to take the load off your pressure points. If not, you can go as firm as you'd like as long as it isn't uncomfortable.
Wake up with back pain that goes away after stretching for 15-30 minutes in the morning? This is a sign that it's time for a new mattress.
Bottom Line
Firmness is just one factor in choosing the right mattress.
You might've heard that firm mattresses are better for your back, but that's not true for everyone. Your weight, sleeping position, and lifestyle all contribute to the firmness you need.
You'll have much more success finding a good mattress if you listen to your body and shop for your sleep preferences.
Look for a mattress that takes pressure off your body and keeps your spine aligned. You might find that you don't need an extra firm or extra soft mattress at all. Medium-firm mattresses can be a fantastic choice.
Donna Tang is a content associate at CreditDonkey, a mattress comparison and reviews website. Write to Donna Tang at donna.tang@creditdonkey.com. Follow us on Twitter and Facebook for our latest posts.
Note: This website is made possible through financial relationships with some of the products and services mentioned on this site. We may receive compensation if you shop through links in our content. You do not have to use our links, but you help support CreditDonkey if you do.
Not sure what mattress is right for you?
Answer a few short questions in our mattress quiz to receive tailored recommendations.
Take Mattress Quiz
Read Next: