Financial Literacy Month: Take the Challenge
---
April is Financial Literacy Month. It's an opportunity to refresh your knowledge about personal finances – and the best, most useful way to do that is to learn more about your own. We have put together a roadmap for helping you better maneuver your financial life by focusing on three areas that could always use improvement: managing money, understanding credit cards, and getting a handle on debt.
Money Management
Learning to manage money isn't as easy as making it, and it's certainly far more difficult than spending it. Put your finance management skills to the test by taking the following steps.
Check your credit report: Your report can determine whether you get approved for loans, whether you're allowed to rent an apartment, or even whether you get a job. Make sure it's 1) accurate and 2) as positive as possible by reading this article, which gives plenty of tips for both assessing and improving your report.
Learn the power of the extra dollar: Paying the minimum on your credit card bills means it could take years to pay off your debt and cost you hundreds or thousands of dollars extra in interest. Amazingly, paying just a bit more each month can cut the time and additional cost of paying off debt to a fraction of their original sizes. See how this concept works in this article.
Know where your money goes: Do all of your paychecks seem to evaporate once you pay your bills and buy other essentials, like food? You're not alone. Here are some statistics about consumer spending in the U.S., as well as a few tips to help you budget better and – hopefully – stretch your income a bit further.
Credit Cards
Having a credit card is more of a necessity than a luxury these days, and many people use their credit cards more often than they use cash. But with the convenience sometimes comes complications, such as the need to resolve a dispute. These articles have some helpful tips to make you a more informed credit card user. Test yourself and see if you know:
How to dispute a credit card charge: Do you know what to do if you find an error on your bill? Here's a step-by-step guide to disputing a charge including what you can dispute, what your responsibilities are as the cardholder, and what regulations the credit card company has to follow.
How credit cards work: Did you know you can tell the issuer of a credit card and the industry that issuer operates in from just your credit card number? Check out this article to learn more about the features and details of credit cards.
Your credit card rights: Be an informed consumer. What rules regulate when and why your credit card company can raise your interest rate? What are the set limits to the amount of unauthorized charges you can be held responsible for? Quite a few credit card users got the answers to these and other questions wrong – make sure you're not one of them by reading this article.
Dealing With Debt
It's very easy to find yourself in debt if you don't use credit cards properly, but digging yourself out is far more difficult and can take a long time. Check out the articles below if you need help getting control of your debt.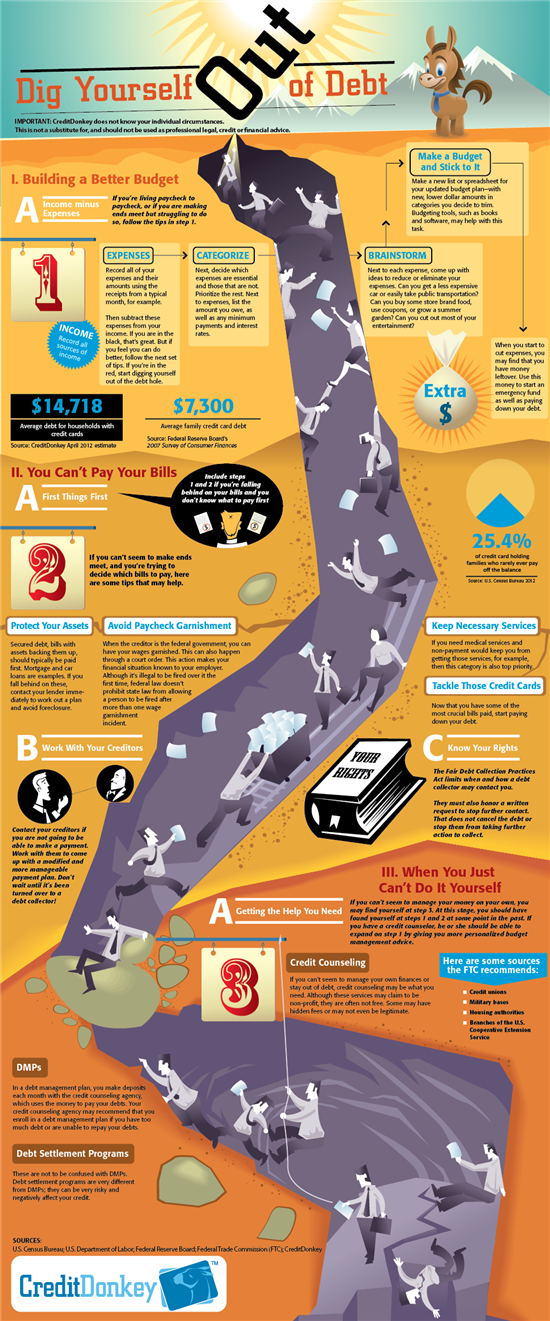 Dig Yourself Out of Debt

© CreditDonkey
How to get out of debt: Committed to paying down your debt but not sure where to start? Here are some tips to help you build a budget that you can stick to, as well as resources if you need additional help.
How to pay off credit cards: What should you do if you find yourself with too much credit card debt? This article outlines your options for stabilizing your debt, like balance transfers and negotiating with your credit card company, and helps you prioritize which cards to pay off first.
How to know whether to pay down debt or save more: One of the reasons credit card interest accumulates so quickly is because of the compound interest principle. On the flip side, the same principle helps you accumulate interest on your savings faster. Learn more about how it works – and how it should impact your decision to pay off debt vs. save money – in this article.
Celebrate Financial Literacy Month by taking control of your finances. Credit cards, money management, and dealing with debt are three of the most essential personal finance categories – improving your understanding in these areas is a good way to start.