4 Ways to Teach Financial Literacy to Kids of All Ages
---
As a mathematics teacher for students of any age, you probably want to teach your students practical things that will help them succeed at the game of life. Luckily, there are lots of fun and interesting ways to teach kids about money and how to handle it responsibly. Here are four ways to teach kids financial literacy.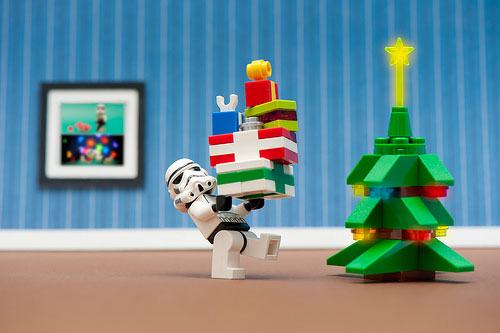 Lego Star Wars Storm Trooper with Gifts

© Kenny Louie
Go shopping. Kids of all ages like to get new stuff, but this activity is particularly relevant for preschool and elementary kids. These kids are just starting to learn that money has a limit and that you can only buy so much with your money.

In your classroom, you can set up a rewards system with its own "money." Use some of your budget to purchase little trinkets that the kids can buy with their money. Of course, the cooler the trinkets are, the more expensive they should be. Each week, give your kids the opportunity to spend their money on the things in your shop. Once they're out of money, they're just out of money until they earn some more.

Most kids will probably start by spending as much as they can every week. As the cheap things become less tempting and the expensive items have more glamor, though, kids may start to understand that by saving their money, they can purchase the items they really want. This is a great way to teach basic counting and math skills as well as the value of saving.

Role play. With older kids who are dreaming of what they want to be when they grow up, role play can be a valuable tool. Kids need to learn what their lives might be like if they earn a certain amount of money each year and have ongoing expenses. With the Internet, this project will be fairly simple to set up and research.

To start, have each child decide on his or her ideal future career. Then, have them look up the average salary of that career in your state. Using that as a basis, they'll start "spending" their money on paper to create their dream life. What kind of house can they afford? What type of car can they buy? How much do adults spend on groceries? Movies? Eating out?

A simpler version of this can be to just break things down by the month and to give each child a set budget per month. However, the larger project does allow you to talk about things like credit, debt, mortgages, car loans, annual expenses like car registration, and more. The more complex version is better for middle school or high school students who already have a grasp on basic math concepts.

Understanding economies. For students to understand how their own money works, they need to have some idea of how economies in general function. One way to do this is to set up a miniature world where groups of students represent different imaginary countries. Give natural resources to each country that can be used to create different products.

With careful planning, you can use a project like this to help students understand how supply and demand works. Students are going to be willing to pay more for a valuable resource that is scarce, while overly abundant resources will have lower prices. A mock world economy can help students understand how these dynamics affect their everyday lives and finances.

Show them the numbers. A second grader doesn't have a clue what a million dollars means, but a high schooler—especially one who has worked part time or paid for some of his or her own things—does have some idea of large numbers. These students may respond well to examples, especially examples of how credit and investing work.

For example, sketch out a scenario where people start saving for retirement in similar accounts. One starts saving at twenty, and the other starts saving at thirty. If the twenty-year-old invests for just twenty years total but the thirty-year-old invests until retirement age, the first person is still going to have more because of compound interest.

Another example should be how credit card debt works against you if you let it pile up. Let students see how compounding interest can take a seemingly small credit card bill and turn it into hundreds or thousands of extra dollars over the life of the card. Adding graphs to these types of illustrations is great for visual learners, as well.