When a Credit Card Extended Warranty is Worth It
---
Did you know you might be able to get an extended warranty on electronics and appliances with your credit card? Many credit cards have an extended warranty program. Call it a thank you from the credit card company for using their credit extension to pay for big ticket items. Most of the time, this benefit is a free one that just comes with your regular credit card, although, of course, restrictions may apply as to how you can use this benefit.
For instance, most American Express cards will add an extra year to a warranty of less than five years. Visa will usually add another year to a three year warranty. That extra year can mean a lot of money saved for items that tend to break down or have problems in the first few years of use.
You have to call your actual credit card company to determine if you have this coverage and how it works. The company may not cover all problems with an item. Generally, though, you simply have to keep all your receipts and the original warranty documentation for the item. When something breaks down, get a repair estimate that you can present to the credit card company. Many times you just have to submit everything over the phone, and you can essentially get your item repaired for free!
Some credit cards offer extended warranties that are much cheaper than what you can get in the store. If you're planning to keep an item for a while and use it heavily, this might be something to check out. However, do compare the credit card company's plan with the store or manufacturer's plan so that you can see which one is really giving you more value.
When free isn't really free
One of the main problems that can arise with an extended warranty through your credit card is the temptation to put items on your credit card when you shouldn't. Almost always, the entire price of the item has to be charged to your credit card in order to get the warranty protection. As we all know, buying big ticket items on a credit card when you aren't prepared to pay them off quickly can be a pretty big mistake.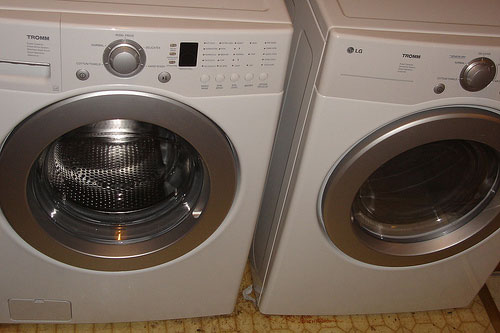 Washer & Dryer

© Chris Corwin
Let's say that you buy a $3,000 washer and dryer set. Charge it on your credit card, and pay it off over three years. Just at the time you're out of warranty, you own your washer and dryer outright because you've paid off the credit card company. Then, something happens, and you need to cash in on that "free" extended warranty for a $200 repair.
Sure, you didn't have to pay for the repair. The problem, though, is that you've paid over $700 in interest if you have a halfway decent APR of 15%! Clearly, the warranty wasn't worth your while in this case.
The lesson here is to simply make sure you're thinking things through. Just because you can get an extended warranty that will make an expensive appliance viable for an extra year doesn't mean you should spend more than you can afford on a credit card. The key with credit cards, as we all know, is responsibility. Check out your warranty options, and then make a financially responsible decision for the items you want to buy that need a warranty.