Design Your Own Engagement Ring: Beginner's Guide
This article contains references to products from our partners. We may receive compensation if you apply or shop through links in our content. You help support CreditDonkey by reading our website and using our links.
(read more)
Shopping for an engagement ring is intimidating. You want to buy the best ring without overpaying. Read on for the top 10 secrets to design your own.
So much goes into buying the perfect diamond ring. You want to make the right decision. But your nerves can make you act without thinking.
Learn how to save money while buying her the ring of her dreams. It's possible. You just have to know how. We share our secrets below.
Design Settings and Shapes
The right setting make a small diamond look larger.
You don't necessarily need a large center diamond. The right setting can make a small diamond look a lot larger.

The halo setting is a perfect example. This setting surrounds the middle diamond with many small stones. Instant glamor and flashiness. Want more bling? There's even a double halo setting.

What does this mean for your pocketbook? You can buy a smaller diamond and make it look fancier with the halo setting. You'll get the same effect or maybe even a better one. And you'll have more money in your pocket.

Unconventional shapes save you as much as 40%.
Round and princess cuts are by far the most popular shapes. They also cost the most due to their high demand. Buying another shape, such as cushion or heart-shaped, could save you as much as 40%.

Cushion shaped is often called the pillow cut. It's square without the harsh edges. It's among the least expensive shapes because little rough material is lost when it's cut.

Heart shaped diamonds are simply romantic. They also often cost less. As a bonus, you usually don't need a setting around this diamond. It takes away from the heart. Keep in mind, though, you'll need a diamond that is at least 0.5 carats or you won't see the heart shape.
Best and Worst Place to Buy Diamonds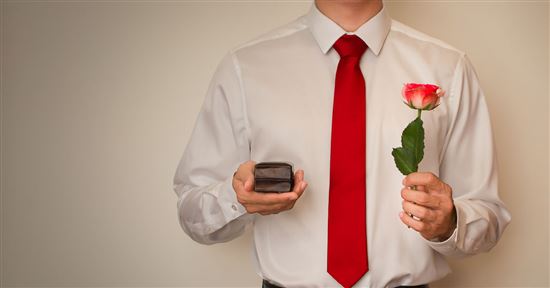 Save as much as 40% buying your diamond online.
Shopping online can save you as much as 40% off your diamond. The retailers simply don't have the same overhead as brick and mortar stores.

You also have more time for comparison shopping. Going from store to store in person can get exhausting. Sitting on your computer, though, you can check as many stores as you want.

We caution you not to jump at the first diamond you find, though. Do your research. Only look at stores that you know offer reputable diamonds. Here are our favorite online stores.

Make sure to read about each store as much as possible. Read the reviews. Also, make sure the website shows photos of the actual diamond (such as James Allen). Some only show photos of the samples. This doesn't help you.

Lastly, make sure they use GIA or AGS certification. Any other certification could lead you to a poor purchase. We discuss this in more detail below.

Only buy diamonds with GIA or AGS grading. You'll avoid paying for an inferior diamond.
We recommend that you only shop for diamonds with GIA or AGS certification. These two labs have the most consistent, high standards. Other labs may be more generous with the grading. This means you may pay much more for a diamond of a lower quality.

In fact, we consider certification the "5th C." Along with, cut, carat, clarity, and color, you should focus on the certification. You might pay as much as 10-30% more. But you'll walk away with a diamond that is worth what you paid.
Watch Out for These Terms
Avoid clarity-enhanced or color-enhanced diamonds.
Enhanced just makes something seem better, doesn't it? Don't fall for it. What it really means is a low-grade diamond with changes made to it.

Clarity-enhanced diamonds have their flaws manually removed. This in itself is a bad practice. This means that dark visible flaws have been laser drilled out. It may look a lot better, but holes in a diamond make it weaker.

Color-enhanced diamonds go through a high-pressure treatment that changes its color. The treatment may make the diamond white, but it also makes it fragile. And you really paid for a yellow/brown diamond.

You don't need to buy a diamond that looks flawless.
You might dream of placing a flawless diamond on your loved one's finger, but your pocketbook thinks otherwise. There's good news! Just because a diamond isn't flawless doesn't mean it doesn't look flawless.

What you should care about is what you can see with the naked eye. How many people do you know who will look at the ring under magnification? That's what it takes to see the inclusions on a VS1 or VS2 diamond.

Personally, we think cut and color sit higher on the priority list. We suggest buying a VS2 or even SI1 diamond. You can save the extra money for an excellent cut and an H colored diamond. You'll have an eye clean diamond with plenty of brilliance and beautiful color.
Design Your Own Ring and Save Money
White gold mimics the look of platinum for a much cheaper price.
Does your loved one dream of the expensive platinum look? Don't worry if you can't afford it. White gold can have the same effect but for a much smaller price.

For example, James Allen has the Six Prong Presentation Solitaire setting in white gold for $135. The same setting in platinum is $622. Look for yourself to see just how similar the two metals look.

You can buy a warmer colored diamond with a yellow gold band.
If your loved one prefers the vintage yellow gold look, you are in luck! There's no reason to splurge on a colorless diamond. In fact, you will likely prefer a diamond with a yellow tint. We think the sweet spot for a yellow gold band is a J (or even K) colored diamond. This is right at the tip of the range where diamonds start having a yellow appearance.

You can see the yellow tint with the naked eye. But, if you aren't placing it on a white gold or platinum band, it won't matter. Diamonds take on the look of their bands. A colorless diamond on a white gold band will look icy white. That same diamond, however, will have a warmer tint on a yellow gold band. Why pay more for the colorless diamond?

Don't ignore diamonds with fluorescence.
Fluorescence makes lower color grades look whiter. Got your attention?

Fluorescence will make a diamond glow blue in UV light. You can buy a lower grade color with fluorescence and have a beautiful looking diamond. We recommend looking for fluorescence in diamonds graded H and below. These diamonds tend to have a yellowish tint. But the blue-ish tint from fluorescence will counteract the yellow and make the diamond appear whiter.

You are left with a diamond that looks one color grade higher but costs less than those in the same category.

The fluorescence, however, may add a blue tint to the diamond. Since the sun emits UV light, some diamonds may appear a bit blue. This could be a very unique, pretty effect.
Don't Get Duped by a Bad Return Policy
Always look for a "no-questions-asked" return policy.
No one wants to think about returning a diamond ring, but it happens. You should only shop at stores that offer a no-questions-asked return policy. Pay close attention to the time period, though. Some stores offer 30 days while others offer longer. Also, read the fine print. Does the ring need to be in its original packaging? Must you alert the store if you return the ring before sending it back?

Buying a ring without knowing the return policy can cost you more in the end. What if something goes wrong? Maybe the ring doesn't fit or the girl doesn't say yes. Whatever the case, you'll want your money back. Shopping at stores with a generous return policy can save you money in the end.
Bottom Line
Don't let engagement ring shopping overwhelm you. Use our secrets to help you get the most for your money.
You don't need a "perfect" diamond to make her happy. Learn how to find the right cut, color, and clarity for your budget. There are beautiful diamonds out there for every budget. Don't start your married life off in debt. Instead, shop like the pros and get what you deserve.
Note: This website is made possible through financial relationships with some of the products and services mentioned on this site. We may receive compensation if you shop through links in our content. You do not have to use our links, but you help support CreditDonkey if you do.
More from CreditDonkey: