Buying an Engagement Ring: 10 Big Mistakes to Avoid
This article contains references to products from our partners. We may receive compensation if you apply or shop through links in our content. You help support CreditDonkey by reading our website and using our links.
(read more)
Shopping for an engagement ring? Be a smart shopper and avoid these top 10 common mistakes.
The truth is people make mistakes. They buy the wrong ring.
It's one thing to have buyer's remorse after spending a few hundred dollars. But spending several thousand dollars is a different story.
Buying an engagement ring is a unique experience. No two people will shop the same. Even just talking to her best friend isn't enough.
Read on to learn the 10 engagement ring shopping mistakes people make most often.
Top 10 Common Mistakes and How to Avoid Them
Believe it or not, not all mistakes have to do with money. Remember, buying an engagement ring is a personal process. There's a lot of sentiment involved. Hopefully these tips help you get through the process unscathed.
The Diamond Details
To give you a better idea, see pictures of recently purchased diamond rings here.
The Style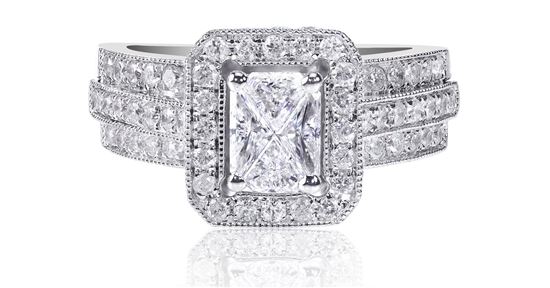 Mistake: Ignoring the setting
Many buyers put the focus on the diamond itself. This isn't unwarranted. But the setting is what shows off her personal style. In fact, 80% of brides say that the overall design of the ring is the most important.

Some women prefer the classic solitaire setting. This lets the eye rest on the beauty of the center diamond. But there are other settings you might consider: 3-stone, halo, and diamond accents are the most popular settings.

The setting is a reflection of a woman's personal style. Knowing it beforehand can make shopping easier. She'll love that you were thoughtful enough to get her something exactly her style. And as a bonus, certain settings can even make a smaller diamond look a lot larger.

Mistake: Not understanding the precious metals
Choosing an engagement ring involves more than the diamond. You should also understand the various precious metals. The most popular options are gold and platinum.

It gets more complicated, though. If you choose gold, you have yellow, white, or rose gold options.

18-karat and 14-karat gold are the most popular choices. 18-karat gold has more gold content and is therefore more expensive. It's a better choice for girls with metal sensitivity. 14-karat gold is made up of more metals, so it's more durable. It's a better choice for active girls so the band doesn't get dinged as easily.

Platinum is the heaviest of the metals and also the costliest. It is hypoallergenic. It also doesn't fade and withstands wear and tear very well. It's often worth its higher price.

Tip: Most girls already have their personal preference for color and would not be happy if you got something else. They already know if they like the trendy silver look, vintage yellow gold, or romantic pink gold. Take note of what color metal she usually wears for her other jewelry.

James Allen offers tools to build your own engagement ring or view pictures of recently purchased rings.
The Financial Aspect
Mistake: Focusing on the 2-month salary rule
Let's just get this out there: the 2-month salary rule is a marketing ploy.

Honestly, it was a great attempt. Why not get unsuspecting buyers to spend more?

The ring should focus on the sentiment, not the cost. Of course, you shouldn't spend more than you can afford.

Try this:
Determine what your lady likes and a budget at the same time. You can then find the perfect ring with these things in mind. This may help prevent financial woes down the road.

Mistake: Buying during the wrong season
A holiday proposal might be romantic, but it's also expensive. According to American Express, 6 million people propose on Valentine's Day alone.

Avoid buying your ring between November and February 14th. Instead, shop during the down time. History shows that engagement ring prices decrease during the summer months.

You can still have that Valentine's Day proposal. You just need to plan ahead.
Other Important Details

© CreditDonkey
Mistake: Shopping without doing your research
There are 2 types of research you must do. You must know the diamond characteristics and her preferences.

We offer a lot of information to help you understand these options. Walking into a jewelry store and hearing things like 1.1-carat Princess G VS2 can make your head spin. Knowing their meaning can help you make the right purchase.

But you must also know your loved one. Even though you may see one another every day, you might have no idea what she likes.

It's time to get nosy. Snoop through her Pinterest account. You'll likely get an idea of the styles she adores from the things she saves on there. Also, look at her in real life. Pay close attention to the style jewelry she wears. Is she traditional or modern, or does she have a style all her own? What color metals does she prefer? Does she like little dainty jewelry or big flashy jewelry?

Pay close attention to detail during the months leading up to your engagement ring purchase. Trust us, it helps.

Mistake: Focusing on paperwork rather than the ring
As much as you should understand the 4 C's, don't focus only on the paperwork. Remember, this is a sentimental decision. An impressive certificate doesn't replace the feelings you get when you see the diamond.

Can you picture it on your loved one's hand? Is it something she could proudly wear every day?

You might not even love the diamonds with impressive certification. A piece of paper can't determine how clean a diamond looks to you. What you see might not be what someone else sees either.
More Tips You Can Use

© CreditDonkey
Know the best ring for your soon-to-be fiancée
Not all diamond rings look good on every hand. We designed a guide to help you determine which shape is best for your loved one. Unless your loved one has the universally flattering, long slender fingers, a specific style and shape will suit her best. She will likely spend more than two-thirds of her life wearing this ring. Make sure it's one that will look good.
Know her ring size
Before you buy a ring, you'll need to know her ring size. If the proposal is a complete surprise, you have to do some detective work. You don't want to just guess. Some settings are very expensive to resize. In fact, there are many you can't resize.

The best way to find her size is to "borrow" a ring from her jewelry box. Just make sure it's a ring she wears on her left ring finger. If you can't get one of her rings, check out our other tips for finding the right ring size.

Do you plan to go engagement ring shopping together?

Get input from a close friend
Sure, you are her boyfriend, you should know the most about your loved one. But there are certain things girls share.

Your girlfriend might have a secret Pinterest board her friend knows about. She might also have shared her lifelong dreams of the perfect ring. Sometimes girls are shy about sharing these things with their boyfriends.

You don't have to restrict your options to what her friend says. It does give you a good place to start, though.

Once you know exactly what she's looking for, try James Allen's Build Your Own Engagement Ring tool. You can choose between different colors, carats, clarity and more.

Know how to pay for the engagement ring
Before you do anything, do yourself a favor and set a budget. It's easy to walk into a jewelry store and get overwhelmed. Before you know it, you have a new credit card with a sizeable balance. It all happens because you fell in love with an expensive ring.

Setting a budget before you shop prevents an emotional purchase. It also helps keep things realistic. Do you want another credit card? How much do you have saved for a ring? What are your plans? Do you want to buy a home soon? You'll need money set aside.

Do some soul searching before shopping for that ring.

Stick to round cut diamonds if you are unsure
According to The Knot, almost 50% of engagement rings sold have a round diamond. Round diamonds will never lose their timeless and classy appeal.

You still have hundreds of options for the ring's setting. This can make the ring unique to your sweetie.

Round diamonds look good on those with long, chubby, or thin fingers. We only caution you if your loved one has short fingers. Round diamonds can make fingers look even shorter.

Consider her lifestyle and work habits
Again, women spend two-thirds of their lives wearing their engagement ring. But they can't wear it if it poses a hazard to their daily life.

Consider the things your loved one does on a daily basis. Does she work with her hands? Is she always handling equipment? Does she love to garden? These habits help determine the right type of ring and setting.

An elevated setting can be difficult if she works with her hands a lot. It can easily get snagged and there's a higher risk of losing the diamond. Someone who gets their hands dirty a lot may prefer a simpler band, as dirt can get trapped in ornate settings. And if she works with children and babies, a smooth bezel setting will protect kids from sharp corners.

Look for warranties
You want your loved one to proudly wear her ring every day. And wearing a ring every day could mean damaged or even lost diamonds. A warranty from the jeweler can help you deal with this risk.

Ask your jeweler about the included warranties, if any. You may also want to consider purchasing an additional warranty.

Make sure you understand the rules to keep the warranty intact. For example, a cleaning every 6 months might be necessary. This helps the jeweler monitor the ring. They can spot any issues before they become a serious problem.

Don't forget ring insurance
The price of your ring doesn't matter - you need insurance. Whether you spend $1,000 or $10,000, it's a sentimental piece of jewelry.

You can purchase jewelry insurance. In most cases, you can add the ring to your homeowner's or renter's insurance. Make sure you know the details of the insurance policy. Does it only protect against theft or accidental loss too? What do you need to prove its loss? What do they need to verify the actual cost/value of the ring?

Generally, insurance on an engagement ring doesn't cost much. But it can help you protect your sentimental investment.

Don't overlook shopping online for the ring
You stand to save as much as 40% when you shop for an engagement ring online. Of course, this varies based on where you shop and the type of ring. If nothing else, it helps you comparison shop before you even head to the store.

Why not get the nervous jitters over with in the privacy of your own home? You never know, you might find the perfect ring online and never have to step foot in a store.

Learn which stores we recommend you shop online for an engagement ring.

Don't forget about the wedding ring
Eventually, you'll pair the engagement ring with a wedding band. Most women will wear the engagement ring and wedding ring together on one hand. So you want something that matches and stacks nicely together.

If you buy a unique setting, you may need a custom wedding band. This isn't a bad thing. It may cost more, though. As you look at your budget, account for this extra expense.

Compare several rings within your budget
Don't focus on any of the 4 C's when you start shopping. Instead, start with what you can afford. A jeweler will likely show you diamonds with different grades.

You'll be able to decide if cut, color, or clarity means more. You can also see the difference in different sized diamonds. Looking at the rings side-by-side will help you decide what you feel right about.

You might surprise yourself. You may fall in love with a smaller, virtually colorless diamond. Or you may find that you prefer the larger diamond.

You won't know until you exhaust all of your options, though.

Don't fall for current trends
Every few years, a new trend emerges. Marriages are supposed to last forever though. Do you want to buy a new ring every few years? If not, stick with the more traditional settings.

For example, rose gold is popular now with the boho-chic girls. Maybe she's young and wild at heart now, but will she still feel that way in 10 years?

The setting is a personal decision. If your girlfriend loves it, then go for it. Don't choose it because it's "hot," though. Instead, opt for a more traditional setting. In most cases, you can't go wrong with the solitaire when all else fails.

Consider alternatives
If you love the white brilliance of a diamond, but not the price, consider your other options. Moissanite, cubic zirconia, and white sapphire are popular diamond alternatives. These stones typically cost much less compared to diamonds. But, each option does have its downsides. For example, moissanite creates more rainbow sparkles than real diamonds. Some people may think this looks a bit over the top.

If you go for an alternative, make sure you have discussed it with your sweetie and she is okay with it.

For more tips on other options, read our article on How to Buy an Engagement Ring the Smart Way.
Mistakes at the Jewelry Store
Not asking to see a certificate with the diamond
The Federal Trade Commission legally allows jewelers to inflate the color and clarity one grade up when selling the diamond. This means the jeweler can tell you the clarity and color are better than it is and charge you more.

Ask to see a lab certificate to make sure the diamond quality is what he says. Also, lab certificates must say whether the diamond has been artificially enhanced. We only recommend diamonds that have been certified by GIA or AGS.

Not protecting your purchase if you need to leave the diamond with a jeweler
This is something people don't even think about. But it's important to protect your purchase. If you bought a diamond at a jeweler and need to leave it with him for the setting, how can you know you'll get the same diamond back?

Before you leave, ask the jeweler to look at the diamond's flaws with you and plot them on a clarity plot. When you come back to get the ring, match up the flaws to make sure it's the same diamond you bought. Another way is to verify and write down the laser inscription number. This helps you know for sure that your diamond hasn't been swapped.

Do not do business with a jeweler who refuses to do this.
Bottom Line
Buying an engagement ring doesn't have to be scary. We offer these mistakes in the hope of helping you avoid them.
Use our tips and your own desires to help you find the perfect ring. Most importantly, do your research. We also recommend shopping online. There is much less stress when you don't have a strong-arm salesperson breathing down your neck.
We hope you find the ring that brings you and your loved one years of happiness.
Write to Kim P at feedback@creditdonkey.com. Follow us on Twitter and Facebook for our latest posts.
Note: This website is made possible through financial relationships with some of the products and services mentioned on this site. We may receive compensation if you shop through links in our content. You do not have to use our links, but you help support CreditDonkey if you do.
Read Next: