Durbin Amendment Fails to Change Costs for Consumers
---
On October 1st it will be one year since the controversial Durbin Amendment went into effect, limiting the amount of interchange fees that debit card issuers could charge to merchants. Supporters of the Amendment said that it would lower costs for small and medium-sized businesses, while card issuers complained that it would make it difficult for them to turn a profit on card transactions.
To compensate, several banks lowered the rewards that they offered on checking accounts even before the law went into effect. Banks did not raise fees on checking accounts, at least according to a new survey by CreditDonkey.com. Over 1,200 respondents were asked if their checking account fees had changed in the past year, and the vast majority--over 73% of those surveyed--said that the fees had not changed at all. Only 16.2% reported that fees were higher.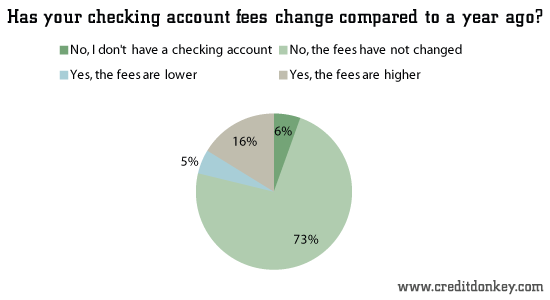 Has your checking account fees change compared to a year ago? © CreditDonkey
"Banks have faced backlash and a lot of competition in recent years, as consumers consider credit unions and community banks," noted Charles Tran of CreditDonkey.com. "In this environment, banks cannot raise prices on their products to consumers, so they have responded by cutting their operating expenses. Rewards on credit cards remain high, since the banks still make a healthy profit on plastic."
Retail Prices Still Rise, Unaffected by Durbin Amendment
Although the Durbin Amendment has lowered the cost of debit card transactions for some retailers, survey respondents also report that prices in retail shops are higher than a year ago; 63.5% said that prices are higher than last year, with 32.5% reporting that prices have remained the same. Only 4% said that prices are lower than in the previous year.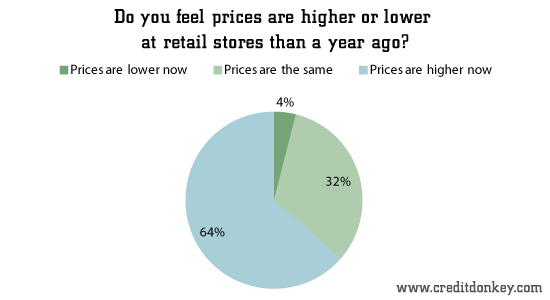 Do you feel prices are higher or lower at retail stores than a year ago? © CreditDonkey
Officially, the rate of inflation in the United States was at 1.4% in July--well below the Federal Reserve's typical target of 3%, with food up by 2.3% and clothing up 3.0%. Lower energy costs helped lower the overall level of inflation.
"Prices in shops are rising because of several costs, but they aren't rising as much as they did in 2010 and 2011," noted Tran. "It seems that the lower prices for card transactions resulting from the Durbin Amendment have helped merchants keep up with other costs, but there's little evidence that it has made much of an impact on the general rate of inflation."
CreditDonkey.com conducted the online survey of 1246 shoppers in the U.S., age 18 and over between August 20 and September 2, 2012.
Mike Foster is a contributing writer at CreditDonkey, a credit card comparison and reviews website. Write to Mike Foster at mike@creditdonkey.com