Dining Rewards: 5 Ways to Feast on Reward Credit Cards
---
Whether we need to entertain a business client, head to the local drive-thru on the way home from work, or catch a quick breakfast at our favorite deli, eating out has become an American way of life.
If you eat out often, or even if you enjoy an occasional nice dinner at your favorite restaurant, consider putting your dining habits to good use by using a dining rewards credit card. Dining credit cards are the newest hybrid of the rewards credit card, and they are taking off because of the many rewards they offer consumers who enjoy dining.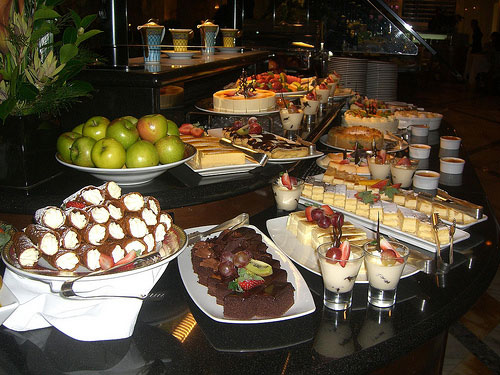 Dessert Buffet © avlxyz
Here are some things to consider when choosing a dining rewards credit card:
Choose a restaurant that you enjoy. Simply use your dining credit card there, and you can begin enjoying meal rewards points. Rewards points for restaurants in your credit card dining program can yield anywhere from 1% to 5%, and they are typically based on qualifying purchases. Credit card companies team up with specific restaurants—and provide them with specific incentives to do so—and then reward the credit card customer with rewards.
Look at all the restaurants in the reward circle. Before choosing a dining credit card, consider the specific restaurants included in this credit card plan. If you don't eat at the restaurants outlined in the credit card's terms and conditions, a dining credit card won't be advantageous to you. In addition, make sure the dining establishments you will be frequenting will offer the highest rewards points. In particular, check into the qualifying purchases for each restaurant to be sure that your purchase will yield you a number of rewards points each time you visit.
Evaluate your culinary lifestyle. The best rule of thumb when considering a dining credit card is to find one that best fits your dining habits and lifestyle. Don't get a dining credit card and assume your dining habits will change to accommodate the dining card's rewards. Instead, choose a dining credit card that best fits your current lifestyle so you can be sure you will be reaping the most rewards from the card.
Read the fine print. Check into the card's terms and conditions, including its interest rate. It is important to understand that not all dining credit cards are created equal, and that they differ greatly when it comes to the interest rate and other features. One important thing to remember is that you will not reap any dining rewards benefits if you fail to pay off your balance each month and rack up more in finance changes than you receive in rewards.
Consider any annual fee. You should also review the card's annual fee; however, don't automatically assume that just because a card carries an annual fee that it isn't a good deal. On the contrary, a card with an annual fee may offer greater rewards that would actually be a better "investment" than a card without a fee.
Dining rewards credit cards make dining out taste good for both your palate and your wallet!