Ad Disclosure: This article contains references to products from our partners. We may receive compensation if you apply or shop through links in our content. You help support CreditDonkey by using our links.
(read more)
Crypto.com is a one-stop shop for everything crypto—from Bitcoin to NFTs, they've got pretty much everything. But is it legit?
Overall Score

4.1

---

Cryptocurrency Trading

5.0

Interest Accounts

4.5

Crypto Loans

1.0

Customer Service

3.5

Mobile App

4.0

Commissions and Fees

4.5

Ease of Use

4.5

Research

4.5

Safety

5.0
5-point scale (the higher, the better)
---
Pros and Cons
Wide variety of altcoins
Extensive features
Excellent security
Crypto loans not available in USA
Slow customer service
---
Bottom Line
Good all-around crypto exchange with reasonable fees
Crypto.com has more variety to offer users than most exchanges, but does it do everything it does well?
Is it safe, fairly priced, and competitive? Or a jack-of-all-trades but master-of-none?
Find out in this detailed review.
What is Crypto.com?
Hong Kong-based Crypto.com was founded in 2016 under the name Monaco by Kris Marszalek and Bobby Bao.
Compared to other platforms, Crypto.com stands out for the wide variety of services they offer.
They have an extensive exchange, offering more than 250 cryptocurrencies and stablecoins for trade, with limit and margin trading, and full analytical tools.
Crypto.com also offers staking rewards up to 14.5% for cryptocurrencies and 10% for stablecoins, and crypto-backed loans against 30 different cryptocurrencies.
Additional features include a new marketplace for NFTs, prepaid Visa cards backed by holdings in CRO, their native token, and Crypto.com Pay, which facilitates paying and getting paid with cryptocurrencies.
How Does Crypto.com Work?
Crypto.com was originally founded as a crypto payment service, and in the short time it's been around, it's transformed into a full-service cryptocurrency platform.
Their main service is facilitating the buying, selling, and trading of cryptocurrencies through their easy-to-use mobile app and desktop site. It just takes a few simple steps to sign up and verify your identity before you're able to start trading.
The Crypto.com exchange is a solid choice for crypto trading thanks to its competitive fees and access to one of the widest ranges of cryptocurrencies out there. It will particularly appeal to traders interested in all manner of altcoins.
You can also opt to trade directly with other users through a DeFi wallet, which will confer you with full ownership of your keys, as well as the ability to improve transaction speed by spending more on fees.
Crypto.com users also get a range of benefits from staking CRO for six months or more. Higher stakes can improve interest rates offered for other coins.
Best for:
Crypto traders looking for access to a wide variety of altcoins

Traders interested in doing more with crypto than just trading

Traders who prefer a mobile-first platform
Pros and Cons
Ready to join Crypto.com? Review these quick pros and cons first to determine if it's the best platform for you.
Pros

Exchange with large variety of coins

High rates of return on interest accounts

Many features in one place

Custodial and non-custodial crypto wallets
Cons

The best rates require staking large amounts of CRO

Crypto-backed loans not available in the U.S. or a number of large countries

Unlisted spread charged on trades

Slow customer service response
App download: App Store, Google Play Store
What Cryptocurrencies Do They Support?
The Crypto.com exchange currently supports over 250 cryptocurrencies and stablecoins for trade, including popular coins like:

Bitcoin & Bitcoin Cash

Ethereum

Litecoin

Cardano

XRP (Ripple)
Full list of supported coins on Crypto.com:
0x

1inch

Aave

Aavegotchi

aelf

Algorand

Amp

Ampleforth Governance Token

Ardor

Ark

Arweave

Audius

Avalanche

Axie Infinity

BakeryToken

Balancer

Bancor

Band Protocol

BigONE Token

Binance Coin

Binance USD

Bitcoin

Bitcoin Cash

Bluzelle

Cardano

Casper

Celer Network

Chainlink Solana

Chiliz

Chromia

Compound

Compound Coin

Contentos

Cosmos

Cronos (formerly Crypto.com Coin)

Curve DAO Token

Dai

Dash

Decentraland

DIA

DigiByte

Dogecoin

Ellipsis

Elrond

Enjin Coin

Enzyme

EOS

Epanus

Ethereum

Ethereum Classic

Everipedia

Fantom

Fetch.ai

Filecoin

Flow (Dapper Labs)

Game.com

Gas

Gemini Dollar

Gitcoin

Golden Ratio Token

Golem

Harmony

Helium

Holo

HUSD

Hydro Protocol

ICON

iExec RLC

Injective Protocol

Internet Computer

IOST

IQ.cash

IRISnet

Kava

Komodo

Kusama

Kyber Network Crystal Legacy

Lisk

Litecoin

Livepeer

Loopring

Luna Coin

Maker

Nano

NEAR Protocol

Neo

Nervos Network

NKN

NuCypher

Numeraire

Ocean Protocol

OMG Network

Ontology

Ontology Gas

Origin Protocol

Pancake Swap

PAX Gold

Paxos Standard

Polkadot

Polkastarter

Polygon

Qtum

Raiden Network Token

Rally

Rarible

Ravencoin

Ren

Reserve Rights

Ripple

Shiba Token

Siacoin

SKALE Network

SoMee.Social

Stacks

Stellar

Storj

Stox

STRAX

SushiSwap

Synthetix Network

Tellor

Terra

Tether

Tezos

The Graph

The Sandbox

THETA

Theta Fuel

THORChain

TomoChain

TrueUSD

UMA

UNICORN Token

Uniswap

Universe

USDC

VeChain

Venus

VeThor Token

Waltonchain

Waves

Wrapped Bitcoin

XSGD

yearns.finance

Zilliqa
Note: Some coins are not available for users in the U.S. For the full details, refer to Crypto.com's article here.
They offer Crypto-Backed Loans in 4 stablecoins, with 15 coins currently accepted as collateral:

Loans: TUSD, PAX, USDC or USDT

Collateral: BTC, CRO, XRP, ETH, LTC, EOS, XLM, ADA, ALGO, ATOM, VET, LINK, WBTC, XTZ, DOT
Loans are not currently available to citizens and residents of France, Germany, Hong Kong SAR, Malta, Singapore, Switzerland, United Kingdom, or the United States of America.
They offer Interest Payments against deposits of 40 cryptocurrencies and stablecoins, including:

Cronos, Shiba Inu, Bitcoin, Ethereum, Tether, Binance Coin, Cardano, Dogecoin, USD Coin, Polkadot, Uniswap, Bitcoin Cash, Litecoin, ChainLink, Stellar, Dai, VeChain, EOS, Algorand, Maker, Tezos, Cosmos, TrueUSD, Compound, Elrond eGold, Enjin Coin, Paxos Standard, Basic Attention Token, Decentraland, Bancor, TrueGBP, TrueAUD, TrueCAD, OmiseGO, Icon, KyberNetwork, Celer Network, PAX Gold
Where is Crypto.com Available?
Crypto.com is available in over 100 markets, with more added every week. Availability depends on the legality of cryptocurrency in a given region.
Crypto.com is available in all U.S. states except New York.
Their app, but not their cards, are available in the following U.S. territories:

American Samoa, Northern Mariana Islands, Puerto Rico, Virgin Islands.
Crypto.com Features
Crypto.com has a wider range of features than many other platforms. Here's a look in detail.
1. Crypto.com Exchange
Crypto.com offers an exchange where users can buy, sell, and trade cryptocurrencies and stablecoins. With over 250 coins supported, their exchange is more extensive than many popular competitors.
They support limit orders, margin trading up to 10x, and derivatives with up to 100x leverage.
We'll take a deeper look at their fees, an important factor in choosing any exchange, further down in the review.
Crypto.com NFT Marketplace
In addition to their exchange, Crypto.com recently added an NFT (non-fungible token) marketplace to trade in limited edition digital art hosted on the Blockchain.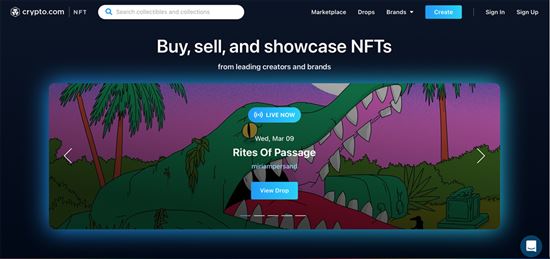 Screenshot of Crypto.com
2. Crypto.com Earn
Crypto.com's Earn feature offers interest starting at 0.2% per year. The rates go as high as 14.5% for cryptocurrencies like Bitcoin and 10% for stablecoins like USD Coin.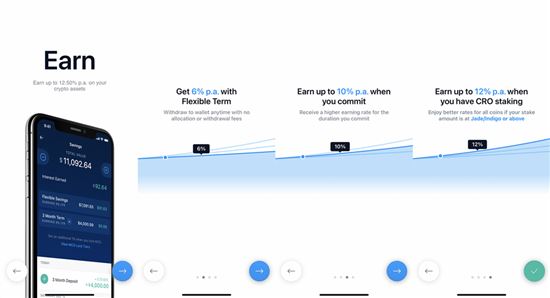 Screenshot of Crypto.com
Rewards are paid weekly in USDC.
Rates are based on which cryptocurrency you invest, your holding term (Flexible, 1 month, or 3 month), and staking CRO ($400 or less, $4,000, or $40,000 or more) for a period of 6 months.
For example, if you wanted to earn interest on Bitcoin:
For Tier 1 - Allocations up to US$3,000 (full reward)

The base rate is 0.2% for a Flexible Term and a minimum CRO stake (less than $400 USD)

A 1-month term earns 1.5%

A 3-month term earns 3%

Stake $4,000 in CRO for 3-month term, and the rate goes to 4%

The highest rate for Bitcoin, 6%, can only be earned by taking a 3-month term and staking $40,000 in CRO for 6 months or more.

A flexible term, even with a maximum stake, will only earn 0.25%
The most you can earn on a flexible term with no CRO stake is 0.55% on stablecoins.
Three-month terms with no stake will get you as much as 3% returns on Bitcoin and Ethereum, and 6% on most stablecoins. Find an interactive calculator here.
Crypto.com offers quite good rates if you can afford to invest in CRO and wait. Remember that it requires a 6-month period for your staking to affect your returns, and they pay much better for fixed-term deposits than they do for flexible ones.
That said, if you want to get started earning immediately, you can probably find better rates elsewhere.
Is lending my crypto safe?
There's always risk when lending your crypto. Companies like Crypto.com attempt to minimize that risk through security features, insurance, screening borrowers, and requiring high ratios of collateral of those taking loans. However, there's no guarantee that factors beyond their control like market crashes or security breaches won't result in a loss of user funds. It's up to you to decide whether the risk is worth the reward.
3. Crypto.com Metal Visa Cards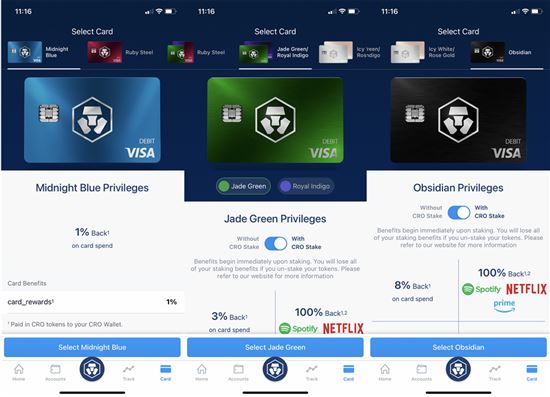 Screenshot of Crypto.com
Crypto.com has a range of Visa cards with increasing rewards based on your holdings in CRO.
The tiers are named by color, and include Obsidian, Frosted Rose Gold & Icy White, Royal Indigo & Jade Green, Ruby Steel, and Midnight Blue.
The most basic card, with no CRO stake required doesn't offer cash back. The second basic card with $400 CRO stake offers 1% CRO cash back on purchases. Rewards increase in tiers up to 5% for those staking more than $400,000.
Other benefits available with higher-tiered cards include:

Discounts to Netflix, Amazon Prime, Spotify, Expedia, and Airbnb

LoungeKey airport lounge access

Bonus interest

Private jet memberships for the highest stakers
ATM withdrawal limits range from $200 to $1,000 a month.
In order to apply for one of the cards, you'll first need to hold CRO for a period of 180 days.
There are no monthly, annual, shipping or setup fees.
A useful safety feature, if you lose your card, you can freeze it easily through the Crypto.com app.
There is a limit of one card per person.
4. Crypto.com Pay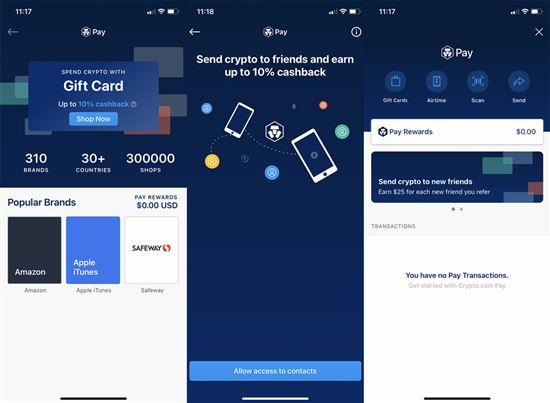 Screenshot of Crypto.com
The Pay feature in Crypto.com's mobile app allows you to use 30+ cryptocurrencies to pay at any merchant, buy gift cards, pay for mobile minutes, and send crypto to other people free.
Sending money can earn you 10% rewards if you have a $10,000 stake in CRO

Gift card bonuses range from 1.25% to 10% based on staking and industry

Mobile airtime purchases can earn 2.5% for non-stakers and 5% for those who do
5. Crypto.com DeFi Wallet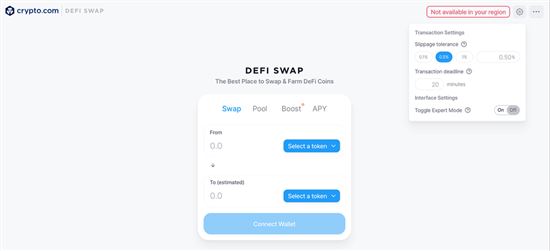 Screenshot of Crypto.com
Crypto.com offers both custodial and non-custodial wallets.
The advantage of a custodial wallet is traders aren't subject to network fees, as their trades are handled within the Crypto.com ecosystem.
The non-custodial wallet requires network fees to incentivize transaction processing on the Blockchain, but ensures that every trader is in full control of their private keys.
6. Crypto.com Credit
Users in some jurisdictions are able to borrow cash and coins against the value of their cryptocurrency with crypto-backed loans.
At time of writing, Crypto.com's lending services are not currently available in the following places, including the U.S.:

American Samoa, Antigua & Barbuda, Curaçao, France, French Guiana, French Polynesia, Germany, Gibraltar, Guadeloupe, Guernsey, Hong Kong, Macedonia, Malta, Martinique, Monaco, New Caledonia, People's Republic of China, Reunion, Saint Lucia, Saint Martin, Seychelles, Singapore, Sint Maarten, St Pierre & Miquelon, Switzerland, United Kingdom, United States
For those who can use it, Interest Rates are based on LTV and CRO stake:[1]

| Initial LTV | CRO Stake < 100K | CRO Stake ≥ 100K |
| --- | --- | --- |
| LTV = 25% | 2.00% APR | 1.00% APR |
| LTV = 33% | 6.00% APR | 4.00% APR |
| LTV = 50% | 8.00% APR | 6.00% APR |
They support the following cryptocurrencies:[2]

Loan: USDC, USDT, BTC, ETH

Collateral: CRO, LTC, BTC, ETH, VET, LINK, DOT
Loan minimums are currently set equivalent to $100 USD.
Retail users can borrow up to a maximum of 0.5 million USD equivalent.
Loan Terms are 12 months.
7. Crypto.org Chain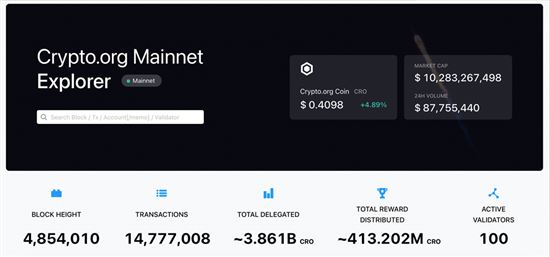 Screenshot of Crypto.com
Crypto.com recently announced the Crypto.org Chain, a public blockchain intended to facilitate transactions worldwide.
The Chain is used to run Crypto.com's Pay feature, with more financial services in the works.
Goals for the Chain include security, scalability, multi-party operation, the capacity for long-term use, and the building of a developer ecosystem to build upon the foundation that the Chain provides.
Crypto.com Fees
Crypto.com uses a tiered Maker-Taker fee structure, based on 30-day trading volume:
| Level | 30D Trading Volume (USD) | Maker Fee | Taker Fee |
| --- | --- | --- | --- |
| Level 1 | $0 - $25,000 | 0.4% | 0.4% |
| Level 2 | $25,001 - $50,000 | 0.35% | 0.35% |
| Level 3 | $50,001 - $100,000 | 0.15% | 0.25% |
| Level 4 | $100,001 - $250,000 | 0.10% | 0.16% |
| Level 5 | $250,001 - $1,000,000 | 0.09% | 0.15% |
| Level 6 | $1,000,001 - $20,000,000 | 0.08% | 0.14% |
| Level 7 | $20,000,001 - $100,000,000 | 0.07% | 0.13% |
| Level 8 | $100,000,001 - $200,000,000 | 0.06% | 0.12% |
| Level 9 | $200,000,001 and above | 0.04% | 0.10% |
Maker Fees will be incurred if your trade is not matched immediately with a buyer or seller's order on the order book. Your trade will be added to the order book, adding liquidity. An example of this are limit orders that don't get fulfilled immediately.
Taker Fees will be incurred if your trade is matched immediately with an order on the order book. For example, market orders that are completely fulfilled.
Additional discounts are given for staking CRO:
| Stake | Discount |
| --- | --- |
| ≥ 5,000 CRO | 10% off |
| ≥ 10,000 CRO | 20% off |
| ≥ 50,000 CRO | 40% off |
| ≥ 100,000 CRO | 60% off |
| ≥ 500,000 CRO | 70% off |
| ≥ 1,000,000 CRO | 80% off |
| ≥ 5,000,000 CRO | 90% off |
| ≥ 50,000,000 CRO | 100% off |
They offer discounted trading for VIP members, detailed here, and rebates for paying in CRO.
VIP Trading Fees
| VIP Tier | 30D Trading Volume (USD) | Maker Fee | Taker Fee |
| --- | --- | --- | --- |
| VIP 1 | > 1% of exchange volume | 0.020% | 0.040% |
| VIP 2 | > 2% of exchange volume | 0.010% | 0.030% |
| VIP 3 | > 3% of exchange volume | 0.000% | 0.020% |
Withdrawal and Deposit Fees
Withdrawal fees are based on cryptocurrency. Some examples:

Bitcoin: 0.0005 BTC

Ethereum: 0.004 ETH (ERC20)

Litecoin: 0.001 LTC

No deposit fees
While it is unlisted, they also appear to charge a Spread on trades, reportedly ranging from 0.25% - 0.5%.
Purchasing Fees
Credit card purchases of crypto will incur a 2.99% fee in the U.S. and most countries, and 3.99% in a select few. There is 0% fee when topping up with a debit card. The full list can be found here.
Crypto.com Credit Card Fees
Here are the fee details for Crypto.com's Visa cards. Other fees will vary by tier:

No monthly, annual, or delivery fees

2% ATM Withdrawal Fee after a monthly limit that ranges from $200 to $1,000

Inactivity Fee (12 months): $4.95

ACH Return/Decline Fee: $15.00

Card Replacement Fee: $7.00 - $5.00 depending on card

Card Upgrade Fee: $50.00

Card Load using Credit Card Fee: 2.99%
Crypto.com Pay does not charge any transaction fees.
Lastly, users of the Crypto.com DeFi Wallet will incur Network Fees, not paid to Crypto.com but to the Blockchain in order to incentivize transaction confirmation. These fees will vary depending on traffic on the network. These fees can be avoided by trading on the Crypto.com App instead.
Security
If you're concerned about security, rest assured. Crypto.com goes to extreme measures to ensure the security of your assets:

Insurance
FDIC insurance up to $250,000 USD for cash funds held in custodial account banks.

US $100M direct insurance policy (led by Arch Underwriting at Lloyd's Syndicate 2012).

In total, Crypto.com's cryptocurrency insurance comes to $750M including direct and indirect coverage from custodians.

Cold Storage
All user crypto is held offline in cold storage; the only funds held in hot wallets are corporate
Multi-Factor Authentication
Including password, biometric, email, phone, and authenticator
Address Allowlisting
Mandatory for withdrawals
Bug Bounty
Hackers are incentivized to report security flaws rather than exploit them
Advanced Security and Privacy Protocols
ISO/IEC 27701:2019; CCSS Level 3; ISO/IEC 27001:2013 and PCIDSS v3.2.1 Level 1 compliance; Tier 4 NIST Cybersecurity and Privacy Frameworks
Crypto.com also offers options non-custodial wallets for those who want complete control over the security of their crypto.
Has Crypto.com been hacked?
No, Crypto.com has not been hacked to date.
Ease of Use
Because of the number of features it has to offer, Crypto.com may be a little intimidating to new users. Their exchange closely resembles the sort used by professional traders, providing a lot of detailed information that may be lost on newer investors.
However, clear labeling and helpful guidance are built into their processes, and new users should be able to get started without too much trouble.
At the time of writing, Crypto.com has a
2.3 rating
(out of 5) on Trustpilot.
Customer Support
Crypto.com offers 24/7 live support on desktop and through the app.
Response times may be as long as a day. To answer most basic questions, you can refer to an extensive knowledge base in their Help Center.
Many Crypto.com users have also reported success getting support by posting questions on the Crypto.com subreddit or their Telegram channel.
How it Compares
Crypto.com definitely stands out for its features and reasonable fees. But that doesn't mean other exchanges aren't worth a look. Below, compare Crypto.com with two of its most popular competitors.
Crypto.com vs Coinbase
Coinbase is known for being the go-to exchange for crypto newbies. It's pretty appealing because it's easy-to-use and offers a ton of coins. However, Crypto.com supports even more coins than Coinbase.
Crypto.com is also much cheaper when it comes to fees.
However, even with higher fees and fewer coins, Coinbase is a good choice if you're just getting into the crypto game. If that's you, consider trying Coinbase as a way of testing the waters and building confidence.
SPECIAL OFFER
2% Deposit Bonus - Learn More

SPECIAL OFFER
Earn $5 in bitcoin on your first trade on Coinbase - Learn More

Benefits and Features

Stock Trading

No

Options Trading

No

Annual Fee

None

None

Cryptocurrency Trading

Minimum Deposit

$1

$2

Cryptocurrencies Supported

BTC, CRO, ETH, XRP, LTC, EOS, XLM, USDC, ATOM, LINK, XTZ, BCH, VET, ICX, ADA, ENJ, ALGO, KNC, NEO, DAI, PAXG, BAT, COMP, OMG, MANA, QTUM, CELR, MKR, UNI, YFI, BAND, EGLD, WBTC, AAVE, DOT, REN, ONT, LRC, CRV, ZIL, GRT, BNT, KSM, SKL, NEAR, SNX, BAL, STX, DOGE, UMA, FLOW, SAND, ZRX, FIL, THETA, ANKR, MATIC, CHZ, OCEAN, WAVES, RLY, STORJ, HOT, 1INCH

170

Countries Supported

Worldwide in 100+ markets, depending on the legality of Bitcoin

Over 100

Fiat Currencies Supported

Over 20

USD, GBP, EUR

Digital Wallet

Yes

Yes

Transaction Fee
Tiered Maker-Taker Fee Structure based on 30-Day Trade Volume from 0.04% to 0.4% with discounts from 10% to 100% for staking CRO
Greater of Minimum Flat Fees or Variable Fees (1.49%+) by Location and Payment Method.
Minimum Flat Fees:


< $10: $0.99
$10.01 - $25: $1.49
$25.01 - $50: $1.99
$50.01 - $200: $2.99

Copy Trading

No

No

Limit Orders

Yes

No

Margin Trading

Yes

No

Spread

0.25% - 0.5%

0.50%

Crypto Loans

Yes

Invitation only

Ethereum (ETH) Interest Rates

0.2% - 6%

6.0%

Bank Account Purchase Fee

No

1.49%

Debit Card Purchase Fee

0%

3.99%

USD Coin (USDC) Interest Rates

0.4% - 10%

0.15%

Mobile App

Yes

Yes

ACH Transfer Fee

No

No

Wire Transfer Fee

No

$10 ($25 outgoing)

Crypto Conversion Fee

No

up to 2%

Address Allowlisting

Yes

Yes

Anonymity

No

No

Biometric Login

Yes

Yes

Cold Storage

Yes

Yes

Maximum Trading Amount

Maximum Trading Amount varies by coin: Bitcoin: 20, Ethereum: 480, Litecoin: 887

Unlimited

Two-Factor Authentication

Yes

SMS or Google Authenticator

Withdrawal Limit
10 BTC equivalent per rolling 24 hour period; $100,00 per day and $500,000 per month

$50,000 / day

Stake Crypto

CRO

ALGO, ATOM, ETH, XTZ, ADA

Blank fields may indicate the information is not available, not applicable, or not known to CreditDonkey. Please visit the product website for details.

Crypto.com: Pricing information from published website as of 07/07/2022.

Coinbase: Pricing information from published website as of 04/13/2021.
Bottom Line
Is Crypto.com safe?
Crypto.com does a lot of things and it does most of them well. There are plenty of competitors offering reasonable alternatives to the services that Crypto.com provides, but the number of places with the same range of services that they have is small indeed.
Their exchange should satisfy those looking for all but the most obscure cryptocurrencies and stablecoins, their fees are not particularly high, and the ability to spend your coins as earn interest on them makes them a valuable resource, regardless of whether you see crypto as an investment or an alternative to cash.
At this point in time, the only place they're really lacking, for U.S. users anyway, is in their crypto-backed loans, but given everything else they allow you to do, they more than make up for it.
References
Jeremy Harshman is a creative assistant at CreditDonkey, a crypto comparison and reviews website. Write to Jeremy Harshman at jeremy.harshman@creditdonkey.com. Follow us on Twitter and Facebook for our latest posts.
Note: This website is made possible through financial relationships with some of the products and services mentioned on this site. We may receive compensation if you shop through links in our content. You do not have to use our links, but you help support CreditDonkey if you do.
Read Next:
Compare: