Make sure you're getting a deal when you shop at Overstock by having the latest coupon and promo code.
Up to 20% Rewards and Free Shipping with Club O Membership.
Free Shipping on $50+ order.
---
23 Tips and Tricks to Save Money at Overstock.com
Overstock.com has emerged as one of the most popular online shopping venues around, going head to head with industry giants Amazon and eBay. Loyal customers go there to find a huge selection of brand-name products at discounted prices along with some more unique finds they won't see anywhere else.
While there are already plenty of bargains to be had, it's possible to save even more every time you shop if you know how to make the most of the site. To help you keep your final total as low as possible, CreditDonkey has uncovered the 23 ways to cash in on all the best deals and steals at Overstock.com.
GET REWARDED WHEN YOU SHOP
Being able to earn discounts towards the things you're planning to buy later on is a great incentive to shop at any store. Overstock offers customers some unique ways to save through its membership rewards program.
1. Join Club O
Enrolling in the Club O program means you'll get a minimum of 5% rewards back on everything you buy, which can then be used to save on future purchases and free shipping. Membership is $19.95 a year, although you can catch a discount for the first year. And if you're a college student, first responder, or a member of the military, it's free to sign up.
2. Earn points when you dine out
You can pad your rewards balance even more by signing up for Club O Dining Rewards. As long as you're already a Club O member, it's free to join and you'll earn 5% in rewards when you enjoy a meal at a participating restaurant.
3. Look for extra rewards on select items
You can snag bonuses even faster if you shop the Extra Rewards store, which features items that pay 10%, 15%, or 20% back.
4. Check out Club O exclusives
The Club O Exclusives section is where you can really get the most out of your membership. Items featured here are worth between 25% and 40% in rewards, so for every $100 you spend, you can get anywhere from $25 to $40 in savings on your next shopping trip.
5. Use rewards to cover your membership fee
Rewards that you earn with your Club O card are good for more than just merchandise. You can also redeem them to cover the annual membership renewal fee, which comes to $14.95.
6. Opt for the lite version
If you don't shop at Overstock that often but you still want to save a little extra, you can always get a Club O Lite account. The lite version is free and it pays back 2% on eligible purchases. You can also sign up for dining rewards, but anything you earn has an expiration date of 90 days. If you convert to a paid membership, any rewards you've already accrued will not expire (unless your membership becomes inactive).
7. Get the difference back
If you're not getting as much mileage out of your Club O membership as you thought you would, you can cancel it altogether, but Overstock offers an incentive to get you to stick around. If you don't earn more in rewards during the year than what you paid to join, you'll get the difference in rewards when you renew your membership.
SAVE WHEN YOU PAY WITH CREDIT
Overstock offers two different credit options for shoppers who prefer to pay with plastic. Although they work a little differently, both cards come with plenty of benefits that can add to your savings.
8. Apply for an Overstock store card
Frequent Overstock shoppers can save even more when they open a store credit card account. There's no annual fee and you'll get 10% off your first purchase, plus access to special promotions. However, consider signing up only if you think you'll be a frequent Overstock.com shopper and if you know you can pay off the balance each month — retailer credit cards tend to have higher interest rates.
9. Upgrade to an Overstock MasterCard
The O Rewards MasterCard comes with many of the same perks as the Overstock store card, but it bumps up the amount of rewards you can earn. Any time you pay for an Overstock purchase with your card, you'll get 8% rewards back and you'll automatically get $20 in rewards just for signing up. As an added bonus, membership in Club O is free.
10. Earn rewards on everything you buy
In addition to earning 8% on the things they buy at Overstock, O Rewards MasterCard members can also earn bonuses on purchases they make elsewhere. You get 2% back when you use it at grocery stores and gas stations, and 1% back everywhere else. If you spend $500 a month on groceries, that's $120 in savings you'll earn over the year.
11. Take advantage of promotional financing
If you're buying something big (like furniture), using your O Rewards MasterCard can be a good choice. Not only do you get the 8% rewards for making the purchase, you can also take advantage of 0% promotional financing for 12 months, so you'll have plenty of time to pay it off without worrying about shelling out extra money for interest. But be warned: Go this route only if you know for sure you can pay off the balance in full within the year and that you can pay the minimum balance every month, or you risk getting stuck with a much higher APR.
SAVE BY USING YOUR MOBILE DEVICE
If you prefer to do your shopping on the go, Overstock has some tools that can help you track down the best deals right from your smartphone or tablet.
12. Download the Overstock app
The Overstock app, free for iPhone and Android users, provides an easy way to shop. You'll get access to exclusive coupons, notifications for when new items go on sale, and you can easily add items you want to buy to your wish list.
13. Add your name to the email list
When you join the Overstock email list, you can get sales and coupons delivered right to your mobile device. There's no fee to sign up and you can opt out at any time.
14. Be a fan on Facebook
You'll want to visit Overstock's Facebook page every Wednesday to enter the Win$day giveaway for a chance to win jewelry, electronics, and other merchandise offered on the site. During the rest of the week, you can check in to see what's on sale and find promo codes for select shopping categories.
15. Follow Overstock on Twitter
Overstock regularly tweets about the latest sales available on the site, so you may want to follow them there as well. You may even be able to get in on a gift card giveaway, which occurs routinely throughout the year.
OTHER TIPS TO CUT COSTS
If you don't use credit cards or you're not sure about paying the fee to join Club O, there are still a few painless ways that you can shave a few bucks off your Overstock.com purchases.
16. Look into liquidations
If you're looking for bargain basement deals, be sure to visit the liquidations section of Overstock's website where savings in selected categories can be as much as 74% off. If you're not skittish about buying something that's been returned, you can find rock-bottom prices on one-of-a-kind deals.
17. Ask for a price adjustment
Overstock doesn't have a specific price-matching policy, but it doesn't hurt to ask for some added savings when you shop. For example, if you buy something on the site but didn't notice a current promo code for 15% off, you can contact a customer service rep through the site's live chat to ask if they can retroactively apply it to your order and refund the difference.
18. Spend $50 or more to snag free shipping
Even if you don't have a Club O membership, you can get free shipping. Club O Lite shoppers can get it if they spend $50 or more. If you spend less than $50, you'll pay just $2.95 for shipping, unless you live in Hawaii or Alaska.
19. Don't miss flash deals
Flash deals are offered every day on the site, with new sales kicking off at 12 p.m. ET. The sales only last for 24 hours after they're posted or until the item sells out, so you have to act fast if you want to score some extra savings.
20. Get instant rebates from specific brands
Sometimes, certain brands will make getting a rebate on one of their products such a hassle that it's not even worth jumping through all the extra hoops to save a few bucks. Luckily, you can take advantage of instant rebates from featured companies, including Canon and Garmin, when you buy select items on Overstock.
21. Mark your calendar for special promotions
While prices on Overstock are low all year-round, the site routinely runs holiday promotions and other special sales events so you can save even more. There are currently more than a dozen promotions lined up for 2015, so it pays to check in regularly to see what items are going to be the hottest buys.
22. Scope out the clearance section
Overstock's clearance section is where you'll find thousands of items marked down for huge savings off the original price. Clearance items are available in just about every shopping category, with savings on individual items ranging anywhere from 6% to 87%.
23. Go for a gift set
Not sure what to buy for that special someone come Valentine's Day, Mother's Day, or Christmas? Overstock's got you covered with a selection of gift sets and baskets for every occasion. Depending on what you buy, you could save anywhere from 10 to 50% when you pick up a prepackaged gift.
Note: This website is made possible through financial relationships with some of the products and services mentioned on this site. We may receive compensation if you shop through links in our content. You do not have to use our links, but you help support CreditDonkey if you do.
---
Recent Mentions

Looking for a budget-friendly men's wedding band? Alternative metals are eye-catching and cheap. Here are 10 cheap alternatives and their pros and cons.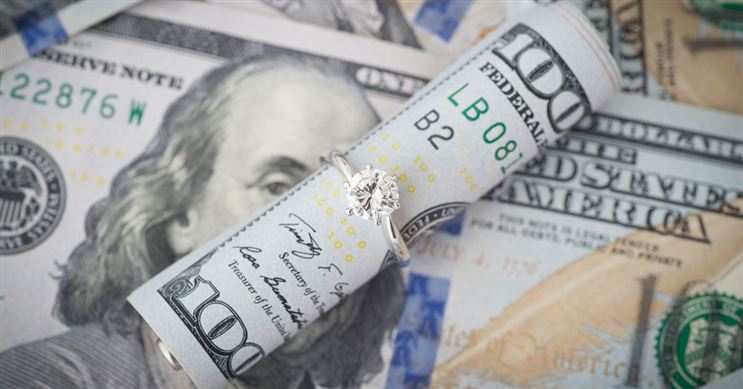 Every bride deserves a beautiful ring on her finger. But what if you only have a tiny budget? Read on for the best affordable engagement ring options.