Survey: Many Americans Willing to Give Personal Information for $1 Coupon
---
Despite growing concerns over identity theft and fraud, the majority of Americans surveyed are willing to turn over their email addresses in return for a coupon that gives them just $1 off an item.
In a new survey of over 1,200 Americans, 52% of respondents told CreditDonkey.com they'd share their email in exchange for a $1 coupon (so much for complaints about ever-expanding inboxes full of marketing messages).
The survey respondents were more discerning when it comes to sharing their postal address for $1 back — just 26% said they're willing to do that. A little over half (54%) would turn over their birth date, and 71% were OK with sharing their zip code.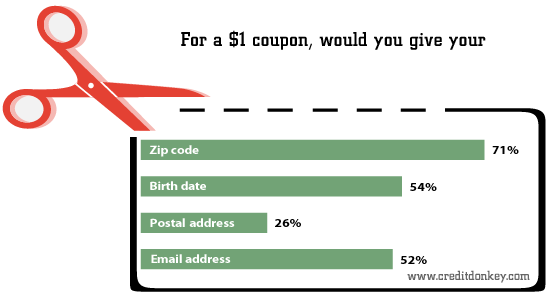 For a $1 coupon, would you give your

© CreditDonkey
Other surveys in recent years have reported a wariness by consumers to have their identifying information shared with businesses unless they benefit from it in some way. This latest study shows that such a benefit can be as little as a dollar bill.
Tip: How to Protect Your Identity
Psychology of Discounts
There's something about free money — no matter how small — that's hard to pass up. Retailers have known this for years, sometimes the hard way (JCPenney tried to stop giving out coupons a couple of years ago by lowering all its prices but the effort notoriously backfired, resulting in earnings losses and a kicked-out CEO).
Related: 23 Ways Retailers Trick You to Spend More Money
In fact, some of us have become so sucked into the practice that we've actually bought things we didn't need at all just to know we're getting a deal. In the CreditDonkey survey, 1 in 3 respondents admitted they've bought something because of a coupon — not because they had a need for it. Women are more susceptible, apparently: 42% of the females in the survey said they've done it while just 30% of the males admitted to it. And 56% of respondents bought items they did not need because of a sale.
The temptation to cave in to the call of a coupon is hard to resist. They're everywhere these days and increasing in number by the hour, thanks to our willingness to share our email address for a $1 coupon or future deals, and mobile apps from favorite retailers that give us digital coupons on the go. In fact, 51% of the survey respondents said they currently use mobile coupons, and 73% use online coupons.
But there are still a few holdouts; 15% of our respondents said coupons are not worth the time.
(CreditDonkey conducted the online survey of 1,261 Americans, aged 18 and over, between February 23 and February 26, 2015.)
Sarah Johnson is the senior editor of CreditDonkey, a credit card comparison and reviews website. Write to Sarah Johnson at sarah@creditdonkey.com
More from CreditDonkey: