How Much to Contribute to 401k
This article contains references to products from our partners. We may receive compensation if you apply or shop through links in our content. You help support CreditDonkey by reading our website and using our links.
(read more)
You know you should save money for retirement. But how much should you save and where should you save it?
In today's world, where pensions are scarce, you must be familiar with your 401(k). If you aren't, you could be passing up free money, but we'll get to that.
Think of your 401(k) as your key to retirement. Do you see yourself traveling the world, enjoying your golden years? Or do you see yourself still punching a clock well past retirement age? This is the difference between a well-groomed 401(k) and one that you haphazardly think about. We aren't saying you must go broke to fund your retirement accounts now. But we are saying that you should give them ample thought as early as you can.
The Benefits of the 401(k)
First, let's look at the 401(k) benefits. Remember when we said "free money"? We weren't kidding. If your employer matches any portion of your contributions, this is free money. They may match 50 cents for every $1 or $1 for $1. It is money they give to you. You should take it. The only way to get it is to contribute your own money on a regular basis.
Up to a specified dollar amount, any contributions you make to your 401(k) are tax-free. This amount changes each year. In 2017, it is $18,000 (you could put aside more if you're over 50). This means $1,500 per month. Your employer takes your desired contribution out before taxes. This means you don't pay taxes on that money now. Depending on how much you contribute, this could reduce your tax liability significantly.
You are immediately 100% vested in your own contributions. This means if you leave your job, you take your money with you. However, employer contributions don't have the same rules. Every employer sets their own rules regarding how long you need to work with them until you are fully vested. Make sure you know these rules to avoid losing your free money. A common standard is 5 years, but this varies by employer.
What Should You Contribute?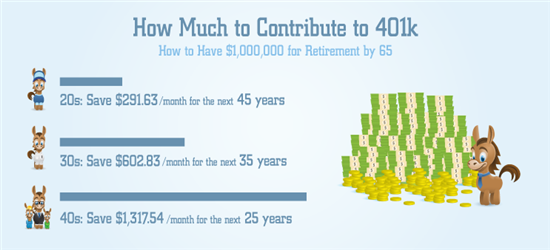 How Much to Contribute to 401k

© CreditDonkey
Now comes the big question. Just how much should you contribute? You know you can contribute up to $18,000 per year. Should you maximize your contributions? It depends on your circumstances. Here we discuss the most common scenarios:
Contribute the maximum that your employer will match. This is a no-brainer. Don't pass up the money your employer willingly provides. Make the maximum contributions to ensure you get that money.
Stock your emergency fund. If you don't have an emergency fund, you need one. Your 401(k) will not bail you out of an emergency. After you meet your employer contributions, put the rest of the money you can save in your emergency fund.
Pay your debts. If you're not currently paying off your credit cards every month, then focus on getting your debt levels down first. You don't want your retirement funds going toward debt when the time comes.
Contribute the maximum amount allowed. If you don't have any debts and you stocked your emergency fund, consider maximizing your 401(k) contributions. This year, this means up to $18,000.
Watch out for fees
. Small differences in fees can eat away at your gains. Check out
Personal Capital
's Free 401(k) Fee Analyzer. You have choices. If your 401(k) investment options include high fees, look at your
Roth IRA
first. You may have more control over the fees. Diversifying your portfolio helps accomplish this. You can work with a financial advisor or handle the investments yourself.
Rule of Thumb
A good rule of thumb is to spend no more than 80% of your paycheck and save at least 20% of it. This helps keep your budget in check. If you maximize your spending at 80% of your income, you will not go overboard on what you can afford. It helps keep your debts in line and only allows you to purchase what you can afford.
Saving 20% of your income gives you many options. Your employer will likely match a maximum of between 3% and 6% of your salary.
We suggest you work the equation backwards. Take 20% of your income and immediately subtract the maximum 401(k) contribution that your employer will match. From there, take the remainder and fund your savings account. Work towards saving 6 months' of your total monthly bills in this account. This means everything - mortgage, cars, student loans, utilities, groceries, entertainment. Make it so you could live off that account for 6 months if you had no other choice.
Once you have a fully stocked, liquid savings account, the money you have left should be invested too. You may want to invest the money in other vehicles. Here are a few options:
Roth IRA. This is another retirement account you can have. You set this one up yourself. This year you can contribute up to $5,500 in after-tax dollars per year. However, you don't pay taxes when you withdraw the funds during retirement.
Stocks and bonds. If you need a more aggressive investment approach for funds you don't want tied up until you're in your 60s, then stocks and bonds are a great alternative. Diversify your portfolio to reduce the risk and reinvest your dividends for the greatest return.
Fund your 401(k). You won't want to limit your 401(k) contributions to the employer's contributions. You are free to contribute up to the allowed maximum for the year. As long as everything else is funded properly, it is a great way to build wealth.
How to Ensure a Happy Retirement
Retirement today is not what it was years ago. Most people don't have a goldmine of a pension waiting for them. This is why you see more and more older people working. Some retire from their daily 9-to-5 job and take jobs at retail establishments or other "less stressful" places. Others just keep working well into their 70s.
If you don't want to be one of them, you need to start now. The earlier you contribute to your 401(k), the better. The more time your money has to compound, the more you will earn. Even without a great return on your investment, you will still have money saved. You will be light years ahead of the average household.
Don't rely on social security. The state of our economy is scary at best. If you rely on these benefits, you may be unpleasantly surprised. Take matters into your own hands and fund your own retirement. You don't have to go broke now doing it, but the more you save, the better off you will be.
Plan on a long life. Today, 25% of 65-year-olds live past the age of 90 and 10% live past 95 years old. Chances are you will need much more money than your parents needed in retirement. The earlier you plan, the better off you will be.
The Bottom Line
Just how much you contribute to your 401(k) depends on your financial situation. If you can barely make ends meet right now, then work on setting a goal to start funding your retirement account soon. Even if you spend 95% and save 5% of your income, it's a start.
We're suggesting you strive to reach that 80/20 balance in the near future. Remember, the earlier you fund your 401(k), the more money you will have in retirement. Start making sacrifices so you can maximize those contributions. Once you see the money grow, hopefully you will find ways to sock away even more. This way, you set the path for a happy retirement.
Write to Kim P at feedback@creditdonkey.com. Follow us on Twitter and Facebook for our latest posts.
Note: This website is made possible through financial relationships with some of the products and services mentioned on this site. We may receive compensation if you shop through links in our content. You do not have to use our links, but you help support CreditDonkey if you do.
Read Next:
---