Survey: Bankruptcy Statistics
Consumers Consider Bankruptcy as Alternative to Repaying Debts
---
Most consumers struggling to keep up with credit card debt would consider bankruptcy an option to get out of debt. According to a new survey of over 1,000 consumers by CreditDonkey.com, just over half of survey respondents said they would consider bankruptcy if they cannot keep up with their debt payments, while 32.5% said that they would turn to family or friends.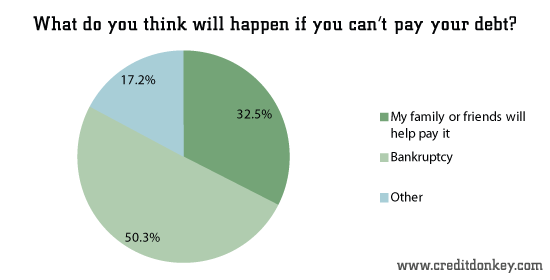 What do you think will happen if you can't pay your debt? © CreditDonkey
Before getting to that point, consumers are hopeful that a budget will get their finances back on track. Over 78% of respondents said they will most likely budget to get out of debt. Additionally, 52.1% said they would consider getting a second job and 31.2% would try negotiating with creditors.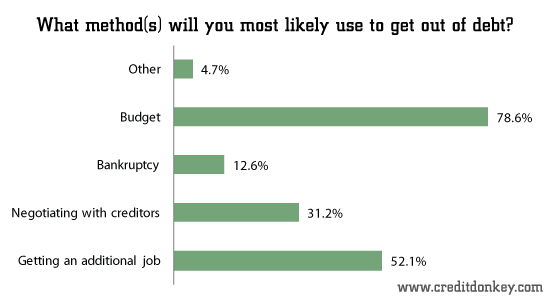 What method(s) will you most likely use to get out of debt? © CreditDonkey
"Bankruptcy still seems to be a last resort for consumers, but it's definitely considered a more acceptable option than in the past," said Charles Tran of CreditDonkey.com. "People know that it will take them several years to get out of debt, and they are willing to work towards that goal."
Most respondents who said they would consider bankruptcy were still optimistic that they had a specific plan to get out of debt, and they were hoping that a good budget would get them out of debt before they had to resort to a bankruptcy. Over 70% of respondents who considered bankruptcy an option said that it would take them between 1 and 10 years to get out of debt.
There were over 1.6 million bankruptcy proceedings nationwide in 2011, slightly less than the previous year. That is still over 20% higher than the rate of bankruptcies in the years before the subprime mortgage crisis. In 2009 alone, bankruptcy rates nationwide jumped by 13.7%. Many economists expect the rate of bankruptcy to remain above pre-crisis levels for years to come.
CreditDonkey.com polled 1,105 Americans between September 17 and September 25, 2012.
Mike Foster is a contributing writer at CreditDonkey, a credit card comparison and reviews website. Write to Mike Foster at mike@creditdonkey.com