Best Time to Buy Christmas Flights
---
The holidays are a tricky time for travel: airfares skyrocket and travelers who didn't take a moment to plan their trip with care will pay dearly for their tickets.
Some people are traveling for pleasure, to get away from cold weather, or take advantage of school vacations, while many are on the move solely to visit with family for their one big trip of the year.
Fortunately, there are is a way to secure an affordable ticket without breaking the bank. It's all about the timing.
When is the Best Time to Buy Christmas Flights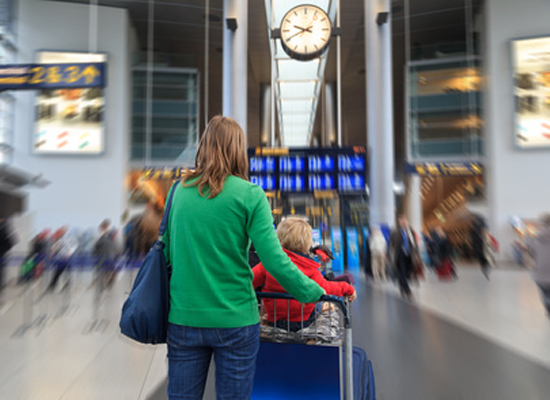 Plan Your Travels in the Fall
According to travel experts, late September to early October is the time when domestic ticket prices are the most stable. At this point, not all holiday revelers are ready to plan as far out as December; they may still be overwhelmed with back-to-school activities and planning what their kids are going to wear for Halloween. Take advantage when those other travelers are preoccupied and book your flight ahead of time. Consider it an early present to yourself — a decent price and something you can cross off your to-do list.
Go on an Unconventional Date
Hear us out on this one. If possible, set your departure on Christmas Day to seal the best deal. Think about it: You can have a relaxing Christmas Eve and wake up in your home, and then get out to the airport with no traffic around. And the airport will not be crowded or filled with stressed-out travelers.

Bonus tip: Do consider whether your credit card will give you insurance for your travels in case your trip is postponed or canceled. Even if you don't live in a snowy area or aren't going to one, your leg of the trip may be affected by other grounded planes.

Consider New Year's When You Book Your Return Flight
Holiday travel is expensive not only because of Christmas but New Year's as well. Everyone either wants to return home in time to see the ball drop from their homes or their friends' parties, or they want to get somewhere that requires a flight. For that reason, give yourself some breathing room away from the 31st, and see if you can get a departure on the 28th. Doing so can save you between 20 and 25 percent on the standard ticket price. Looking to save even more? You can also try leaving on December 26th when demand is significantly lower.
Book on Tuesdays / Call on Wednesdays
Most airlines release their reduced fares on Monday evenings, so studies suggest that Tuesday evenings are the best time of the week to take advantage of these deals. An even better idea: Call the airline on a Wednesday at 1 a.m. to secure the influx of available seats relinquished by travelers who made reservations but missed the 24-hour deadline to remit payment.
Avoid Weekend Departures
If possible, avoid weekend departures and arrivals as they tend to be pricier, unless, of course, Christmas falls on a Saturday or Sunday.

Bonus tip: Sign up for alerts.
In the months leading up to the holidays, sign up for an airfare trend tracker, such as the program offered by Bing or Kayak, to monitor price points at various airlines that offer your desired routes. Once you are alerted of a deal that best suit your needs, hop on it right away.
More from CreditDonkey: