How to Save Money on Flights
---
Finding the best priced airfare can be a stressful task – especially when you're trying to stick to a strict travel budget. Thankfully, there are some tips you can follow to cut down on the financial investment of your next flight.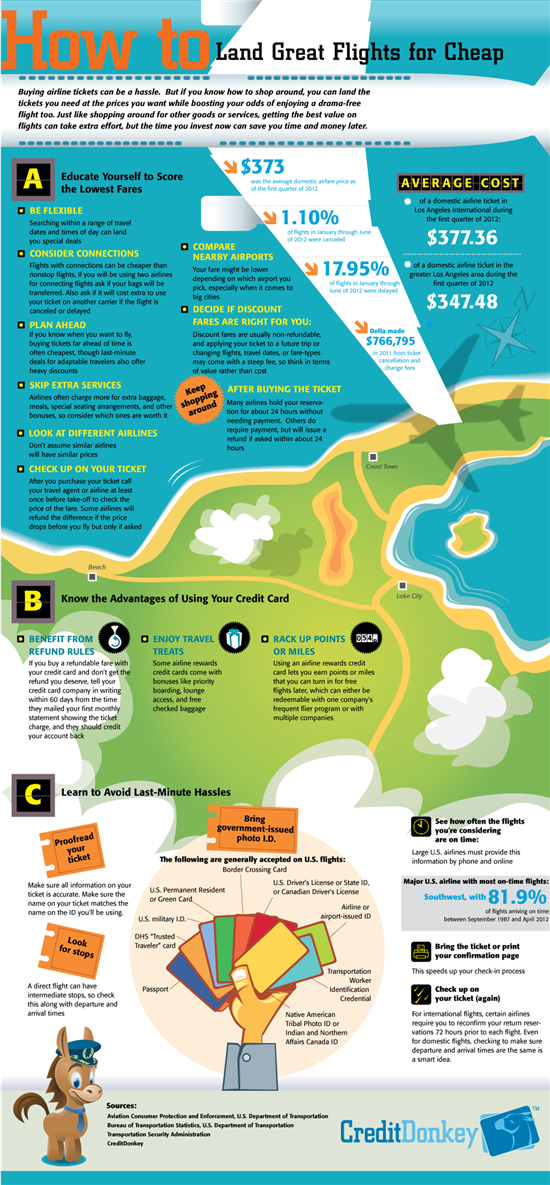 How to land great flights for cheap

© CreditDonkey
A - Educate Yourself to Score the Lowest Fares
Finding the best airfare requires a bit of investigation and flexibility. By being willing to invest a little time and make some minor changes to your plans, you can see some significant savings.
Fly during off-peak season
The biggest way to save on flights is to fly during the low season. Flights can be as much as half the price or even less. Generally, you get bigger savings on international flights. For example, traveling from the U.S. to Europe during the winter can cost just $400 round-trip.
Here are roughly the peak seasons for popular destinations, so you know to avoid them:
Europe: June to September

Hawaii: mid-December to mid-April, and June to August

The Caribbean: mid-December to mid-April

Southeast Asia: November to February
And another benefit of traveling off season: hotels are also cheaper and you won't have to deal with crowds. You won't have to wait in long lines or have a million people in your pictures.
Be flexible with your dates and time
If you have some date flexibility, you can look for the lowest airfare price based on dates. For example, instead of going on a trip from Thursday to Monday, maybe it's cheaper to return on Tuesday. The price you save on airfare could cover that one extra night you'd need for a hotel, essentially lengthening your vacation by one day at no extra cost.
Tip
: Google Flights will give you alternative dates suggestions and how much you can save. It also has a Calendar and Flexible Dates charts so you can cherry pick the dates for the cheapest flight. Read more about all the
Google Flights secrets
.
Also, red-eye flights are almost always cheaper than flights during the day. If you don't mind sleeping on the plane, you can save quite a good chunk. And a bonus: this also saves you one night in a hotel!
In general, the cheapest days to fly are Tuesdays and Wednesdays. The most expensive are Fridays and Sundays. The best times to buy domestic tickets are between 1-3 months before departure. For international trips, you'll want to shop 2-5 months before departure.
Be flexible with your airports
Be sure to check out several different airlines and airports. Price can change significantly depending on which airports you fly out of and/or land in. Even for airports in the same city. For example, flying into LaGuardia airport in Queens is often much cheaper than flying into JFK. And then you can easily take public transportation into Manhattan for just a few bucks.
Be flexible with your route
Nonstop flights are the priciest in most cases. They're convenient. But if you don't mind having a connection, you can save significantly. Of course, see if the extra time you'd spent laying over is worth the savings.
Here's a secret: you can take advantage of the fact that flights with stops are generally cheaper. You can use a trick called "hidden city fare". Basically, this means that you book a flight with a layover that is actually your final destination. So when you arrive at the connection point, you just leave the airport and miss the 2nd leg. This can help insanely reduce the cost.
Skiplagged is a website founded on the concept of hidden city fares. You enter your departing airport and destination, and it'll help find cheaper flights with a layover in that destination.
Be flexible with your airlines
Several airlines may operate the same route, which means competitive prices. You may find another airline offering a deal. Sign up for alerts with all the major airlines that operate in your local airport. Keep an eye out on alerts for hot deals on certain routes.
Also, most countries have budget airlines that can offer much better pricing than the bigger names. Just be careful that budget airlines tend to nickel and dime you elsewhere, especially with baggage restrictions.
Skip extra services
Stuff like checking a bad and buying an on-flight meal can all add up to one expensive flight. If possible, travel with just a carry on to save on the cost to check in a bag. And you can always prepare your own airplane snacks beforehand and bring them on board.
After you've booked a flight
You'll also want to continue following airfares after you've purchased your ticket. Many airlines will allow you to cancel within 24 hours of your ticket purchase and give you a full refund, so you don't have to feel buyers remorse if you find a better ticket elsewhere. And, if you take the time to check the price of the fare prior to your travels, you may be eligible for a partial refund if airfare for your particular flight has been reduced.
Of course, there are some things that you may not be comfortable comprising. This is important to keep in mind when deciding whether to take advantage of a discount fare, which typically are non-refundable.
B - Know the Advantages of Using Your Credit Card
Many credit card holders are unaware of the travel related perks that come with their credit cards. Take the time to research the benefits of your preferred card. If you are a regular traveler, you'll probably want a card that has the following benefits:
Rewards Points
How does free airfare sound? It's fairly easy to accomplish these days thanks to rewards credit cards and airline rewards programs. These cards not only have generous sign-up bonuses, but also lets you earn points for everyday spending, which can be applied toward a free flight in the future.
Read: Beginners Guide to Airline Miles and Points
Travel Extras
Traveling by air isn't always the most comfortable experience. So if you log a lot of miles flying the friendly skies, look for a card that comes with priority boarding, exclusive lounge access and free checked bags. These little perks can make the flying hassle feel a bit more luxurious.
Perks Available to all Cards
There's a huge advantage to using your credit card instead of your checking account when purchasing your tickets - if you buy refundable fare but don't get the refund owed to you, you'll be able to dispute the charge with your credit card to credit your account back.
C - Learn to Avoid Last-Minute Hassles
There's nothing worse than missing your flight due to last minute airport hiccups. You can prevent most of these costly mistakes by taking a couple of extra minutes during the ticket purchase process - proofread your ticket to make sure there are no typos and that you know all of the flight details so you don't have a mix-up with connecting flights.
You'll also want to set aside some time the week of your flight to review the latest airport security rules and regulations. Pay attention to what identification is required, as well as what items are banned from your carry-on and/or checked bags.
Other tips: Think Outside the Box
If you're not dead-set on one particular destination, you can score some amazing flight deals.
Some online flight search engines have features that show you the best current flight deals. These are great for spontaneous weekend trips to places you may not have thought of.
Here are a couple of our favorites:
Google Flights Discover Destinations: On the home page, scroll down to the Discover Destinations section. Just enter in your departing airport and dates you have available, and it'll show you popular cities and lowest airfare. There's also a map view, where you can zoom in and out to see prices to cities.
Skyscanner Search Everywhere: You can specify a departure airport and month of travel. Skyscanner will pull up a list of destinations, starting with the lowest airfare price. For example, in May, I see a round-trip flight from LAX to Denver for just $85.
Bottom Line
Flights are always one of the biggest chunks of your vacation expenses. But hopefully with these tips, you know how to look for better deals now. Just be patient, do your research, compare prices, look for alternative dates, and be flexible. With your savings, you can spend more on actually enjoying your vacation.
Related: 10 Google Flight Secrets To Help You Save Big and
ITA Matrix: How to Use it to Find the Cheapest Flights to Anywhere
(Additional Writing by Meghan; Graphic Design by Marcelo)
More from CreditDonkey: