Survey: Holiday Shopping Statistics 2012
Half of Holiday Shoppers Will Favor Cash Over Credit This Year
---
Cash is king for holiday shopping this year: 61% of respondents to a new holiday shopping survey by CreditDonkey.com will try to avoid leaning on credit to finance their gift-giving and instead tap the funds they have on hand.
The majority intend to pay for their shopping with cold hard cash, debit cards, or pay their credit card bills off in January. Only a very small percentage, 11.5%, of respondents are planning to finance their holiday purchases solely with credit, while 25.4% plan to use a combination of cash and credit for holiday shopping.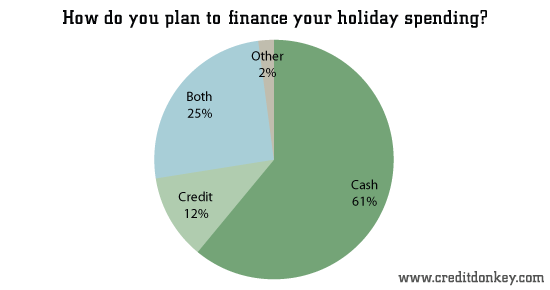 How do you plan to finance your holiday spending? © CreditDonkey
Still, we have to wonder if the 61% who intend to avoid paying finance charges for their holiday purchases will be able to pull off such a feat. As of the time of the survey (late October), more than half (55.1%) said they do not have cash already set aside for holiday shopping. Women (45.8%) are only slightly more likely than men (43.8%) to have taken this proactive step.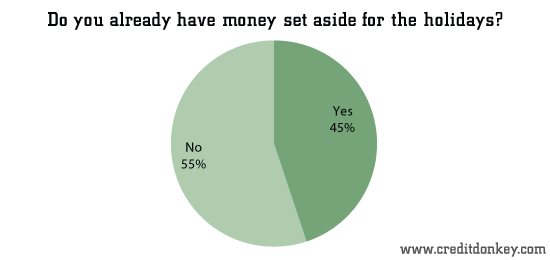 © CreditDonkey
Married Shoppers Most Likely to Have Set Aside Cash
Married respondents are more likely to have already put cash away for holiday shopping. More than half (54.8%) have done so while 60.4% in the single category have not set money aside. Could it be that the necessity of buying gifts for a spouse and kids makes the need for funds more of a pressing issue for married folks?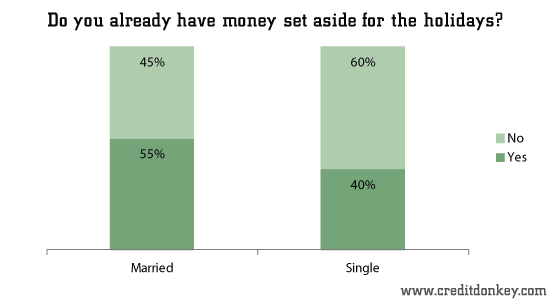 © CreditDonkey
Respondents from both genders will tread carefully when they shop. Our survey found that 81% said they are biting the bullet and setting a budget for holiday shopping this year, as hard as that may be. If they stick to their budget and use a list, they will be more likely not to overspend.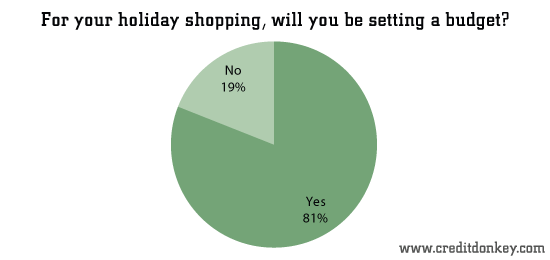 © CreditDonkey
Indeed, 57.2% of holiday shoppers will be relying on a list to help them spend less while shopping. According to personal finance experts, sticking to a list and setting a budget are the best ways to avoid relying too heavily on a credit card and the risk you may not be able to pay the money back in time to avoid interest and fees.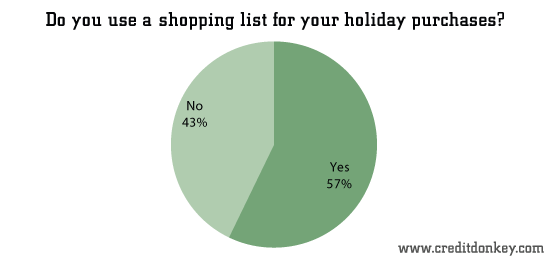 © CreditDonkey
From October 9 to October 23, 2012, CreditDonkey.com polled 1,125 Americans, age 18 and over, about their holiday shopping plans using multiple choice questions and short-answer questionnaires.

Naomi Mannino is a contributing writer at CreditDonkey, a credit card comparison and reviews website. Write to Naomi Mannino at naomi@creditdonkey.com