What to Buy Your Girlfriend for Christmas
---
Between the elaborate displays of shiny new clothes and earrings at department stores and Main Street shops, you can get overwhelmed with the many options for what you should get your girlfriend for Christmas. Should you go big this year? Is she expecting something in particular, perhaps something sparkly?
CreditDonkey.com has taken the guessing game out of what to buy for your honey this year by going directly to the source – we asked non-married women what types of gifts they'd like to receive. You may be surprised to discover jewelry is probably not the first item on her wish list.
Here are the top gift ideas for the lady in your life.
Gift cards: Give the freedom of choice. The most desired present of all, gift cards were noted by 87% of female respondents as something they want. You can get her one or two gift cards to places you know she likes to shop, or get her lots of gift cards with smaller amounts to her favorite stores so that she can spoil herself and think of you while she's doing it.
Electronics: Gadgets aren't just for guys; 77% of women said they want electronics for Christmas. Make her day with the new iPad Air, a laptop or some other electronic device. Though more on the pricey side, one of these gifts will easily win her heart.
Clothing: This one may be a no-brainer since most women enjoy shopping, but in case you were wondering whether or not it was a good idea – yes, it's a great one! Three-quarters of women will gladly receive clothes for Christmas. Score extra points by picking out an outfit from one of her favorite stores.
Books: A book or two from her favorite author or genre is another great gift idea. Take a peek at what she's reading, and try to find something in that same category that you think she'll like. Chances are strong your choice will be appreciated as 72% said books would be a nice gift. If she's a digital kind of girl, go for an e-book, and you won't even have to leave home to buy it.
Homemade gifts: It's always the thought that counts, and homemade gifts more than any other involve a lot of thought and a personal touch. It's also a heartfelt way to show your sensitive side. This type of gift is very likely to be a winner as 69% of women would be happy getting a homemade present.
Household goods: Some women want useful things in their stockings, so it is OK to give her tools or appliances for her house or apartment. In fact, the majority (64%) of our female respondents said they'd like to receive household goods. Whether you live together or not, you probably want to avoid getting her cleaning products and instead focus on areas of the kitchen she especially likes. Maybe she has a certain food that she loves but doesn't have the appliance to make it at home - a waffle iron, panini sandwich maker or slow cooker could be just the gift she'd covet.
Jewelry: Just over half (54%) of women want jewelry for Christmas. If you don't know much about jewelry and what she would like, take some time to think about her style. Does she tend to wear a lot of jewelry? You may want to opt for a bracelet that complements her other accessories. Does she usually wear a minimal amount of jewelry? Then consider a pair of simple yet classic diamond studs. Does she wear gold more than silver? As long as you show you put some thought into your choice, you will win a smile on Christmas Day.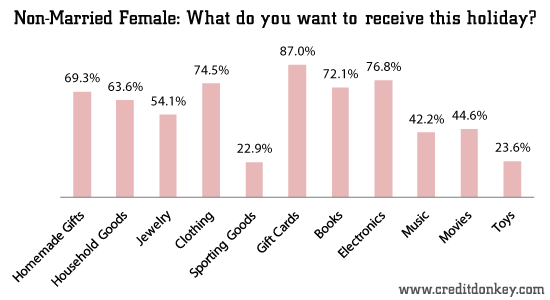 Non-Married Female: What do you want to receive this holiday?

© CreditDonkey
(From October 7, 2013 to October 11, 2013, CreditDonkey polled 1,076 Americans online, age 18 and over for their opinions and plans regarding the Halloween, Thanksgiving, and Christmas holidays. Results and analysis for what to buy your girlfriend based on female non-married respondents only.)
Jasmine Williams is a contributing writer at CreditDonkey, a credit card comparison and reviews website. Write to Jasmine Williams at jasmine@creditdonkey.com