4 Business Strategies to Monetize Your Blog
---
Does your business have a blog? Do you write a blog you love? Now is the time to make your blog work for you!
A blog can be a welcomed source of extra cash, provided you employ the right strategies. Here are four of our top strategies to begin monetizing your blog today: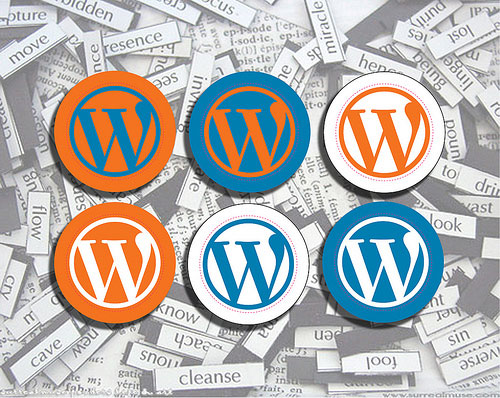 Wordpress Stickers © John Fischer
Sell Advertising Space
The best way to begin capitalizing on the popularity of your blog is to sell advertising space. The concept is quite simple: you show advertisers that you have a following, and they pay you to place their advertising on your blog.
There are three routes in which you can profit from advertising space:
Employ Google Adwords: With Google Adwords, you get paid each time a visitor clicks on one of the advertisements. You can run up to three ad units simultaneously, and you can also choose from a variety of text and image ad sizes.
Join an ad network: There are dozens of ad networks that will fill your advertising space for you. There are either impression-based or click-based networks, but the drawback is that you will be splitting the advertising revenues with the network.
Sell ad space directly to companies: You can pocket the most money by selling your ad space yourself. However, this takes more management and time, and you need to have a large reach to encourage advertisers to spend their budget with you.
Most of the time, selling advertising for your blog is quite easy, and most advertisements are fairly unobtrusive, thereby allowing you to make money and spread your message at the same time.
Profit from affiliate programs
Affiliate programs are another excellent way to monetize your blog. For example, if you write about gardening supplies and mention a particular gardening tool in your blog, embed a link that will allow them to purchase the product. Many bloggers use Amazon, for example, when mentioning books in their blogs.
Once your reader clicks on your link and makes a purchase, you get paid. There are nearly an infinite number of affiliate programs, which makes it easy to choose ones that will convert well for your audience.
Consider contributions from your readers
If you offer valuable advice or helpful downloads, such as a guide on managing credit cards, your readers may send you a contribution because they appreciate the information or knowledge you provide. You can often solicit contributions through PayPal; your readers simply click on the PayPal link and are sent to the PayPal website to make their contribution.
Promote your wares
You can turn your blog visitors into customers. For example, if you have a home décor blog, you can easily offer your interior designing services. Alternatively, you can sell home décor goods. While many companies today have an accompanying blog, you can take the opposite route and leverage your blog into a retail or service business.
These four ways of monetization just touch the tip of the iceberg. With a little creativity and business acumen, you can easily turn your blog into a profitable endeavor.