Ad Disclosure: This article contains references to products from our partners. We may receive compensation if you apply or shop through links in our content. You help support CreditDonkey by using our links.
(read more)
Celsius and BlockFi are cryptocurrency lending and borrowing platforms where investors can earn interest on their crypto holdings. But which is right for you?
If cryptocurrency is the future of money, why can't you buy gas with Bitcoin? Or put Ethereum into your bank account?
Crypto interest accounts like Celsius and BlockFi want to help us get there.
By offering interest accounts and crypto-backed loans, these platforms are competing to dominate the growing world of crypto. But are they safe? Is one better than the other?
Read this detailed comparison to see how they stack up.
SPECIAL OFFER
Get Up to $250 in Bonus BTC - Learn More

SPECIAL OFFER
Earn $10 BTC - Learn More

Benefits and Features

Cryptocurrencies Supported

Bitcoin, Ethereum, Litecoin, Chainlink, PAX Gold, USDC, Binance USD, PAX, GUSD, BAT, DAI, UNI

Bitcoin, Ethereum, USDC, Gemini Dollar, Paxos Standard, LINK, BAT, COMP, UMA, SNX, AAVE, Bitcoin SV, Bitcoin Cash, Litecoin, Mana, Uniswap, Polygon, Livepeer, Kyber Network, Binance USD, Ethereum Classic, EOS, TrueCAD, TrueHKD, TrueAUD, TrueGBP, TrueUSD, USDT, 0x, DAI, PAX Gold, OMG Network, Stellar, Ripple, Dash

Countries Supported

Worldwide, except for countries that are sanctioned or watch-listed

Over 100

Fiat Currencies Supported

USD

USD, AUD, GPB, EUR, CAD, CHF, DKK, NZD, NOK, SEK, RUB, BRL, CZK, RON, HUF, HKD, BGN, TRY, INR, IDR, HRK, PHP, MYR, ZAR, JPY, PLN, VND, ISK, CLP, COP, ARS, PEN, KES, TWD

Digital Wallet

Yes

Yes

Transaction Fee

No

No

Copy Trading

No

No

Limit Orders

No

No

Margin Trading

No

No

Spread

0.7% - 1.5%

1%

Interest Accounts

Up to 7% (Not Available in US)

Up to 18.63%

Crypto Loans

Yes

Yes

Bitcoin (BTC) Interest Rates

0.1% - 3%

3.51 - 6.20%

Ethereum (ETH) Interest Rates

0.25% - 3%

5.05 - 6.35%

Bank Account Purchase Fee

No

No

Litecoin (LTC) Interest Rates

0.1% - 3.75%

4.08 - 5.33%

Debit Card Purchase Fee

No

No

USD Coin (USDC) Interest Rates

4% - 7%

10 - 13.19%

Mobile App

Yes

Yes

ACH Transfer Fee

No

0.1%

Wire Transfer Fee

No

0.5%

Crypto Conversion Fee

No

No

Other Fees
2% Origination Fee on crypto-backed loans
Credit Card Fee: 3.5% or $10 minimum fee; or 2.99 for EEA and UK residents
Address Allowlisting

Yes

Yes

Anonymity

No

No

Biometric Login

Yes

Yes

Cold Storage

Yes

Yes

Maximum Trading Amount

Single-trade limit of $1.2m USD or equivalent

No

Two-Factor Authentication

Yes

Yes

Withdrawal Limit
7-day Withdrawal Limit varies by cryptocurrency: 100 BTC, 5,000 ETH, 10,000 LTC.
Up to $5,000 USD via direct bank withdrawal
$1 USD minimum; $600,000 USD limit per 24 hours

BlockFi: Pricing information from published website as of 05/01/2022. BlockFi Interest Accounts are not available in the United States.

Celsius Network: Pricing information from published website as of 05/04/2021.
What are Celsius and BlockFi?
Celsius and BlockFi are crypto lending and borrowing platforms with similar business models. They both offer:

Crypto-backed loans

High-yield interest accounts

Cryptocurrency exchanges (although limited)

Services to expand the widespread use of cryptocurrency (more on this later)
They have their own unique features, as well. Celsius has a service called CelPay that allows you to pay and get paid in crypto. BlockFi offers a Rewards Credit Card that lets you earn rewards back in crypto when they shop. Here's how the platforms compare, at a glance:
Celsius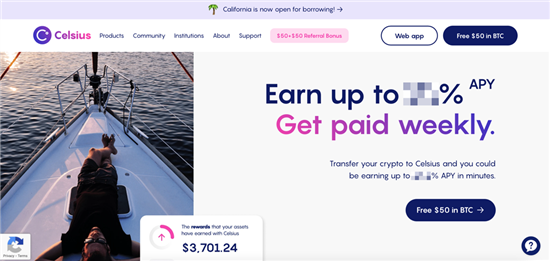 Screenshot of Celsius
Celsius was founded in 2017 by Alex Mashinsky, Nuke Goldstein, and S. Daniel Leon. Their goal was to bring financial features like credit and interest income to the crypto world.
They issued their own proprietary crypto coin, CEL, in 2018 which unlocks access to their higher-end interest and loan products. They currently only allow access through their mobile app.
Celsius is headquartered in London.
BlockFi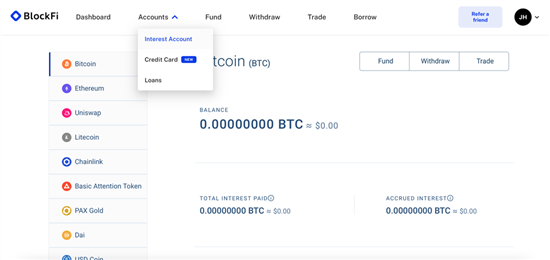 Screenshot of BlockFi
BlockFi was also founded in 2017, with the similar goal of providing financial services to markets that traditionally hadn't had access.
They make most of their money by lending your savings out to institutional borrowers (like traders, investment funds, market makers, and businesses requiring crypto liquidity) and taking interest on the loans.
BlockFi is based in New York.
Pros and Cons
Both platforms have strong reputations and prioritize security for their investors.
The right fit for you depends on where you're located (Celsius is the clear winner outside the U.S.) and which unique features speak to you personally (BlockFi's's Bitcoin Card or Celsius's CelPay platform). Review our main pros and cons below:
Celsius Pros & Cons
Higher interest rates on accounts
Lower interest rates on loans
Free withdrawals
No minimum deposits
No maximum deposits

Best rates not available to U.S.
CEL not available in the U.S.
No desktop site
Slow support
24-hour address lock after update or HODL mode deactivation
Choose Celsius if: You want the best rates for accounts and/or loans, want the ability to send/receive instant crypto payments, or are outside the U.S.
BlockFi Pros & Cons
Better interest rates for select coins
Gemini as custodian
No need to use native coin
Rewards credit card

Higher rates on loans
2% loan origination fee
Non-transparent spread fee
Limited number of currencies
Non-transparent fees on exchange
Slow withdrawal times and withdrawal limits
Choose BlockFi if: You want to earn interest on Litecoin holdings, want a Rewards Credit Card, or if desktop access is non-negotiable for you

| Deposit | Crypto Bonus |
| --- | --- |
| $100 - $1,499 | $15 |
| $1,500 - $19,999 | $20 |
| $20,000 - $39,999 | $40 |
| $40,000 - $74,999 | $75 |
| $75,000 - $99,999 | $100 |
| $100,000+ | $250 |
What cryptocurrencies do they support?
Celsius
Celsius currently supports 14 cryptocurrencies and stablecoins:

Bitcoin, Ethereum, USDC, Gemini Dollar, Paxos Standard, LINK, BAT, COMP, UMA, SNX, AAVE, Bitcoin SV, Bitcoin Cash, and Litecoin.
BlockFi
BlockFi currently supports 12 cryptocurrencies and stablecoins:

Bitcoin, Ethereum, Litecoin, Chainlink, PAX Gold, USDC, Binance USD, PAX, GUSD, BAT, DAI, UNI
Where are They Available?
Celsius
Celsius is available in over 100 countries.
They are currently not available in:

Iran, North Korea, Sudan, South Sudan, Syria, Cuba, or any other country against which the United States, the United Kingdom, or the European Union imposes financial sanctions or embargoes.
BlockFi
BlockFi is available worldwide, but not in countries that are currently sanctioned or watchlisted.
It is available in all 50 U.S. states. However, they do not currently have any trading pairs in:

New Mexico, Nevada, New York, Vermont, and West Virginia.
BlockFi Interest Account (BIA) is not available in the United States. BlockFi is in the process of registering a new product, BlockFi Yield.
Features
BlockFi and Celsius offer many of the same features. But when choosing between the two, it's these details that matter most.
Interest-Earning Accounts
Both BlockFi and Celsius offer generous interest rates for a number of cryptocurrencies. Here's what you can expect from each:
BlockFi's Interest Account
With this account, you can earn up to 7.0% on their crypto assets, paid monthly, with no fees or minimum deposit. They offer 12 cryptocurrencies and stablecoins to earn from.
As of February 14, 2022, BlockFi Interest Accounts are not available in the United States. BlockFi is in the process of registering a new product, BlockFi Yield.
Some currencies, like Bitcoin and Ethereum, decrease in earning potential as the size of your deposit reaches certain thresholds.
Their full interest rates can be found on their site.
Celsius Earn
Celsius's Earn program offers interest rates ranging from 2.02% to 17.78%, more than double BlockFi's highest rate. However, the highest interest rates are not available to everyone.
This is where Celsius Token (CEL) comes in. Celsius has a tiered loyalty program that dictates your interest earnings. It's based on what percentage of your crypto holdings is made up of CEL:

Bronze: 5%-10% CEL (Earnings Bonus: 5%)

Silver: 10%-15% CEL (Earnings Bonus: 10%)

Gold: 15%-25% CEL (Earnings Bonus: 15%)

Platinum: >25% CEL (Earnings Bonus: 25%)
You must hold CEL if you want to earn the highest interest rates. If your Celsius portfolio is 100% Bitcoin or Ethereum, for example, you'll only earn the base rate.
You can also receive bonuses for taking interest payments in CEL, as opposed to "in-kind" with the currency they invested.
Important Note for U.S. investors: CEL is currently only available to international customers and accredited investors, which means that only the base rates will apply. Those rates range from 2.02% to 13.99%, with tiered returns on Bitcoin similar to those on BlockFi.
Review full rates, along with an earnings calculator on their site.
The Takeaway
Overall, Celsius has a wider range of coins available, with slightly higher interest rates than BlockFi, even for basic users.
However, there are some exceptions, like Litecoin, which earns 4.08% on Celsius and 6.5% on BlockFi. For that reason, it's worth checking BlockFi's rates if you have a specific cryptocurrency in mind.
Crypto-Backed Loans
Both Celsius and BlockFi offer crypto-backed loans, which allow traders to borrow cash or other coins against the value of their cryptocurrency holdings, rather than selling them.
This can prevent incurring tax penalties and protects investors against sudden market changes.
Here's what to consider when taking a crypto-backed loan:

LTV (loan-to-value) Ratio (the percent of your collateral that you can take as a loan)

Interest Rates (APR)

Available Currencies

Repayment Term

Availability

Fees
BlockFi Loans
BlockFi's lending program is available in 45 states. They currently offer loans against holdings of 4 currencies: Bitcoin, Ethereum, Litecoin, and PAX Gold.
You can get loans in USD, GUSD, and USDC. Loan interest rates depend on the LTV ratio, ranging from 20% - 50%:

50% LTV - 9.75%

35% LTV - 7.9%

20% LTV - 4.5% (available only for BTC-backed loans valued up to $20k USD)
Loans are offered in 6- and 12-month terms. BlockFi charges a 2% origination fee for new loans.
Celsius Loans
Celsius accepts over 25 coins, including Bitcoin, Ethereum, and Dash, as collateral for their crypto-backed loans.
There are no credit checks required, and the loans can be fulfilled in either cash or coin. There are no origination fees. Loan are offered in terms of 6, 12, 24, and 36 months.
Interest rates range from as low as 0.75% (for platinum level users who also pay in CEL, rather than cash) to as high as 8.95%. Here are the rates for base users:

25% LTV: 1.0% APR

33% LTV: 6.95% APR

50% LTV: 8.95% APR
Higher tiers on Celsius' loyalty level mean discounts on loan interest:

Bronze: 5%-10% CEL (Loan Interest Discount: 5%)

Silver: 10%-15% CEL (Loan Interest Discount: 10%)

Gold: 15%-25% CEL (Loan Interest Discount: 15%)

Platinum: >25% CEL (Loan Interest Discount: 25%)
The Takeaway
Overall, Celsius offers slightly more affordable interest rates on their crypto-backed loans than BlockFi, especially those with a low LTV ratio.
With 25 cryptocurrencies to choose from as collateral compared to BlockFi's 4, it is likely the best choice if it's available where you live.
Is lending my crypto safe?
There's inherent risk in providing your cryptocurrencies for lending. Cryptocurrencies aren't insured by the FDIC or SIPC, and while lenders do their best to mitigate risk, there's always the chance the market will crash. The value of their collateral could become insufficient to repay the loan balances, and your investment could be lost. Only you can decide whether the returns are worth the risk.
Cryptocurrency Exchange
Both platforms have an exchange that allows you to buy, sell, and trade cryptocurrencies. The main factors to consider are the number of cryptocurrencies available and the fees incurred in trading.
Celsius currently offers 11 cryptocurrencies and stablecoins for trade, while BlockFi has 8.
Neither of them can compete here with a dedicated exchange, many of which offer 50 cryptocurrencies or more. However, they may suffice if you're only interested in the most common coins.
Celsius Trading
Celsius partnered with Gem to offer the ability to buy coins on the Celsius app.
Trading fees depend on the method you use for purchase, either through partner Simplex (credit cards) or partner GEM, which supports bank transfers and credit card purchases.

Simplex: 3.5% or $10 minimum fee included in price; can drop to 2.99% for users in the EEA and the U.K.

Gem (via Wyre): 0.1% ACH transfer (U.S. only)

GEM (via Coinify): 0.5% manual bank transfer; 2% credit card (EU); 3.5% credit card (non-EU)
BlockFi Trading
BlockFi Trading, which is slightly more robust than Celsius's offering, enables you to easily buy and sell coins on the BlockFi platform.
They claim to operate a zero-fee exchange, but in reality, they charge a spread on every trade, which appears to range from 0.70 - 1.5%.
The Takeaway
When it comes to buying and selling cryptocurrencies on BlockFi and Celsius, the right pick depends on your payment method and where you live. Celsius users in the U.S. will find the lowest rates for purchases via ACH transfer.
Remember that you can always buy coins elsewhere and send them to your BlockFi or Celsius account.
Bonus Features
BlockFi and Celsius do differ slightly in the extra features they're offering to members. If you're interested in a Bitcoin credit card or a modern crypto payment service, don't miss these features:
BlockFi's Rewards Credit Card
BlockFi's upcoming rewards card with Visa will offer 1.5% back in crypto for every transaction. That Bitcoin will be automatically transferred to a BlockFi Interest Account every month to accrue interest.

Earn 1.5% back in crypto on every single purchase.
No annual fee. No foreign transaction fees
Introductory offer: Earn 3.5% crypto rewards on all purchases in the first 90 days of card ownership, up to $100 in crypto.
Know if you're approved without affecting your credit score. A soft credit pull happens before you've accepted the credit card offer. A hard credit pull occurs when you've accepted your credit card offer, which can have an impact on your credit score.
Earn 2% back in crypto on every purchase over $50,000 of annual spend. Rewards rate increases from 1.5% to 2% after $50,000 of spend has been achieved and resets on the card anniversary date every year.
On top of the rewards you get from BlockFi, your BlockFi Rewards Visa Signature card gives you instant access to once-in-a-lifetime travel, fine wine and food, sporting events, shopping and more.
Your BlockFi Rewards Visa Signature card comes with 24/7 access to your Visa Signature® Concierge* for assistance booking travel, transportation, accommodations, event tickets—even restaurant reservations and golf tee times.
Celsius CelPay
With CelPay, Celsius hopes to enable users to send, receive, pay and get paid in crypto, rather than just hold it. You can send money via a secure link or text, or from a list of other Celsius users.
Investors holding CEL using CelPay also get 2% cash back on all CEL transactions when using CelPay. The system will also prioritize users holding the highest CEL balance should the availability of dollar loans become limited.
What Fees Do They Charge?
Here are some you should know about:
BlockFi
BlockFi charges Withdrawal Fees on their Interest Account, which vary by currency:[1]

Bitcoin: 0.00075 BTC

Ethereum: 0.02 ETH

Litecoin: 0.0025 LTC
Their crypto-backed loans incur an Origination Fee of 2%.
BlockFi also charges a Spread on crypto purchases, which reportedly ranges from 0.7 - 1.5%.
Celsius
Celsius does not charge fees directly on crypto purchases; however, their partners do:[2]

Simplex: 3.5% or $10 minimum fee included in price; can drop to 2.99% for users in the EEA and the U.K.

Gem (via Wyre): 0.1% ACH transfer (U.S. only)

GEM (via Coinify): 0.5% manual bank transfer; 2% credit card (EU); 3.5% credit card (non-EU)
There are no origination fees, termination fees, or withdrawal fees.
In terms of Fees, Celsius performs marginally better than BlockFi. Celsius users can save on free withdrawals, avoid the 2% origination fee that BlockFi charges on loans, and enjoy (apparently) free trading. Users in the U.S. will get the most for their money by using Wyre ACH transfers.
Security
Since with both BlockFi and Celsius, you'll be entrusting your cryptocurrency to the platform for extended periods, security is an important consideration. Let's see how these platforms compare.
Celsius

Two-Factor Authentication: Two-Factor Authentication helps to prevent unwanted access to your account.
Pin & Facial Recognition: Users are required to set up a 6-digit pin to enter on login. You can bypass it by activating facial recognition.
Collateral: User funds that Celsius lends out to borrowers cannot be insured. Instead, they require 150% collateral from borrowers, who are only selected after due diligence reviews.
Insurance: Coins aren't always lent out. Fireblocks and PrimeTrust provide custody to un-lent crypto and offer insurance on digital assets.
Multi-Party Computation: Helps provide security and asset protection.
HODL Mode: Restrict withdrawals from your account by disabling outgoing transactions. There's a 24-hour period after deactivation of HODL Mode before outgoing transfers can be made.
Address Allowlisting: Choose which wallets you want withdrawals allowed to, and the address is locked for 24 hours after you make the change.
Cyber Intelligence and Incident Response experts: 24/7 asset monitoring, risk assessment and governance, threat monitoring, advanced data protection and crypto protocols.
BlockFi

Two-Factor Authentication: Use an authenticator app to protect your account from unwanted access.
Address Allowlisting: Lets you choose which wallets you want to allow your cryptocurrencies to be transferred to.
PII Verification : Ensures that it's you using your account, and not someone else.
Cold Storage: The majority of user assets are kept offline in cold storage.
Gemini as Custodian: Gemini, a security-minded exchange, goes to great lengths to protect user funds; they're also SOC 2 Type 1 security compliant.
Insurance: Gemini-held cash funds are FDIC-insured for up to $250,000 per customer; Gemini insures digital assets against theft, as long as it's not due to user error.
In terms of security, Celsius and BlockFi are comparably secure, and it should probably not be a determining factor for choosing one over the other.
Have BlockFi or Celsius been hacked?
BlockFi was victim in May 2019 of a "SIM Swap Attack," targeting an employee's phone. Hackers gained access for approximately 90 minutes, and acquired customer names, email addresses, dates of birth, addresses, and activity history but, according to BlockFi, no money.
While Celsius has never been hacked directly, in April 2020 a third-party email distribution system leaked customer information, and a number of users received fraudulent emails and SMS messages requesting access to their crypto wallets.
Ease of Use
Both Celsius and BlockFi have relatively straightforward, easy-to-use apps. Even new users should have no trouble depositing or withdrawing their crypto, using the exchange, or applying for a crypto-backed loan.
The only significant difference here is that BlockFi has a usable desktop site, while Celsius is accessible through the app only. Users who prefer larger screens may find this a drawback and might prefer BlockFi.
Customer Support
Celsius
Celsius has dedicated phone lines for U.S. and U.K users:

U.S. Support: (+1 201 824 2888)

U.K. Support: (+44 2033 185636)
You can also submit a support ticket on their website, or email them directly at app@celsius.network.
BlockFi
BlockFi offers phone support to active customers:

Number: (646) 779 -9688

Hours: 9:30AM - 5:00PM EST Monday - Friday
You can also contact them through their website contact page, or via the "Help" section of their app. An AI-bot will attempt to answer your questions first. After that, you'll be able to submit a ticket to their support team.
Bottom Line
Everything considered, Celsius is probably a better choice than BlockFi for users looking to take advantage of a crypto interest account. They have a wider variety of currencies available, slightly higher interest rates on their high-yield savings accounts, and slightly lower interest rates on crypto-backed loans.
They could certainly improve their standing further if they made it possible for investors in the U.S. to take advantage of the benefits from holding CEL Token, but even without it, they outperform BlockFi by a small but distinct margin.
That is not to say that BlockFi isn't a viable platform. If you are either unable to use Celsius or discover the platform isn't a good fit for them, they should definitely consider BlockFi as an alternative.
References
Jeremy Harshman is a protector of art and writing at CreditDonkey, a crypto comparison and reviews website. Write to Jeremy Harshman at jeremy.harshman@creditdonkey.com. Follow us on Twitter and Facebook for our latest posts.
Note: This website is made possible through financial relationships with some of the products and services mentioned on this site. We may receive compensation if you shop through links in our content. You do not have to use our links, but you help support CreditDonkey if you do.
Read Next:
Compare: