Study: Best Wireless Speakers - Sonos vs Bose vs Airplay
This article contains references to products from our partners. We may receive compensation if you apply or shop through links in our content. You help support CreditDonkey by reading our website and using our links.
(read more)
Many households have pared down their entertainment systems from bulky TV sets to flat screens and five CD changers to iPods, but there is still a big way to streamline how you get your music fix. We're talking about systems that make it so you can access your entire music collection from one place, control it from afar, and hear your favorite tunes beautifully, with the best sound quality possible.
The debate over which system to choose began awhile back for me when I kept hearing chatter from people around me who either owned or pined for "a Sonos." The array of features made it sound like the ultimate universal remote control, router, and boombox rolled into one. Eventually I learned that Sonos is a company that sells wireless speaker systems of high quality, with competitors biting at its heels. I was intrigued and wanted to purchase one, but then decided to explore which brand was the best for me. I set out to compare Apple Airplay and Bose SoundTouch to Sonos' Play:1.
Here's what I needed to know: Would my current gadgets work with a new system or become obsolete? Did I have to be tech savvy to set everything up? And what could I afford?
I wasn't sure if I had enough room in my budget to plunge in, but I was all over the idea of finding a way to make my music collection sound better.
Compare Wireless Speakers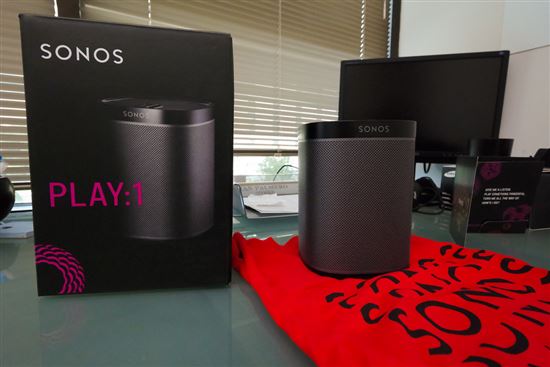 Sonos Play:1 Unboxing © Nan Palmero (CC BY 2.0) via Flickr
Roundup Methodology
Here are the main factors I considered:
Accessibility

Compatibility

Capability
If a new speaker system costs too much, it will limit your ability to indulge other frivolous desires (or maybe even to afford necessities). If the system is too difficult to set up or operate, you may regret the purchase all together.
Once you've linked up your system and mastered the controls, the issue shifts to compatibility. Purchases of this type are often made by consumers hoping to simplify their musical experience. Does the company have a reputation for meeting this need? Do the speakers use Bluetooth or Wi-Fi, and does it matter? If there are streaming services that don't work properly with the device or the signal range isn't strong enough to serve your needs, you'll want to know before the sale is final.
In the end, the decision can boil down to the overall capability. Here you consider not only the sound quality the speakers produce but also how far that sound will reliably reach. Can it be linked to your existing stereo or television? Can you buy additional units later to gradually expand your system? Just how much could the system, eventually, do?
The Instigator: Apple AirPlay
Accessibility: Works with nearly all Apple devices (and some PCs through iTunes), familiar controls, moderately complicated setup, numerous online tutorials available from the manufacturer and independent sources, modest setup cost ($100+), 4/5

Compatibility: Supports iTunes music, radio, podcasts and video, can link audio and visual to your entertainment system if you have an Apple TV, susceptible to drop outs, 3/5

Capability: Limited signal with basic components, growing market of Airplay compatible accessories, extracts additional benefit from equipment you may already own, sound quality varies greatly depending on method of output used, 3/5

CreditDonkey Score: 3.3/5
Let's face it. We live in an Apple-obsessed world. Many homes have multiple iPhones and iPads at their disposal. As the creative force behind the existence of music streaming, Apple was the first to help us link that experience to auxiliary speakers with their AirPort Express and Apple TV. AirPlay is actually the underlying technology, a software for which many brands have created compatible speakers - ones that don't require an AirPort or Apple TV, though their inclusion, in some cases, could enhance the system's capabilities.
In an effort to compare apples to apples (so to speak), in this section "an AirPlay system" means a network linked using an AirPort Express ($99) or Apple TV ($100), and which utilizes your existing speaker system or HDTV. Tech blogger Khoi Vinh of Subtraction.com prefers AirPlay over Sonos, and many other Mac enthusiasts have posted the details of their beloved AirPlay systems in online forums. Depending on the technological maturity of the items you own, creating your own AirPlay system may be the most attractive option.
Why We Like It
If your house is already full of the latest Apple gadgets and equipped with an HDTV, it's easy to elevate your system's value rapidly with the addition of Apple TV. This tiny box can be hooked up to your big screen, which is hopefully already linked to an entertainment system. Once installed, you have access to a wide variety of both free and paid television programming in addition to all the files you store in iCloud, your music in iTunes, podcasts, and iTunes Radio.
If you don't have an appropriately modern TV but are an Apple loyalist seeking sound system synchronicity, you may be able to use an AirPort Express to link your speakers to your Apple devices (the cable is sold separately). In either setup, you will use AirPlay software to send the data using the gadget of your choosing as the remote control. Without Apple TV, you only lose the television and big screen playback privileges.
If you already own multiple Apple devices and want to expand slowly, an AirPlay system can be inexpensive to create and logical to operate. Even if you have to begin with the unsophisticated AirPort Express setup, you could always add a set of AirPlay compatible speakers or upgrade your television down the road (to one that works with Apple TV) and use your AirPort Express on a different set of speakers to create a multi-room experience.
Its Downsides
Setting up streaming through an AirPort Express is a bit cumbersome, though a plethora of advice-givers are available online. Using Apple TV or a set of AirPlay speakers makes the process much simpler - you simply use your iPhone to add the device as you would any new Wi-Fi network.
Another drawback is that AirPlay systems, without diligent manipulation, are limited to an i-only selection. If you're technologically challenged and want your system to work with music streaming services outside the Apple umbrella, this may not be the best choice.
The final downside applies to homes where multiple residents might wish to stream different choices to the system from separate rooms simultaneously. It's not possible. Only one device can control the system at a time.
Who It Works Best For
Apple enthusiasts who already own a decent speaker system.
The Underdog: Bose SoundTouch
Accessibility: Simple setup via app for smartphones and computers, computer must be running the Bose app to access files, single speakers are $400 and up, 3/5

Compatibility: Not all music streaming services work, designed for music only, 3/5

Capability: Brand loyalty is required, moderate quality sound, expensive to expand, 3/5

CreditDonkey Score: 3/5
Bose got into the speaker business long before smartphones and music streaming even existed.
Although Bose received mixed reviews from Wired, Gizmodo, and Consumer Reports, SoundTouch remains a popular choice among consumers due to its reputation in the audio field and lack of truly negative publicity. Android and PC owners can function with AirPlay technology, but they can do far more with Bose, and not everyone finds Apple controls familiar, logical, and simple. Update: AirPlay is no longer supported on SoundTouch series III. Only existing Series I and II will support AirPlay.
Why We Like It
The Bose SoundTouch comes with a small traditional remote control for navigating the system if you don't want to use the app all the time. (It has six numbered buttons you link to your favorite stations or albums.) Plus, it has a small minijack you can use to connect portable devices and a USB port to enable setup through your computer. It's much more accessible for Android and PC users, yet still a great option for Apple-centric households.
Since the SoundTouch is compatible with Apple AirPlay, you can use it to enhance an AirPlay system, play your music files with the Bose controller, or stream music directly from Pandora.
Finally, for the same price as the SoundTouch 20, you could choose the SoundTouch Portable and bring your speaker with you wherever you go, even outdoors.
Its Downsides
Bose has been slow to expand the capability of its software. You can now link multiple speakers to the controller, but you still can't selectively choose which ones to use.
AirPlay support is being discontinued.
Who It Works Best For
Those who want to ease their way into the world of music streaming and won't be heartbroken if their speakers don't work with a wide variety of music apps.
Tip: Before you shop for the SoundTouch at Best Buy, visit CreditDonkey for the latest BestBuy.com coupons.
Leader of the Pack: Sonos
Accessibility: Easy-to-use smartphone and tablet app can access all your files (including certain servers), a playbar ($699) is required if you want to link the speaker to your TV, 3/5

Compatibility: Supports a wide range of music streaming services, uses a separate mesh network to ensure continuous streaming, 5/5

Capability: Expensive to expand, able to choose precisely which speakers to stream to and play different tunes in different rooms with an expanded system, 4/5

CreditDonkey Score: 4/5
Once Sonos began offering its free controller app and introduced the Play:1 speaker (a smaller but equally powerful addition to the already popular line), slashing the cost of entry, it became the brand to beat. Forbes described the Play:1 as "the best $200 you can spend on sound." TechRadar and Engadget were nearly as enthusiastic.
Sonos was a pioneer in the wireless speaker industry, helping to lead the way towards a high-performance, functionally flexible, easy to control entertainment experience. The company continues to rapidly expand the list of features the products offer, meeting the desires of a "new is better" society.
Why We Like It
One of the biggest benefits of a Sonos system is that it operates on a dedicated mesh network that complements your existing Wi-Fi without slowing it down. That means it's easy to surf the net on multiple computers while rocking out without risk of drop outs. None of your web habits are slowed down by Sonos because the two networks aren't in competition.
Furthermore, Sonos streams your music directly from the app or device where the files are stored. So, even when you are controlling the playback from your smartphone, you can take calls or even leave the house without interrupting the sound pumping out your speakers. At that point, the tunes can be changed or stopped when you return, using the physical buttons atop the Play:1, or by connecting to the system with an alternate device. In fact, if you pause your music before you leave home, you can pick up right where you left off when you return by pressing play on the unit.
Another big plus is the ability to stream music from multiple sources - Pandora, Spotify, Google Play, and many more. With so many streaming choices available and new ones being added all the time, you hardly need to own any music to have an extensive library of tunes at your disposal.
If you add a Play:5, CONNECT, or CONNECT:AMP to your system, it becomes AirPlay compatible, giving you access to more podcasts (something some critics claim Sonos lacks) and the possibility of linking to Apple TV. Some of the more expensive speakers are even capable of being hardwired into your existing entertainment system.
Compare Sonos Wireless Speakers
Its Downsides
Currently Sonos does not make a portable option, so you are limited to locations near a plug. However, the largest drawback continues to be the cost of creating a full system. Chances are, if you're a fan of the latest music streaming services, you will be drawn to similar services for TV and won't be satisfied with anything less than a pair of speakers and a playbar (or Apple TV), which will cost you more than $1,000.
Who It Works Best For
Those who are ready to replace their outdated system gradually or who are building their first entertainment system a piece at a time.
Want to explore all that Sonos has to offer? Visit Best Buy's Sonos website.
Other Speakers to Consider
If you want to check out the latest Bose and Sonos competition, be sure to read this Forbes review on Korus and this pronouncement by Business Week that the Samsung Shape is a voracious addition to the market.
We hope this research has helped you decide what type of system you hope to create. Life is fuller when filled with music and we want to help you compile your soundtrack with ease.
Rachel Hoyt is a contributing writer at CreditDonkey, a tv comparison and reviews website. Write to Rachel Hoyt at rachel@creditdonkey.com
Note: This website is made possible through financial relationships with some of the products and services mentioned on this site. We may receive compensation if you shop through links in our content. You do not have to use our links, but you help support CreditDonkey if you do.
More from CreditDonkey: